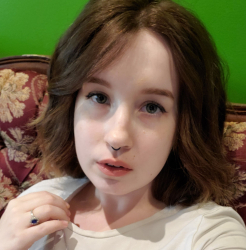 Latest posts by Katrina Dent
(see all)
Sims 4 has its fair share of expansion packs available from Maxis, the creators of the franchise, but multiple text-savvy programmers have thrown their hat in the ring. 
One of those creators is Kawaii or Kawaii Stacie, whose Explore Mod is so advanced, you'd think it was an official release! Back in mid-2018s, the Sims 4 community still felt like there wasn't enough stuff to do in the game when compared to Sims 3.
From the outside looking in, that may seem hard to believe, since 20+ expansion, game, and stuff packs were released before Explore.
The released content still didn't have common locations, like the casino or the arcade, and interactions were minimalistic at best. However, with the Explore Mod, the game completely opens up.
Let's see what Kawaii Stacie's Explore Mod includes and how it can improve Sims 4.
Will My Computer Run The Explore Mod?
Yes, if your computer can run Sims 4, it can run the Explore Mod. Kawaii Stacie's includes a download link for Windows, macOS, and Linux with two download links; one is ad-free.
How to Install the Explore Mod
To install the Explore Mod, follow these steps. If you want to know what's in the Explore Mod before downloading, go down the section "What's Included With the Explore Mod."
Step 1: Go to the Website

Follow the link to go to Kawaii Stacie's website.
Step 2: Click the "DOWNLOAD NOW" Link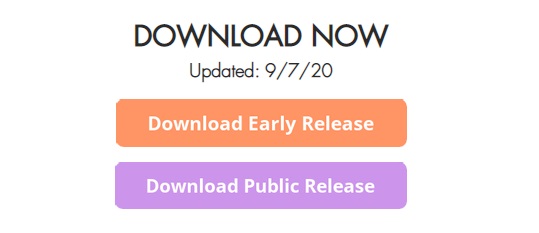 Scroll down to the bottom of the page until you see a "DOWNLOAD NOW" link.
I recommend clicking on the "Public Release" version, as it's add-free and quicker.
Step 3: Download the MediaFire File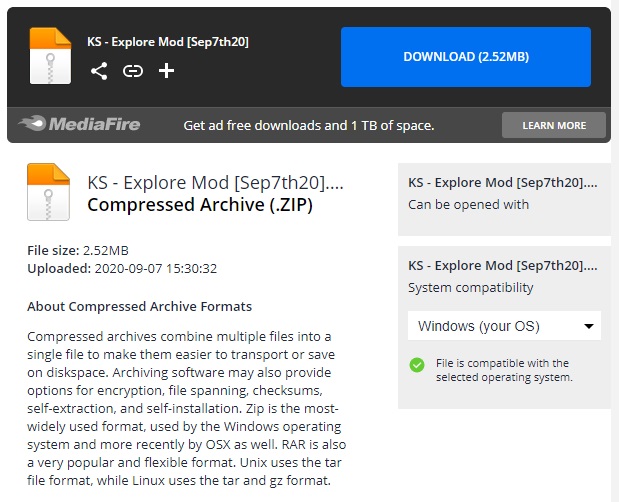 When you open the download link, MediaFire will check if your system is compatible with the mod. If it is, the green checkmark will appear next to "File is compatible with the selected operating system."
Media Fire will also select the computer you're already using. To download the file, click the big blue button that says "Download."
Step 4: Open the Folder by Unzipping it With WinRAR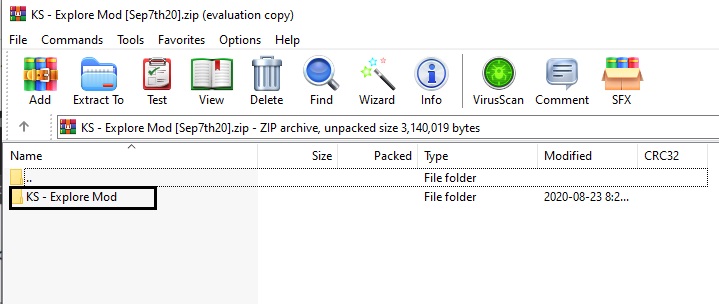 Open the download file by using WinRaR (or any other zip software), if you don't have a zip software, WinRaR is free and stays free. Open the folder called "KS – Explore Mod" with a double-click.
Step 5: Moving the Files

Move each folder into your Sims 4 Mod folder, which should be found on your computer by going through your Documents>Electronic Arts>Mods. You can either create a new folder to store all of your mods or just throw them in unorganized, as I did.
However, if you want to be organized, follow these steps:
Move the file "KS-Explore Mod.ts4script" to a new folder. You can call it "Explore Mod," so it's easy to find.
With your mouse, drag all files into all of the 4 folders and drop them in. Don't put the folders into the Explore folder, or it won't work.
Move the items in the folder "Slime & Clay," which is inside the "Explore Mod Accessories" folder, and move the files inside the new folder you created titled "Explore Mod." Again, don't move the folder itself, or it won't work.
If you're going to move the folders, you must include the "KS-Explore Mod.ts4script" inside of it, or the whole mod won't work.
Note: Make sure you turn on custom content and script mods in the Games Options in the Sims 4, or this and all other mods won't work.

Your mod should run when you open up the game. If it doesn't, check your settings to ensure Sim 4 allows custom content or that you created your new "Explore Mod" folder correctly. Remember: you can't have any folders inside of the Explore Mod folder, or the mod won't run.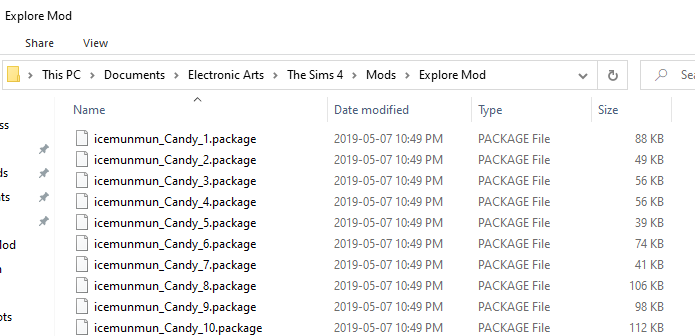 What's Included With the Explore Mod

The Explore Mod allows players to leave the main lot through tiny "Rabbit Holes" and return with motive increases, buffs, relationship increases, skill increases, and much more.
A "Rabbit Hole" mod is when the programmer takes the gamer on a ride through bizarre or extreme places that aren't available in the main game. However, the Explore Mod also includes features from other creators that aren't Kawaii Stacie, but she is the main contributor.
When you install the mod successfully, a new pie menu will appear named "explore" when you click on your sims. Your sims will randomly go to the places the pie menu includes. There are over 60 locations your sims can go to, but the areas that are on the pie are determined by time of day and by a random generator.
Take Classes for 12 Skills
You can increase your skills in the following Explore options:
Baking

 from baking goodies, like cakes and cookies.

Confidence

 from public speaking in front of a crowd.

Dancing.

 Sims will learn how to dance with an instructor.

Gourmet cooking

, probably taught by Gordon Ramsey.

Home-style cooking

. Better for the 9-5 employees.

Yoga

 in a gym-style format or taught by a teacher.

Guitar

, led by a professional who knows more than cords.

Gardening.

 Kill your plants and flower no more!

Painting.

 One day you can be like Picasso.

Handiness

, which is excellent for fixing Gremlin-infested homes.

Skating.

 Become more elegant by dancing on ice.
Get Services for 12 Types
Sims can get more services done with this mod, including the following:
See the doctor

, which cures "get together sickness."

Get a birth control shot

, effective for avoiding pregnancy.

Go get a massage

 from a masseuse; it increases happiness.

Hire a weight loss trainer

, which can make your sim slimmer.

Get surgery

, including cosmetic and medical.

Talk to a therapist/psychologist

, which removes "bad mood."

Make an appointment with the dentist

 to change your teeth.

Get a henna tattoo

, which actually appears on your hand.

Get a makeover,

 which gives you more makeup styles.

Go to the nail salon

 for more nail colors.

Go to couples therapy.

 This can improve your sims' relationship.

See a dermatologist

 to come back with flawless skin.
Get Another Job and Gambling Trait
Sims can make extra money by working a temp service job. There's no commitment involved for your sim. Sims can also be given the Gambling Skill.
Sims can work at a temp job.

Sims can Gamble with different options at card tables.

Sims can increase their gambling skill.

Sims will lose less money on a bad bet based on their gambling skill level.
Get More Social Interactions
With the Explore Mod, your sims have more friendly interactions, such as:
Talking about a vacation.

Taking about exploring.

Talking about their classes.

Asking for more gambling money.
Get More Date Options
Sims can go on more dates than they could before, like at these locations:
Take your date to the movies.

Take your date to the zoo.

Take your date to dinner.

Take your date to a roller rink.
Get More Fun Stuff
Your sims can go to some cool locations, including the following:
Playgrounds

, mainly for children and adults with children.

Arcades

, also primarily for children or for adults who like gaming.

Haunted houses

. May increase fun for some sims.

Fishing

 will increase fun for the outdoorsman.

Going out to eat

. Can pick location and meal of choice.

Gym,

 to get in shape and increase happiness in fitness nuts.

Country club,

 which will be loved by charismatic folk.

Marketplace.

 Your sim will always come back with an item.

Bowling,

 which may increase happiness for sporty sims.

Going to get ice cream,

 which will make your sim less hungry.

Karaoke.

 Going to a karaoke bar is more fun with another sim.

Zoos,

 you can go on a date here or explore by yourself.

Toy stores.

 Only children or teens will buy toys here.

Japanese hot spring,

 which may make your sim relaxed.

Going to the farmers market.

 Sims will buy farming items.
Go on More Vacations
Sims can take a quick vacation (1-day vacation) to any of the following places:
Disney World,

 which is more fun for children and teens.

A Cruise,

 maybe even a Disney Cruise.

To the beach.

 Sims will change into their swimsuits.

Jurassic Park.

 Runaway from Dinosaurs in real-time.
Get More Takeout
When your sim is hungry but doesn't want to cook, they can call for takeout and receive the following foods:
Cheese pizza

Pepperoni pizza

Cakes

Donuts

Hamburgers

Hotdogs.
Go to School
An option only available to children and teens. Using this mod will guarantee that you're children or teens get a 100% on homework when they use the option "Study at the library."
How to Activate the Mod: Get a Drivers License or Bus Pass

After you've successfully installed the mod into your Sims 4 game, you need to actually initiate the mod to start exploring. When in the game, click on your sim to open up the pie menus. There, you will see "Explore…" Click that pie menu to open up the other option, which will be "Services."

I've seen many people online see the "Services…" option and quit the game thinking that the mod isn't working properly. However, if you do see "Services…," it means you've downloaded the mod successfully. The mod creator wanted the sims in the game to go to the DMV or transit depot first. Click on "Services…" to see these options.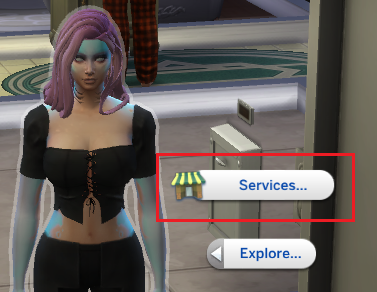 Now you'll see "Try for License ($75)" because my character is an adult fish woman. Click on that option, and your sim will disappear for a few hours of in game time. Children and teens will get the option to buy a bus pass instead, which is much cheaper.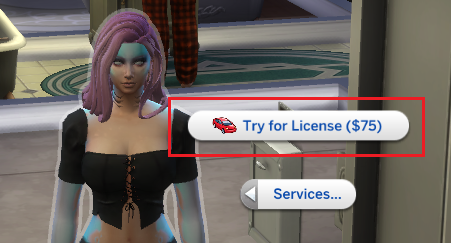 When your sims comes back from the DMV or transit depot, you'll know you've gotten the license or bus pass in the traits menu. You can access this menu by clicking on the face icon on the bottom right side of the screen. Adults will have a "Fully Licensed" trait when they come back, but children and teens will earn the bus pass trait.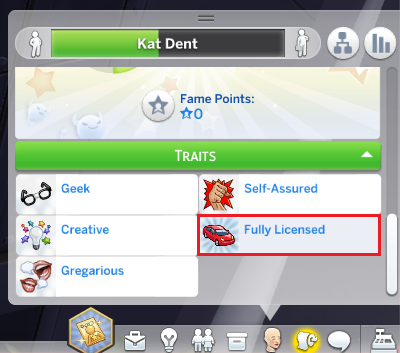 After completing those steps, you'll have access to the entire wheel. You can also choose "Explore With…" which invites other sims on your adventures. Adults will be locked out of certain options, like the "Study at the Library" option, while children and teens can't go to adult-only places, like night clubs.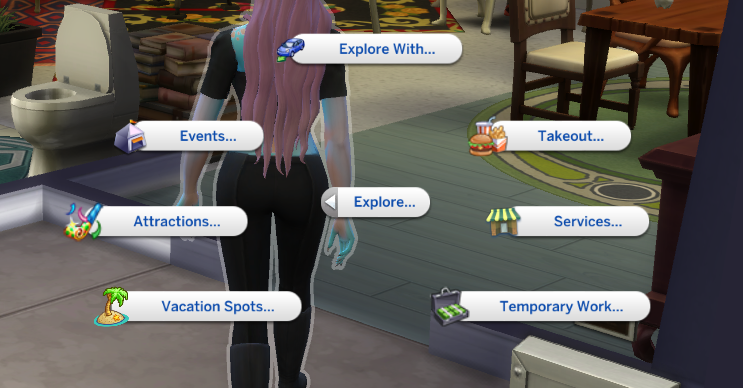 Kawaii Stacie continues to update this mod, but there hasn't been a significant update since October 2020. 
How to Use the Biggest Update: Gambling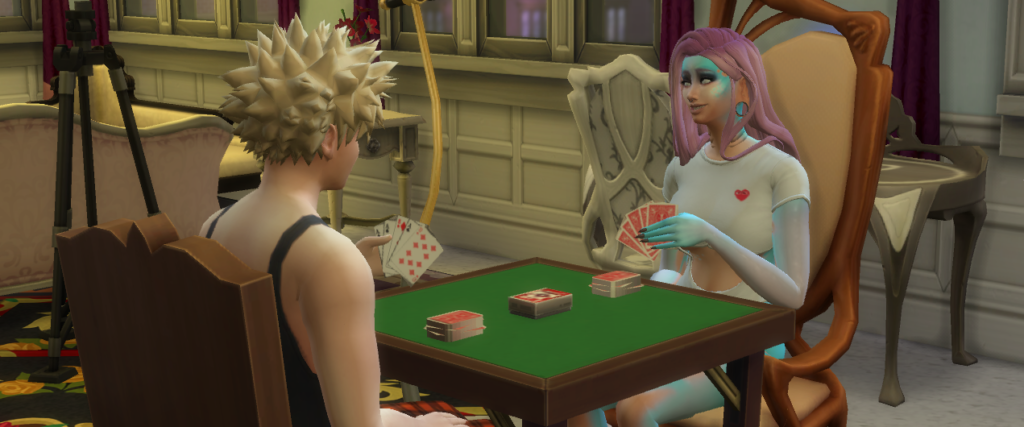 Gambling is the most significant update the Explore mod makes to the game because it adds a skill that previously wasn't in the game. To use the gambling skill, you have to gamble. The gamble skill goes up at the same rate as other creative skills, and at higher levels, your sim will lose less money if they make a bad bet.
The new trait, "gambler," implies that your character likes to gamble. Characters with the gambling trait are able to ask other sims for more gambling money.
How to Gamble
Sims can gamble at home and make bets up to $500 per round, but you can't lose money, regardless of how much you bet, because it's implied the game is using chips and not real money. However, you can earn money, and the amount of money you earn per round is also dependent on your gambling skill.
Buy the card table in the building menu, and place it somewhere in your home. You can't gamble or play cards alone, so you'll have to bring at least one friend.
Sims can also gamble away from home. Characters can gamble up to $10,000, and they can absolutely lose that money. You can choose how your sims gamble. Sims can earn up to $100,000 from gambling if they have a high skill in that area and a little bit of luck.
The gambling trait helps you slightly by adding a luck buff while playing.
Why Can't I see Where my Sim is Going During an Explore Trip?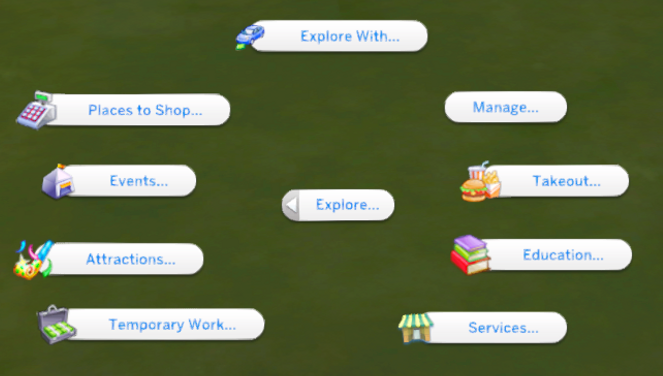 As the name "Rabbit Hole" mod implies, the character isn't technically in the world anymore when they leave for an activity. Your sim will change into an outfit appropriate for the activity and then leave out of the game world.
While it would be interesting to see these locations, it would take a lot of work to make them from the ground up. When programmers make these mods, they tend to run into many issues, like the game crashing, but a rabbit hole mod makes that less likely to happen.
Your sims will receive buffs, presents, skills, and rewards for completing specific tasks off-screen, but you won't be able to see the locations in the mod for now.
Support the Creator: Kawaii Stacie's Other Mods

Please support Kawaii Stacie's other mods on her website,  she's an incredibly talented programmer.
Try these other mods by the same creator as the Explore Mod
Frequently Asked Questions (FAQ)
Question: How does the Explore Mod improve Sims 4?
Answer: The Explore Mod improves on the Sims 4 by adding more "Rabbit Hole" locations that warp your sim to places that can increase their happiness, improve their skills, and use the gambling trait.
For an entirely free update to the game, the Explore Mod gives players a significant upgrade in the overall game world and gives the player more to do. 
Question: How do you download Sims 4 Explore Mod?
Answer: To download the Explore Mod, you have to go to Kawaii Stacie's website and click the "Download Public Release" link. That will take you to a MediaFire file that you can download.
Once the download is complete, you can drag and drop the files into your mod file by unzipping them. To unzip a file, you'll need to download a zip software, like WinRaR, or you can't use the files.
Question: What are the best Sims 4 mods?
Answer: The best Sims 4 mods are any that improve the experience of the player. There are mods out there that increase the number of careers you can have, like the Oceanography mod.
The Emotional Interia mod helps sims make more realistic emotions, and the MorphMaker lets you sculpt and shape your sim to your preferences. There are far too many good mods to name.
Question: Where do Sims 4 mods go?
Answer: Sims 4 mods go into the mods folder, which is already created for you when you download the game. To move all mods into your mod folder, locate it by following these directions: Computer>Documents>Electronic Arts>Mods.
Most mods can be placed in the folder without further instructions, but others will need a bit more tweaking to show up in the game.
Conclusion
There are hundreds of Sims 4 mods out there, but one of the most impressive ones is the Explorer Mod. It's incredible enough that a programmer can change the game to such a degree, but the fact that this mod is free makes this mod one of the best there is.
A word of advice: If your mod isn't working, you may need to try imputing the mods into your folder a different way, or you may need to initiate it in-game by getting your license or bus pass. Unlike other cosmetic mods, the Explorer Mod needs to go through specific steps to activate. 
Have fun exploring different locations in this fun rabbit hole-style mod!
Looking for more interesting readings? Check out:
Complete Guide to Sims 4 Mods and Custom Content
Sims 4 Life Tragedies Mod Guide
Sims 4 Furry Mod Guide: All You Need To Know