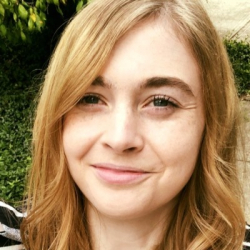 Latest posts by Erin Jamieson
(see all)
The Sims 4 is known, in part, for its quirky, stylized graphics and gorgeous, bright hues–bit the Sims 4 Furry Mod, as many mods do, plays with that and quite literally transforms your Sims.
I've noticed a supposed divide in the Sims 4 community: those who play the game 'vanilla' without mods and those who have a mod for just about everything you can imagine. The truth is, aside from console players, many Sims players fall somewhere in between, trying out mods for themselves and deciding what suits their gameplay.
No doubt the Sims, from Sims 2 and on, has always had an active modding community, with popular sites like Sims Resource and Mod the Sims boasting countless downloads every month. But every once in awhile a mod takes the community by storm, with some advocates and others simply not seeing the appeal–such was the case with the Sims 4 Furry Mod.
The Sims 4 Furry Mod is unique, arguably quirky like Sims 4 itself, and certainly an interesting addition. Consider this your guide to installing and navigating the Sims 4 Furry Mod.
What is a Mod?
If you're reading this, chances are you know what a mod is, but it's important to cover some basics. The general term mod has come to define any custom content that does not come with the base game or any expansion, game, or stuff packs. The important thing is to understand the lingo that distinguishes two main types of mods.
Custom Content
Custom Content, or CC, as it is referred to in the Sims communities (and other gaming communities often) is custom content that does not change gameplay, but some cosmetic aspect.
Technically one could say any mod is custom content, but in the Sims Community, this usually refers to additions either in Build/Buy mode (furniture; wallpaper; paints/ textures, landscaping, etc) or Create a Sim Mode (hair, eyelashes, skin overlays, makeup, clothes, accessories, custom CAS backgrounds, etc).
In other words, these are normally smaller files that allow you to change the appearance of your game, whether that's just because you aren't fond of the style or simply long for more options or even want to depict a culture that isn't represented in the game. By far, the most popular additions are build/buy sets and CAS additions such as 3D eyelashes and custom skin tones.
Alpha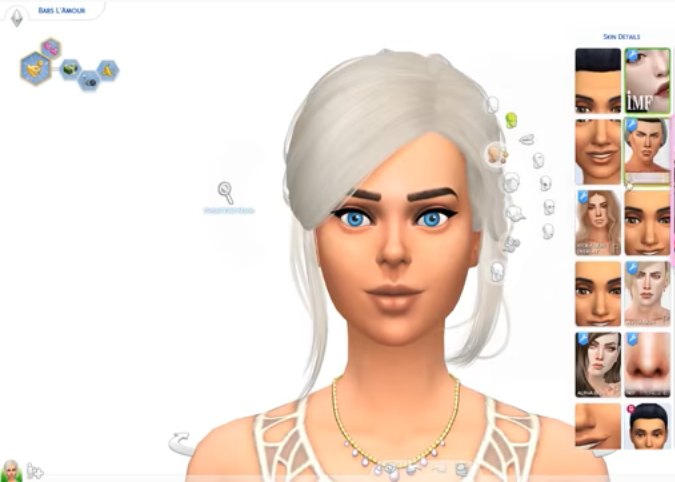 Alpha refers to a style of cosmetic custom content. Alpha is more realistic textures and details and ranges from slightly realistic to very realistic. This style is more similar to the realistic approach to graphics of Sims 3 (though outdated now, Sims 3 arguably approached a more realistic style for its time) and doesn't match the style of the Sims 4. Because Alpha has a higher polycount, it is more detailed but also more demanding to run in-game.
Maxis Match
Maxis match custom content is content that, as the name suggests, matches the EA/Maxis style of Sims 4, or nearly so, opting for a more cartoon style, with less attention to realism or detail. It has a lower poly count than alpha and is less demanding. There is also a small bit of custom content in between alpha and maxis match, such as clayified hair.
Script Mods
Script mods, on the other hand, change your gameplay in some way. Though script mods may come with cosmetic cc, the main purpose of script mods is to alter something about the gameplay itself.
There are countless script mods, and types of script mods, from ones to add touches of realism (a theme of Kawaii Stacie's mods) to ones to fix glitches or errors in-game, or what some see as deficits. There are mods for new personality traits and aspirations; new experiences; and even a now popular pseudo-open-world mod.
Script mods can truly change your entire playing experience, though they can also come at a risk.
Where do I Find Mods?
As I mentioned before, Sims 4 has an impressively active modding community, so there truly is no shortage of mods, from quite a niche (such as being able to take your Sim to a salon rabbit hole) to sweeping. Your best bet is to start with Mod the Sims or The Sims Resource. Both are free to use, generally considered safer, and a wealth of resources (The Sims Resource does have ads, but you can wait or pay for a membership).
Other sources include searches through the Sims community on Twitter, Pinterest, Reddit, Tumblr, and even Sims Facebook groups. Finally, you can also find mods on the content creator's individual websites or Patreon pages. Though occasionally behind a paywall upon initial release, most creators release content for free download after a week or so.
How do I Install Mods?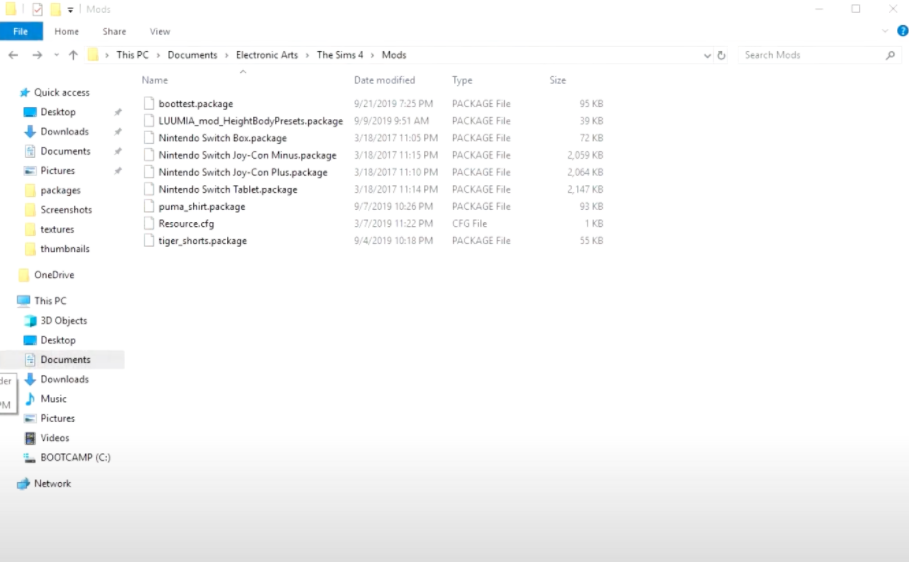 If you've never used mods in the Sims 4 or it's been a while, this is critical. Luckily, with a few easy steps, you can reduce the risk of mods breaking your game.
Make Sure you're Downloading From a Secure Site
You can check if the connection is secure using at the top of your browser
Patreon, Sims Resource, and Mod the Sims tend to be 'safer' than individual posts
Never click on suspicious links
If you feel unsure, move on to the next mod
Understand the Mod
If it's a script mod, review what the mod does
Some script mods have pack requirements to work
Check when it was last updated. The older the mod, the more likely it may not work. Many old, popular mods, like MCCC, are frequently updated and include update notes. Make sure you install the latest version
Mods Work for PC and Mac Only
Sadly, those playing on Xbox One or PS4 do not have access to mods at this time
Install one script mod at a time, or a few pieces of custom content. This makes it easier to troubleshoot if your game isn't launching or working properly
Finally, make sure it's really a Sims 4 file. I've had problems when I've downloaded a file saying it was for Sims 4–only to see the extension on the file meant it was actually for Sims 3.
For Script Mods and Custom Content Mods
Find the Sims 4 Folder
Locate the folder called "Mods". Normally there will be one automatically generated. If not, you can simply create a new folder and label it Mods.
Download the file and drag into the mods folder. You must unzip any zipped files. You can do so using a free tool like the Unarchiver.
You may place folders within the Mods folder to organize, so long as they are all inside the original folder
For Save Files
If you install a save file, make sure to place it under your saves folder, not your mods folder. For information on save files, I highly recommend checking out the popular YouTuber and gamechanger, Lilsimsie.
What is the Sims 4: Furry Mod?
The Sims 4 Furry Mod exploded in popularity, or at least interest when it first debuted. The main focus is to change how your sims look. While we've had CC in the past with animal accessories, this takes it a step further.
Though it may at first feel like a script mod, with a fanfare Furry Mod Trailer, it actually does not technically alter gameplay and works as cosmetic cc to change your Sim's skin details. In other words, while Sims will appear different, the Furry Mod won't alter relationships, emotions, habits, or general behaviors.
Sims 4 Furry Mod Skin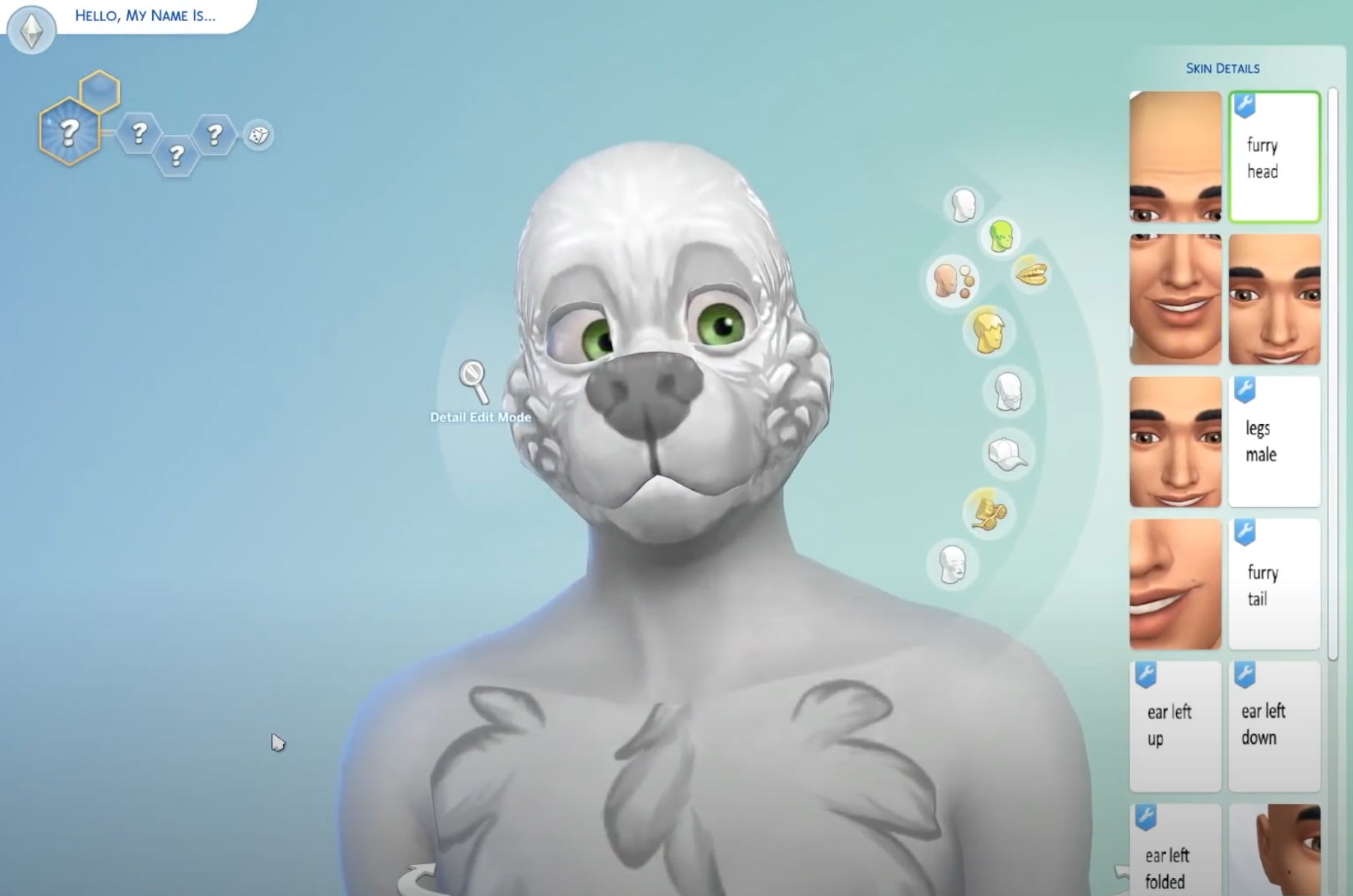 The skin mod was the original release for the Sims 4 Furry Mod and is cosmetic, with a maxis match style. The skin mod allows you to change your Sims' human skin to fur and can be downloaded as makeup and skin details.
Your Sim will walk around with a furry face, animal ears, and even a tail–though Sims will not react to them any differently. The Furry Skin mod is a package file that you place inside your Mods folder. Here's how you apply it once you've launched The Sims 4.
How to Set in Game
Make sure you have all mods-enabled in the Game Options under the main menu
Load your Sim or create a new Sim in Create A Sim
Select your eye color
Apply the new custom eye preset. This should show up under the eye colors and presets and needs to be applied to make the custom eyes work.
Navigate to the Skin Details section
You'll find the bulk of the CC here, include full furry faces of many varieties
Once you select your furry head, the regular Sim head will be replaced, along with a skin detail covering the body.
Besides the skin details, there will be different color swatch options, from pink to tan and many others. This allows you to add color to all black or white fur
You can keep human legs or apply to new custom legs (labeled as custom leg male/ female). These will have animal legs and feet replace regular footwear
Select a tail (still under skin details). There are different types and swatch options.
Select custom ears. There will be an icon for left ears and right ears, both folded and upright, with multiple patterns. You can mix and match the ears.
Select a custom tail
Clothing and accessories:
Most shirts work, and so do glasses
Long pants tend to clip so it's best to stick with shorts, skirts, or short dresses
Body sliders mostly work as they normally would
Sims 4 Furry Skin Savestate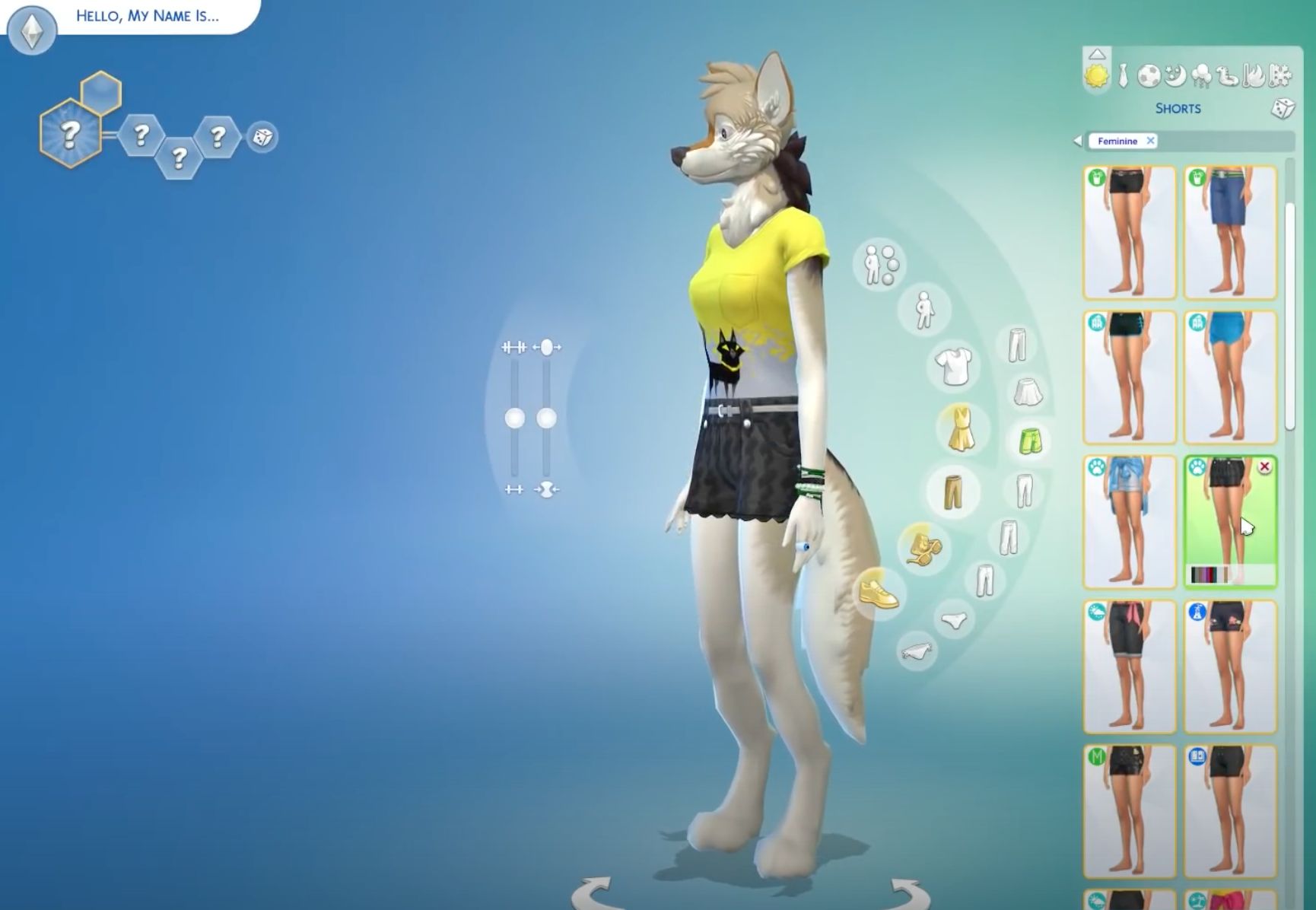 The Sims 4 Furry Skin Savestate is an addition to the Sims 4 Furry mod, and the two, if you choose, are meant to be used together. It adds just a touch of gameplay and is meant as a small addition to expanding the use of the original Sims 4 Furry Mod.
The Save State allows you to have more flexibility. You'll get additional options including:
More presets for custom animal ears, including rounded, custom, and folded
More furry types, including cheetahs, leopards, dogs, tigers, foxes, and wolves
Curled tails
More flexible clothing options
FAQs
Question: Do Sims 4 mods cause viruses?
Answer: Yes, Sims 4 mods can cause viruses if you don't download them from trusted sites. With proactive steps, however, you can generally keep your computer safe. First, make sure you have antivirus software of some kind installed. Next, go to trusted sites and established creators.
For script mods that are popular, you may even be able to find a popular simmer who has already installed it in their game. Next, know that it is rare for creators to install malware with package files. While nothing is 100 percent foolproof, sticking to these tips mostly means you don't have much to worry about; just steer away from suspicious links.
Question: Can you mod on PS4 for Sims 4?
Answer: No, you can't mod on PS4 for Sims 4. Mods and custom content are only available for Mac and PC players for Sims 4 at the time. While console players now finally have access to the full content and creator Sims 4 Gallery, they cannot download any content with mods or custom content.
Question: Is Adfly Safe for Sims 4?
Answer: Adfly is not safe for Sims 4, so you need to be very careful with it. Adfly does have the potential to be harmful, as it creates pop up links and occasionally tries to force install things in your browser. Some have used Adfly and never gotten viruses, but there are many other ways to get custom content without the potential risk.
Question: Is Slice of Life a Script Mod?
Answer: Slice of Life is one of the most popular mods and is considered a script mod. Script mods are any custom content that change gameplay in some way, which is certainly true of Slice of Life. Slice of Life is well tested, highly acclaimed, and one of the most frequently updated script mods for the Sims 4.
Final Thoughts
While the Sims 4: Furry Mod doesn't fit my playstyle, I appreciate the creativity, innovation and quirky appeal. Certainly there is a lot of talent behind this. Unlike accessories and typical pieces of custom content, the Sims 4 Furry Mod does transform the body of your Sim, not only by adding simple skin details but by replacing the head, legs, and even equipping your Sim with custom animal ears and a tail.
The fact that this mod also allows you to adjust your Sims' frame and body type and wear clothes is also impressive. Limitations of the mod include not being able to apply regular makeup; being limited to Adult and Young Adult Sims, and limitations when it comes to wearing long pants and skirts.
Overall, the Sims 4 Furry Mod may not change your gameplay, but it's certainly interesting and could make for some wacky storytelling.
Where to Download: You can download the Sims 4 Furry Mod here. Do note that, while many have downloaded without problems, it's not technically a secure site so proceed with caution.
Continue reading:
Sims 4 Life Tragedies Mod Guide