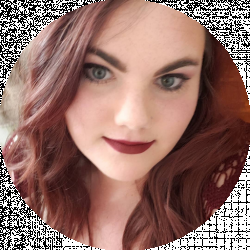 Latest posts by Miah Schmahl
(see all)
When the Sims franchise originally released 20 years ago, one of the hallmarks of the game was installing custom content or objects and items that aren't originally part of the game. Over the years this has continued to be a major part of the Sims games and the community of fans.
There are multiple types of custom content and how it is installed and packaged has changed with each game. So what exactly is custom content and why should we use it? Well, custom content is in general objects, such as, clothing, furniture, and other in-game items that are created by a 3rd party, usually referred to a modder and installed by you the player.
These objects can then be used in-game, additionally, in Sim 4 players can install mods. Mods change an aspect of the game in some way, instead of just adding an object to the game.
These objects and mods can be used to spice up the game, create a certain look, or just get a change from the same old CAS and buy mode items. Some items can be used to create a story within the game and make it more authentic, while others are simply for fun.
There are thousands of custom content files out there for players to download and use. This article will focus on how custom content works, some of the best custom content sites, and the must-haves for your game.
Installing Mods and Custom Content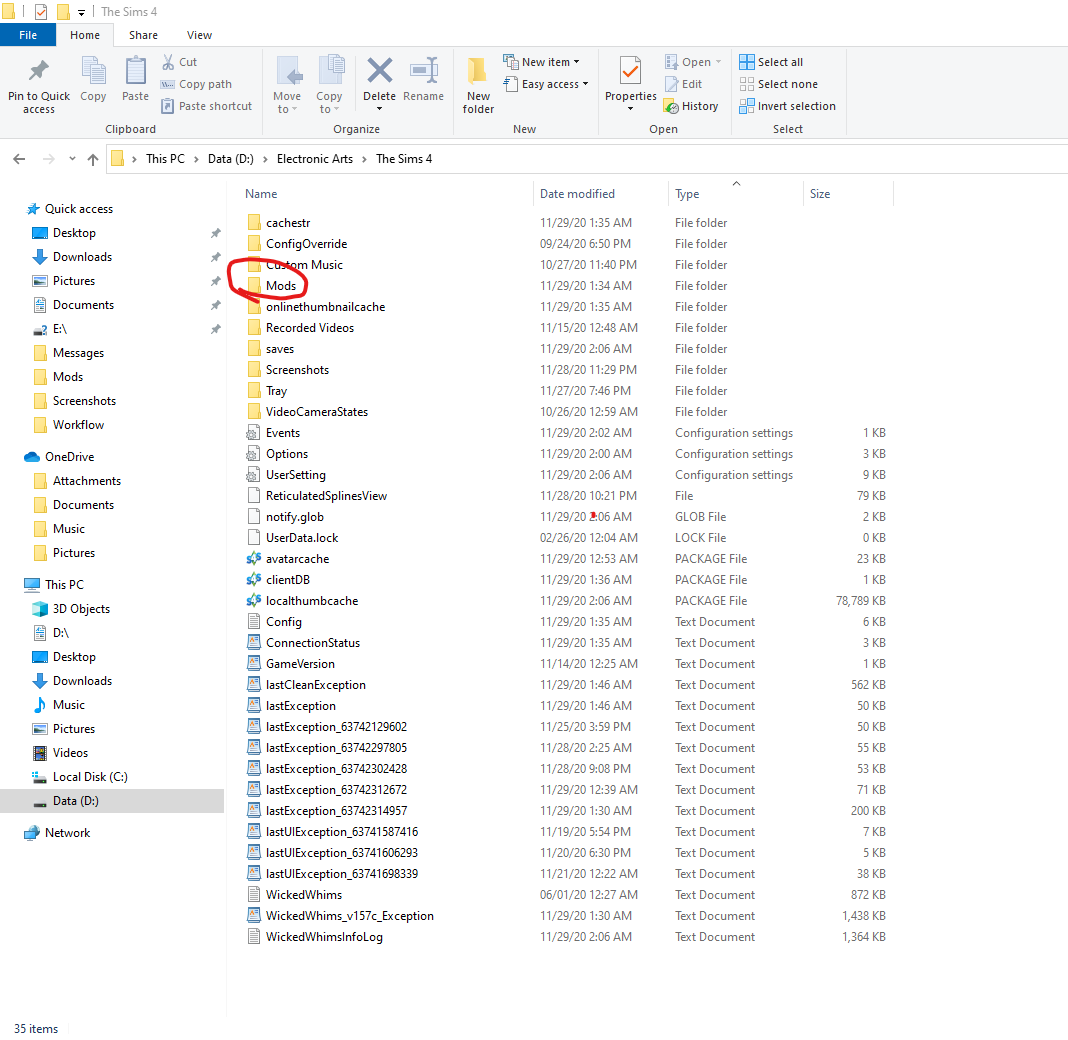 Installing mods and custom content has changed over time, with some methods being a nightmare and others like the method for Sims 4 being simple and much easier.
When it comes to installing mods and custom content there is only one folder that you need to worry about. That folder is called mods and it is typically found within your documents folder, under electronic arts/The Sims 4 as shown in the screenshot below.
When downloading a mod or custom content all of the files associated with it, such as the package file and potential script file for mods will go into the mods folder. Most custom content will either come as in a zipped folder or as a single package file.
I personally prefer to download my content in sets rather than as single items, as I'm less likely to use just a single item and more likely to decorate using a set of objects. However, when downloading items to create a sim I often find myself downloading single package files.
Installing them is the same either way if you have a zipped folder open it using the windows unzipping tool or a 3rd party tool, such as 7zip to open the folder. From there you can simply highlight all the files and move them to the mods folder or you can extract them into the mods folder.
Package files simply need to be moved from the folder they download to the mods folder. You also need to enable custom content and mods, you can do this by opening the settings menu and going to game options then clicking enable custom content and mods.
If you plan on using script mods you will also want to click the box below to enable script mods. From here you can save the settings and restart the game for them to take effect.
From now on when you start the game you will see a mods pop-up at the main menu that will let you know what mods and custom content you have installed in the game. Once custom content is installed you will find the item in their respective categories and the mod will typically come with information on how to access what is needed.
Lots, Tray Files, and Installation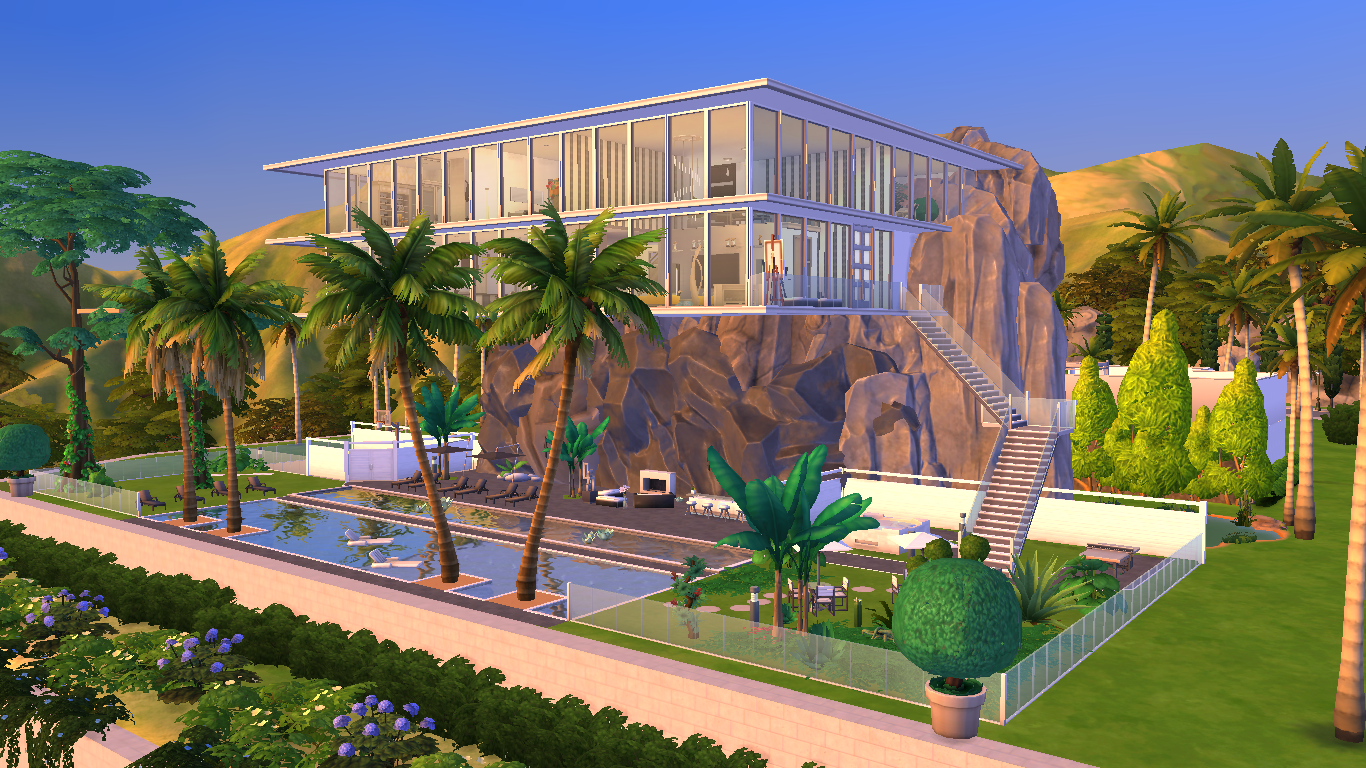 Tray Files are another type of custom content that is exclusive to Sims 4 lot files, room files, and households. There are two ways to install these files, the first way is to use the gallery.
The gallery is probably the easiest way to install tray files as it is native to the game and easily uploaded to by fellow Simmers. Inside the gallery, you will find all manner of residential lots, community lots, venues, households, and pre-decorated rooms for download.
They can be installed with a simple click of the button, please note that use of the gallery requires internet. Installing Tray files is another way of downloading lots, households, and rooms. On 3rd party sites, uploaders will upload a zipped file of their items tray files.
Those files can then be unzipped and put in the tray folder then the same way you would custom content and mods. I personally would recommend separating every tray file with a folder because the tray files themselves do not have unique identifiers.
The Tray folder can be found in the same folder as the mods folder. Once tray files are installed you can find the lots, household, or room under the gallery in my library, don't forget to click on allow custom content when searching for a lot.
Otherwise, it might not show up as an option to play with, you can further separate what you are looking for by using the view content by panel on the left-hand side of the screen. From here you can choose between households, lots and rooms and you can further narrow down your search to find what you are looking for.
You can also save your own lots to the gallery as well, you can do this by first saving the lot to your library. This is done by clicking the save to my library button on the top.
Once it's saved to my library you can open the gallery and go to your library to find the content you've created, select it and then click the cloud icon to upload it to the gallery. Items can be found in the gallery by looking under people's usernames or by using the search panel on the left-hand side.
Mods vs Custom Content
We've talked about custom content and mods, as well as tray files and their differences. Now let's talk about mods vs custom content. First, let's start with custom content, custom content includes these items:
Objects for build/buy mode
Hair
Makeup
Clothing
Shoes
Accessories
While mods typically include
A behavior change in the gameplay or added feature to the game
A ts4script file also installed in the mods folder
A package file that matches the script file or just a package file and no script file
Objects if the mod needs them to work.
The biggest differences are that custom content includes objects and create sim/style additions for all life stages. While mods typically change the gameplay in some way or add a missing feature in a lot of cases. When it comes to downloading custom content you want to be aware of what mesh the custom content uses.
A mesh is a base layer of the custom content piece and is needed to appear in-game. In many cases, you may find a piece of custom content you like and not realize you also need to download the mesh as well, usually from a different creator.
I personally find this cumbersome and instead stick to originally made pieces where I know the flies also include a mesh. However, I miss out on a lot of really cool content because of that. When downloading mods it is important to pay attention to the mod and the update files.
You always want to patch your game as soon as possible and you want to make sure any files you download are updated or deemed safe by the creator.
Mods can be very powerful and have the ability to break your game if you aren't careful, however, they add a lot of fun and life to the game. Below we will talk about some of my favorite creators and must-have game mods.
Alpha vs Maxis Match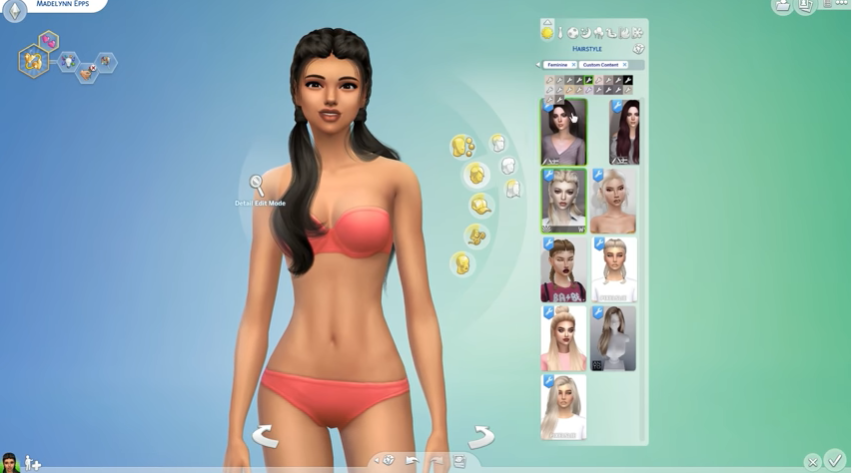 There are two styles of custom content one is called alpha and one is called maxis match. Alpha CC is custom content that is very different from custom content that is in the game.
It typically looks a lot more realistic than the maxis match, everything has a pattern that looks very realistic. Maxis match is custom content that looks identical to what you would typically find within the game, the hair looks flatter and the lashes are chunkier.
Furniture will match with what's already in the game and oftentimes is built off of existing meshes for Sims 4. The addition of extra pack pieces is very popular among some Maxis Match creators. The decision between the two are really is up to the player, I personally use a mix of both types of custom content.
I find I really enjoy alpha CC for my Sims, as I prefer the realistic looking Sims versus the ones that come from Maxis. I do adore Maxis Match custom content when I am building houses in the game.
Some of my favorite creators make absolutely beautiful Maxis Match custom content. The furniture and build pieces blend into the game much easier when using Maxis Match to build.
I do, however, use Alpha CC when decorating. I believe that it's up to you to decide how you want to use CC and if these distinguishments even mean anything to you.
Top 5 Mod Sites
Modthesims.info
Modthesims.info has been around for a very long time and contains a plethora of content. Personally, I mostly find mods on this site, however, it is home to some custom content as well.
The mods I find the most often on this site are related to non-autonomy mods, basically, these mods stop Sims from doing certain behaviors in the game unless specifically asked to do that action.
Currently, there are 138 pages of mods hosted on modthesim.info with everything ranging from, small game fixes for items to entire overhauls of a game feature.
For example, mod the sim hosts an overhaul for babies to make them better and more interactive, as well as, a small fix for digital sketch pads. There's sure to be a mod you find essential somewhere on this website!
Deaderpool
Deaderpool is the creator of one of the must-have mods of all time, called MCC Command Center, however, we will talk more in-depth about that mod below.
On Deaderpool's website, you'll also find extensions for Command Center, all of his updates and notes about them as well. It's the only place you can download his mods, you can also support him as a modder from his webpage if you wish.
Zerbu
Zerbu is a creator of a ton of mods and a piece of software called the mod constructor. Some of their most popular mods include the Go To School Mod and Turbo Careers Mod.
The Go to School mod allows you the player to follow your kid to school just like you would during an active career. The Turbo careers mod is similar to the Go To School mod in that it turns every career in the game into an active career, making for a much more immersive experience. I personally don't use their mods, but they are very highly rated by the Sims community.
Kawaii Stacie
Kawaii Stacie is the creator of one of my favorite mods in the game that we will discuss below, but they are also the creator of multiple very popular mods that add a lot of life and realism to the game.
If you feel like your Sims and the world they live in is a little flat check out some of Kawaii Stacie's mods to spice it up. In addition to creating mods, they also create custom content to download into your game.
Little Ms. Sams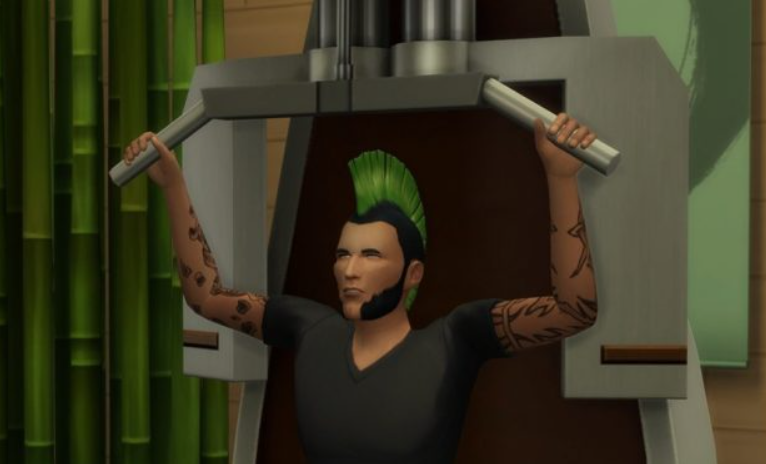 Little Ms. Sams is another creator of a bunch of different mods that really change how the gameplay works and in many cases help make the game a lot more functional and easy to use. I use so many of their mods I have a dedicated folder but they are so awesome and add so much more to the game.
Sims Realist
Sim Realist is home to multiple mods that help the game feel more realistic and in many ways a lot more fun. I personally use multiple mods from Sims Realist and consider them essential for gameplay. I'll talk about my favorite Sims Realist Mods below.
Top 5 Custom Content Sites
The Sims Resource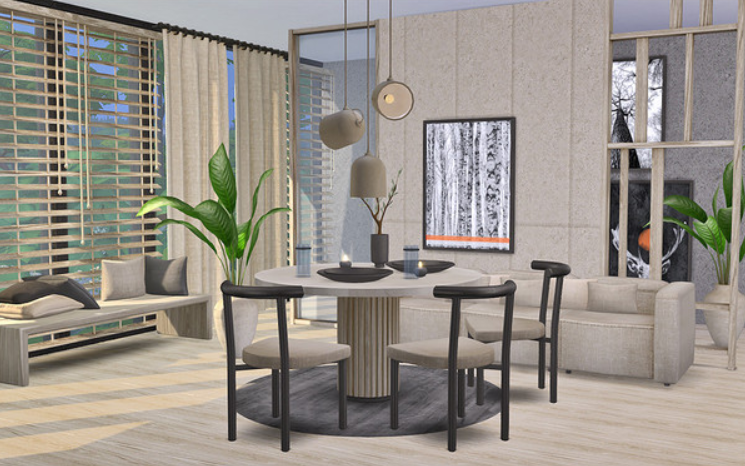 The Sims Resource is home to one of the largest catalogs of Sims Custom Content. Not only do they have thousands of pages of Sims 4 Custom Content they also have custom content for every single game in The Sims Franchise.
They host every kind of Sims 4 custom content that you could imagine and make it easy for you to download items that creators intended as a set. There are a variety of creators on The Sims Resource and the site routinely features some of the best content from their best creators.
For additional features you can buy a VIP membership as well, however, it is completely optional all content is available for free.
Peacemaker
Peacemaker is a custom content creator that makes Maxis Match content. All of their content blends beautifully into the game and in many cases expands on the original content in the game.
I love having more door styles and window styles that match the content from my favorite packs. It makes building much easier. Their furniture custom content is also wonderful, fun and in some cases very whimsical. I have all of their custom content downloaded as I use it that often.
Simlish Design
Simlish Designs was actually a blog I discovered while researching this article. It was a super pleasant discovery and I'm very happy to be able to recommend this awesome blog for Sims Custom Content. The majority of the content found on Simlish Designs is Maxis Match and is honestly wonderful.
Sims4download.net
This site contains thousands of posts that will link you to creators and their content. While they don't host content personally, this site is a great way to track down specific custom content or just find something new.
I personally use it because otherwise, I would have never found some of my favorite creators and custom content pieces. Searching for Sims 4 custom content can be very overwhelming.
Pinterest
Believe it or not, Pinterest is a great way to find well just about everything, and Sims 4 custom content is definitely included. There are a few downsides to using Pinterest, such as, coming across a deadlink or missing link. However, Pinterest holds a lot of links to wonderful custom content that can really liven up your game.
Must-Have Mods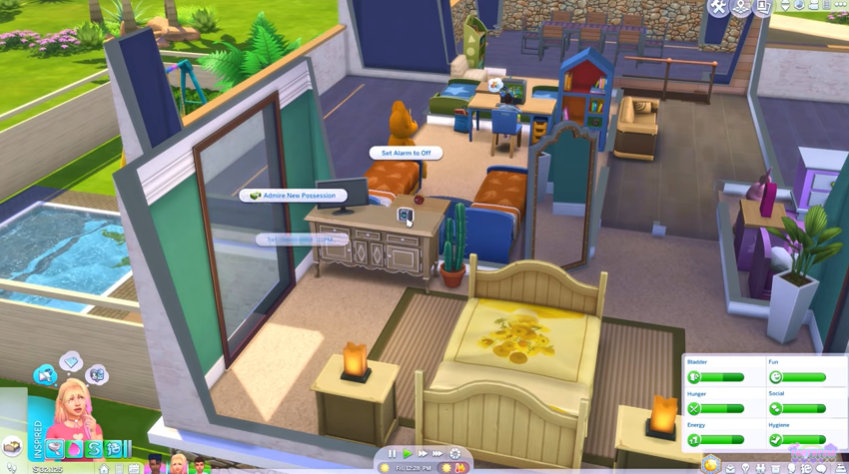 Deaderpool MCC Command Center
MCC Command Center is my first download whenever I decide to re-create my Sims mods folder. This mod works by creating an easily accessed menu in the game for all sorts of Sim info and cheats.
The mod gives you the ability to basically do anything within the game. I often use it to cheat skills, check for pregnancy and baby gender, occasionally make some other changes to the game.
This mod also adds the ability to add child support, pregnancy changes, and other features to the game. The menu is large and can be accessed by clicking on any Sim or for a more general world menu on any computer.
UI Cheats Extension
UI Cheats Extension is another mod that is a must-have. This mod adds a lot of mouse functionality that wasn't implemented in Sims 4.
In Sims 3 players had the ability to drag needs and other bars in order to increase or decrease that need. Sims 4 doesn't have the same functionality natively so UI Cheats Extension adds it.
Not only does it add the ability to drag need bars, but you can also right-click to finish a task, set a relationship bar, change your grade or work progression and so much more. I honestly can't play the game without this mod installed.
Slice of Life
Slice of Life is a mod that I've only recently found and I quickly come to find it essential for gameplay. This mod adds a lot of realistic life-like experiences into the game.
For example, female Sims will now experience a menstrual cycle and Sims will now experience acne. The mod also adds a lot of facial expressions and animations into the game for various moods that add so much more life and personality into Sims, their daily life, and interactions with the Sims and objects around them.
Basemental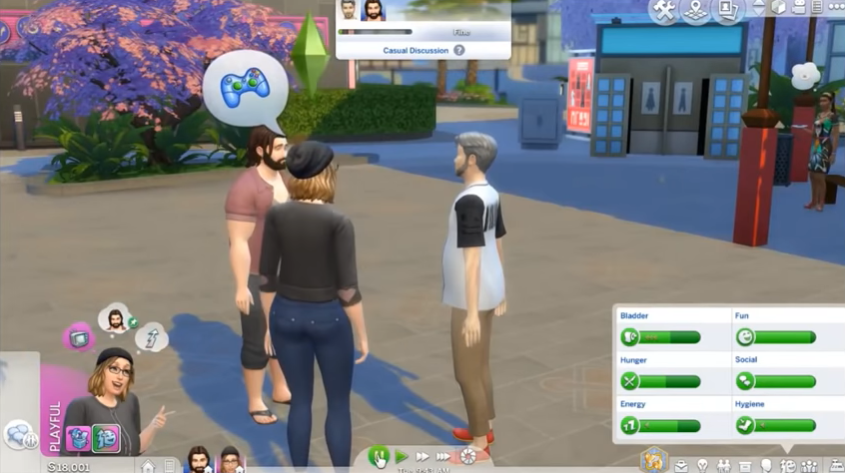 Basemental is a mod for adult Simmers and one that I personally find essential for my gameplay as an adult. This mod adds realistic alcohol and other things into the game to make it more fun and add some reality. Instead of drinking juice, Sims can now go grab a nice cold beer at their favorite bar or pub.
SNB Bank
SNB Bank is a mod that adds a banking feature and a more realistic bill feature to the game. These two features go together and allow for Sims to have their very own bank account that is separate from household funds. You can determine how much of their pay goes into the bank account and how much goes into household funds.
This is wonderful if you want your teen Sim to save their money from their part-time job for when they age up. It's also a great way to have a savings account for your Sim that is out of sight and out of mind.
Additionally, if you have SNB Bills you can pay your household bills and taxes using your bank account. In this case, you can use the bank account for the important must pay items and the household funds as free money. You can use both strategies in the same household, as each bank account is for the individual, not the household.
Little Ms. Sams Pregnancy Overhaul
Little Ms. Sams Pregnancy Overhaul is a comprehensive overhaul for all the pregnancy features in Sims 4. Now Sims can have smaller bellies, do more activities that are typically forbidden during pregnancy. Little Ms. Sam's has a lot of mods that go hand in hand with the pregnancy overhaul that bring a lot more realism to the game as well.
Mods and Custom content have been around since the beginning of Sims and will continue to be a hallmark of the Sims Franchise.
Whether you are just looking to spice up the look of your game with some awesome custom content from Peacemaker or wanting to completely overhaul your game with mods and change how it works you will find something in this article to interest you.
When you are just starting with gathering custom content and mods don't be afraid to check out the mods and custom content listed here, as well as, other content created by these talented simmers and artists.
See more of the amazing mods available:
FAQs
Question: Why should I use mods or custom content?
Answer: Using mods and custom content is totally an individual's choice. I personally use it to spice up my game and create new and interesting scenarios with my sims.
I also really enjoy building and furnishing homes for my Sims. I know I couldn't make them look the way I want without at least some custom content.
However, there are valid reasons to not use mods or custom content. They can honestly be headaches and cause issues with the game, some people might not want to deal with it. You can also have to make sure to update objects and mods within the game when certain patches or packs come out.
Question: Are there NSFW mods out there?
Answer: Yes, there are if that is your thing, don't be afraid to use google they are easy to find.
Question: Can Custom Content Break my Game?
Answer: Yes, broken or mods that have not been updated can definitely break your game and cause it to glitch out and even crash unexpectedly.
It's important after each update to go through and update all Mods. Sometimes patches will break custom content and you can keep an eye on the Sims4Studio for batch fixes for the custom content. Custom content that is missing its mesh won't show up properly in the game.
Question: How much custom content can you download and install?
I'm honestly not sure if there is a cap on the amount you can have. I have had gigs' worth of custom content in my game before and while it was considerably slow when loading for the first time and occasionally locks up going between build and buy modes, I haven't noticed any issues.
Gameplay-wise everything is very smooth and when I'm in build and buy mode I rarely have issues, except for maybe having too many decorative objects.
Continue reading:
Best Sims 4 Restaurant Mods Guide
Sims 4 Life Tragedies Mod Guide
Sims 4 Furry Mod Guide: All You Need To Know