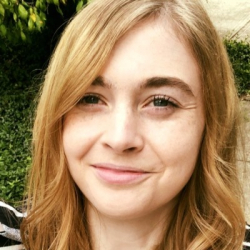 Latest posts by Erin Jamieson
(see all)
Have you ever dreamed of opening up your restaurant and impressing clients? You can do that and more with some of the best Sims 4 restaurant mods. 
When Sims 4 Dine Out debuted in 2016, many swimmers were excited. The excitement was understandable since Sims 3 mostly relegated the eating out experience to rabbit holes– locations where you send your sims but don't watch. 
On paper, the concept sounded exciting, and I, too, was hopeful. As someone who loves both the Sims franchise and who is passionate about cooking, I couldn't wait to get my hands on the game pack. Managing a restaurant, setting the menu, and adding decor also took me back to my days playing Restaurant Empire. 
And with the release of the Sims 4: Dine Out Gameplay Trailer, features like experimental food, being judged by critical customers, and trying to keep pace with the hustle and bustle seemed all that more promising. And while the game pack is fun and allows you to do many of those things, many find the pack is much improved with mods.
From fixing Sims 4 Dine Out glitches and bugs to adding expanded gameplay and even some cosmetic custom content, downloading something from talented creators can dramatically change your playing experience. Here's why I recommend restaurant mods for the Sims 4, and the best ones to download today. 
Are there Restaurants in Sims 4?
If you're new to Sims 4 and only have the base game, you might be disappointed when you go out to eat. That's because the Sims 4 base game has community lots– such as bars, libraries, and even museums– but not places to eat. To own, manage or even eat out at a restaurant, you'll need to purchase Sims 4: Dine Out. The game pack allows you to take your sims' households to eat, and it also allows you to manage your restaurants, among other features. 
How Do I go to a Restaurant in Sims 4?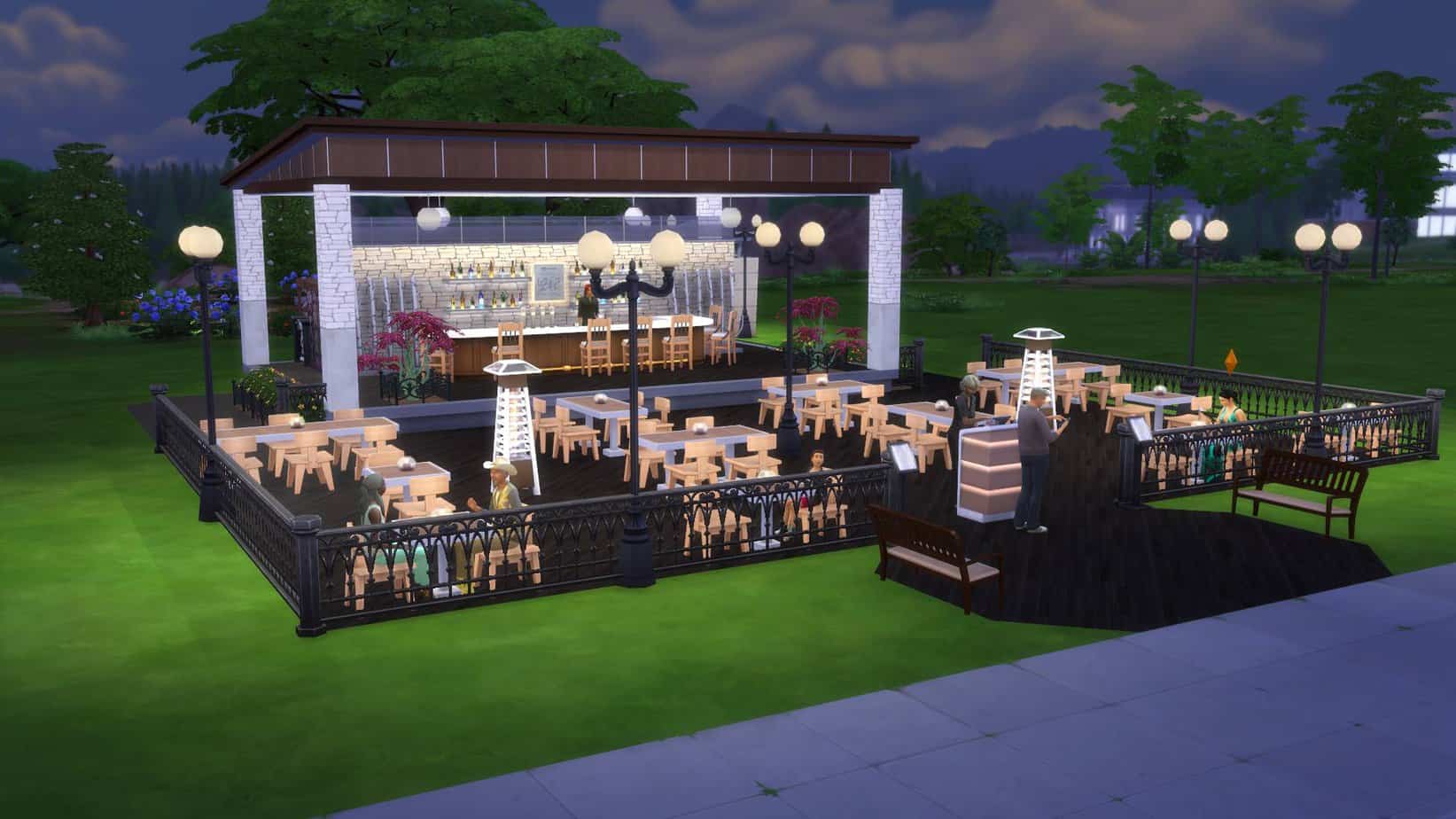 Once you install Sim 4: Dine Out you'll be able to add restaurants from the gallery. If you start with a new save, you'll be prompted with a pop-up window as you load into a world, asking if you'd like to add a restaurant. Otherwise, you'll need to head over to the Sims 4 Gallery. Follow these steps to add a restaurant to your game.
Step One: Download A Restaurant 
First, you need to place a restaurant in your game, so your sims have somewhere to travel to. 
Install the Sims 4: Dine Out 

Open up the Gallery from the Main Menu or while you're in your game. 

Click on "My Library"

Filter by Game Packs and "Dine Out." This will show you a few premade restaurants that come with Dine Out and are made by EA. To place a lot, simply select to place the lot and choose a world with an empty lot. You can place furnished (recommended) or unfurnished (which will require you to add everything necessary).

Alternatively, you can also search for the many wonderful restaurants made by Simmers on the Sims 4 Gallery. Simply use keywords and use the filters on the side for the correct lot top. Just check the description before you download a user-made restaurant. The icons below the build will show you what packs were used. You can download builds that use some packs you don't own– but know that some content will be missing and you may need to fill it in yourself. 
Step Two: Book A Restaurant in Dine Out
Now you have a restaurant or many in your game, it's time to enjoy! Begin by selecting a household and go into live mode.
Once you're in your household, you can either click on the phone interface (and travel to the community lot) or press the "M" key to bring you to the map. 

Select the restaurant and all sims you want to take

You'll be taken to the loading screen, then the lot you've selected

Once you're there, find the hostess station and click the sim to "Request a Table."

You'll be seated. If all tables are full, you'll get a waiting bar meter. You can walk around the lot until it runs out. Once the meter runs out, you'll be seated.

Click on the table and select "Order for Table."

A pop-up menu will appear, where one sim will order for their table. Select all food or drink items you'd like. There will be a subtotal for your order in the corner of the menu. Select the sims you're ordering from and hit the checkmark to submit your order. 

Sit and wait for your food to be brought out. Keep in mind it may take a while– but it's been a long time, there's a chance something went wrong.  
Can you Make a Restaurant in the Sims?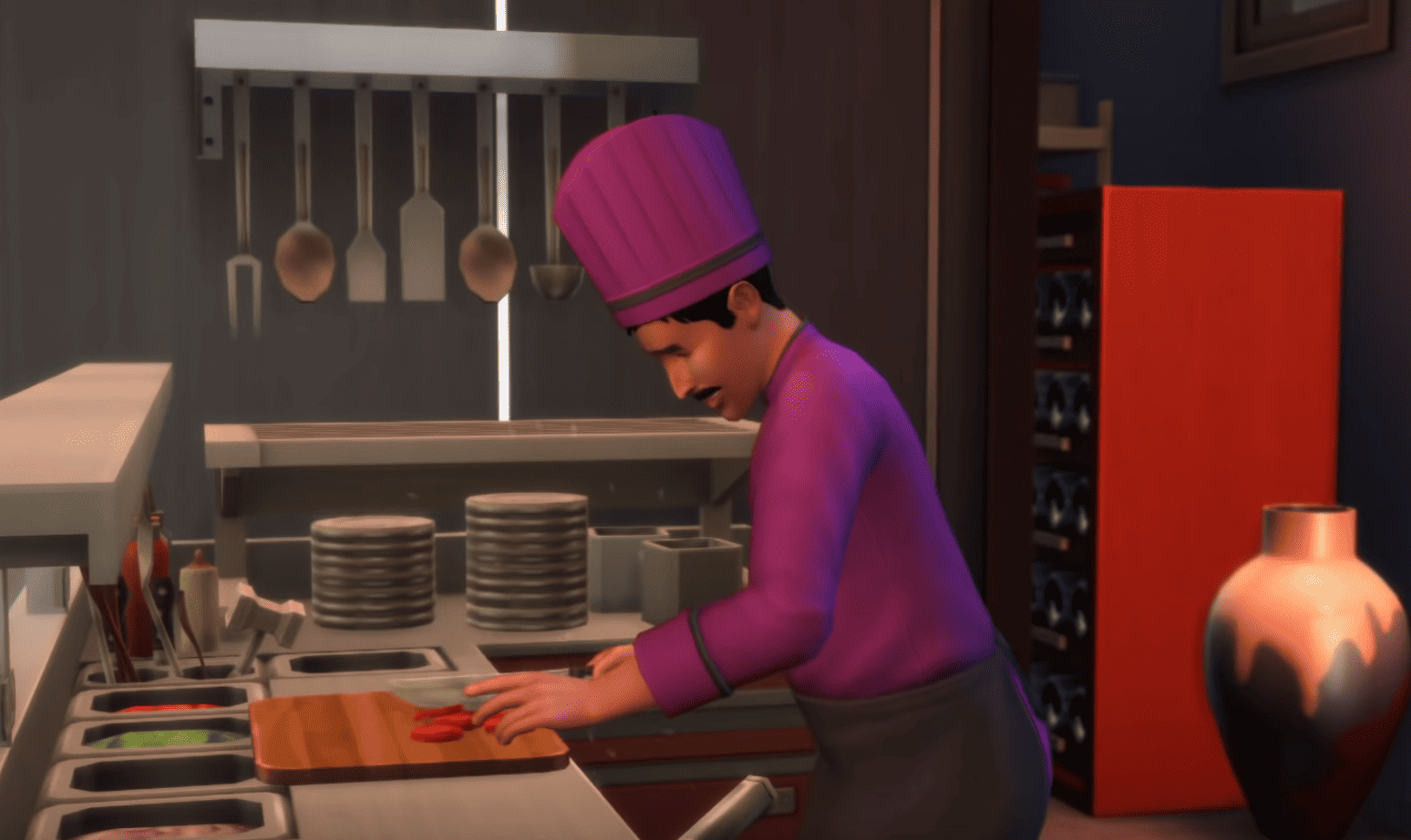 If you own Dine Out, you can make your restaurant and so many other creative simmers have done and upload it to the gallery for others to download (or simply save it privately to your library). To build a restaurant, you'll have to satisfy several requirements. Your building must have the following components:
1 toilet and 1 sink

1 chef station

1 waiting station

1 host station

At least 4 places to eat (includes tables and seats at bars)
I also recommend adding a dishwashing station. 
You can save it to the gallery and visit it. But if you want to actively manage and play at the restaurant, you'll need to buy it. 
Why Can't I Buy a Restaurant in Sims 4?
To buy a restaurant, find the Ownership Icon on the right corner of your screen. You select "Buy A Restaurant" and then choose a lot of your choice. You can also access this option from your Sims phone-you must be in Live Mode. You'll also need to transfer funds to start your business. These funds are needed for your staff and the expenses of running a place. I  recommended saving up at least 10,000 simoleons, if not up to 20,000, for a larger restaurant. 
Follow these steps and you're on your way to running a restaurant. You can buy a pre-owned restaurant by managing worlds and using the same "Buy A Restaurant" feature. 
How Do you Run a Successful Restaurant in Sims 4?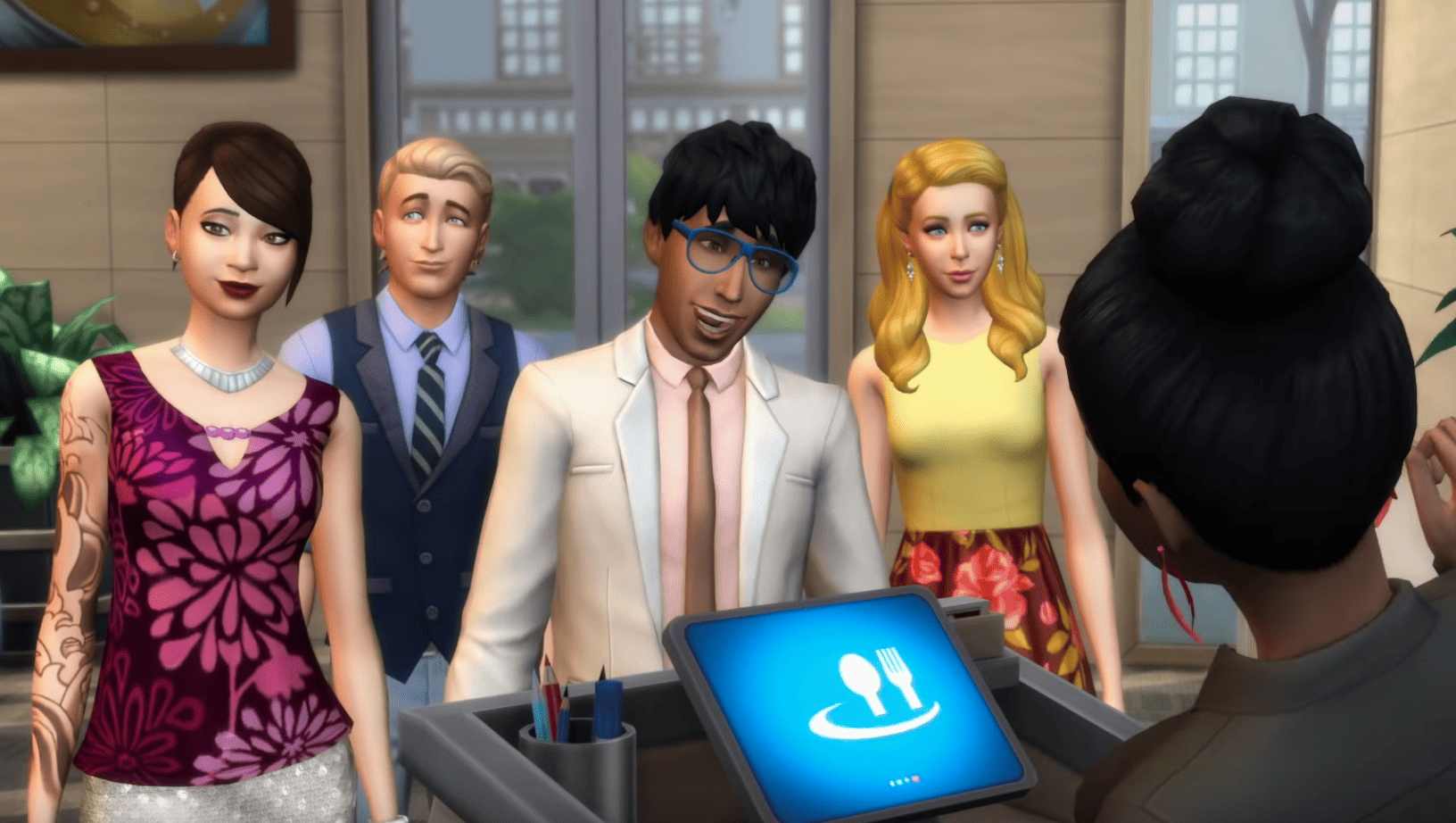 Of course, buying a restaurant is one thing. Having a successful restaurant in Sims 4 is another. Dine Out works by allowing you to manage your staff and set your menu. This creativity is a lot of fun– and it's a system, at least on the surface, that I'd love to see more of in Sims 4. But to succeed, you need to be strategic. 
How Many Chefs Can you Have in Sims 4?
Without mods, you have several limitations. You can hire up to 2 chefs (recommended), a single host, and three waiters, thus leaving you with six staff in total to hire. I recommend you hire all 6, even for a smaller place. 
How Do you Make a Profitable Restaurant in Sims 4?
After ensuring that you've selected your staff, it's time to set your menu and layout in a way conducive to a profitable place. You'll also need to be savvy about how you manage your staff. 
Make it Presentable 
Larger places should include more than one bathroom if possible. And keep guests happy by adding wall decor, plants, and other items to boost the atmosphere. Make sure you remember windows and plenty of lighting, as well as a front door and side doors. Provide enough space in between tables so sims can easily walk around, and leave enough space from the main kitchen doors to the dining room to avoid routing issues. 
Customize Your Menu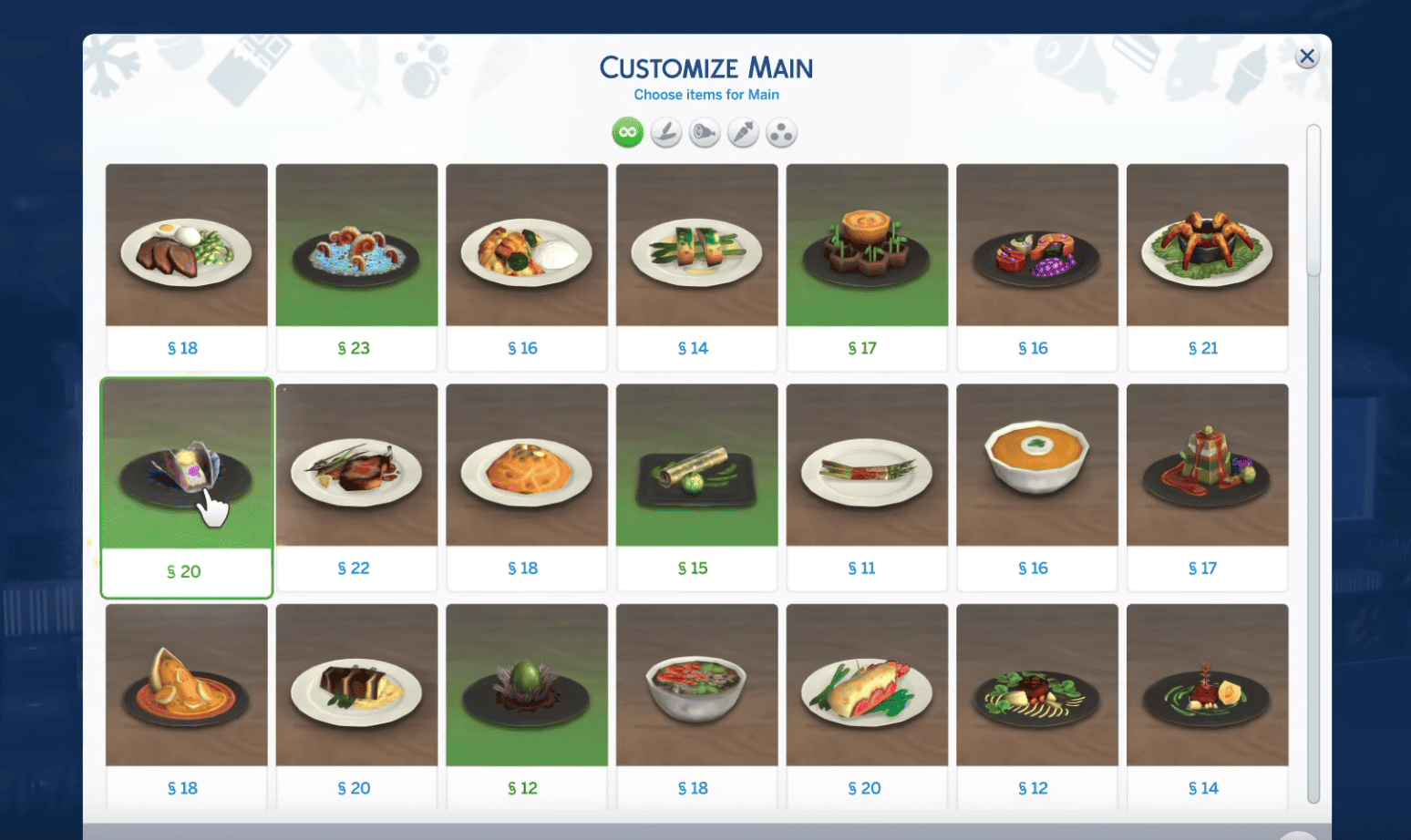 Selecting food and drink options isn't just fun– it can also be strategic. Find the menu by selecting "Restaurant Settings/Management Settings" and selecting "Edit Restaurant Menu." Here you have two options: choose a preset menu, or make one of your own. Preset menus include Dinner, Brunch, Experimental, Italian, and Seafood. Now if you don't want to use any of these and make your own, that's fine. 
But notice something about each of these presets: they all have drinks, appetizers, main courses, and desserts. Make sure your menu has at least one option for each category. A little variety ensures that people will stay interested, regardless of your theme. You may want to start with a more modest menu, however, and slowly add items as your restaurant earns acclaim. Then you can also raise prices– but only do so when your chef's cooking level has improved. 
Redeem Perk Points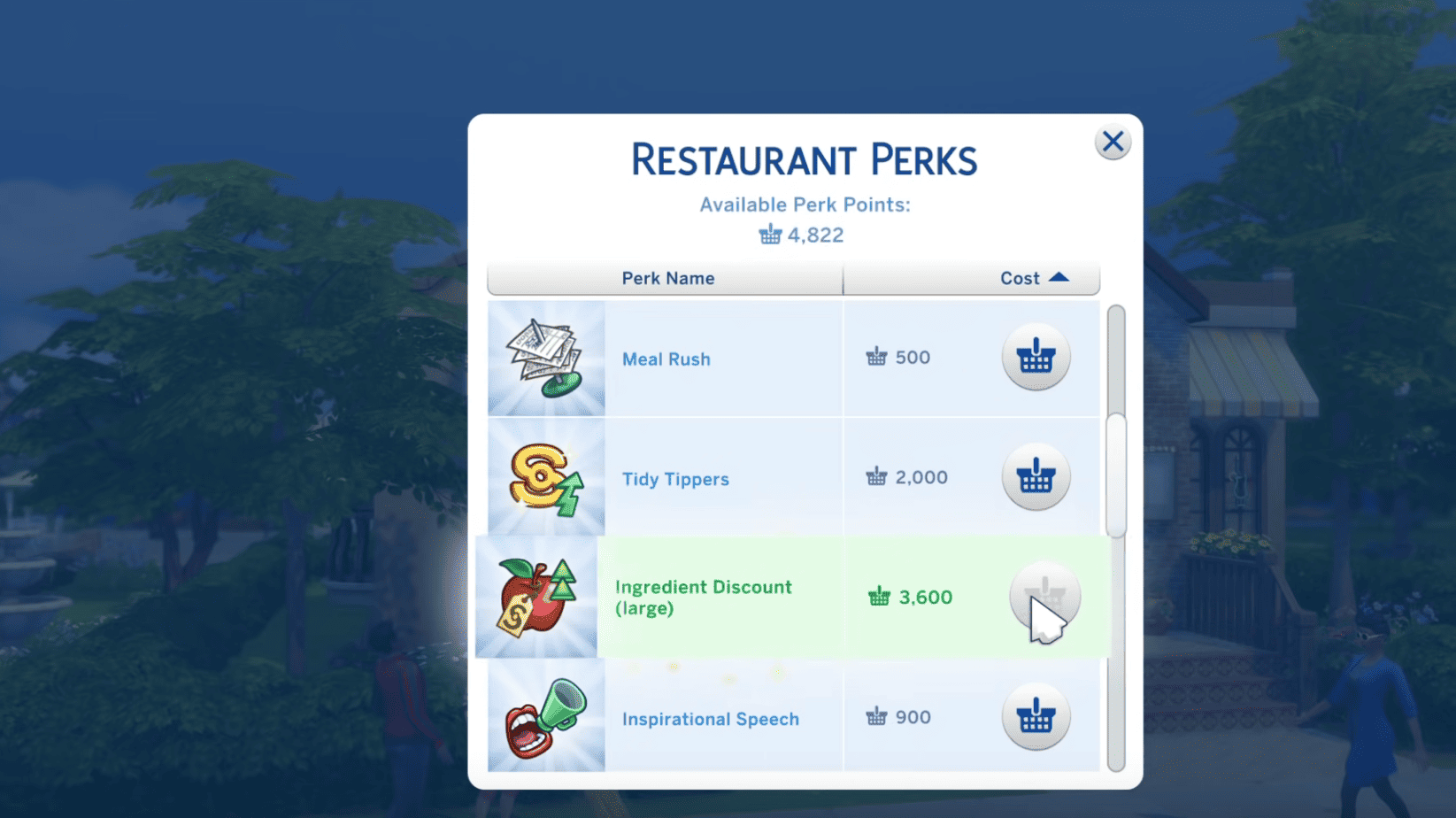 One of the best ways to boost your restaurant's performance is earning perk points. Perk points are given for welcoming guests (25 points), recommending dishes (25 points– for customers with a question over their heads), checking on tables (25 points), and when employees are promoted (35 points). Redeem them for perks, such as hiring an additional waiter, improving the quality of the ingredients, doubling your customers, and even attracting customers willing to pay more. Earn as many points as possible in 24 hours and check back in the Rewards Store. These perks make a difference. 
Manage Your Staff
How your staff behaves greatly impacts your reputation. You can opt to praise your staff to boost their morale. Start with the host and work to become chefs. When you praise your staff, they are more likely to treat customers well. Avoid criticism unless they are truthfully failing. Be patient and invest money and time for their skills to rise with training. 
Mind the Guests and Critics
Put your best foot forward by making the experience enjoyable for food critics and guests alike. Greet everyone that comes in to create an inviting atmosphere. Make sure you provide extra great service, however, to critics– as their experiences are worth the most and will affect your restaurant's rating the most. 
Working with Chefs
Chefs, of course, have a huge say in what other sims will think about your restaurant. You can balance speed and quality. When you start, and whenever you have very few customers, it may be wise to instruct beginner chefs to "Cook Carefully." Doing so boosts food satisfaction. But if you're very busy, balance this out because waiting too long will result in lower ratings. Vary back and forth depending on how busy your restaurant is, using quick-cooking only when needed. 
Is The Sims 4: Dine Out Worth it?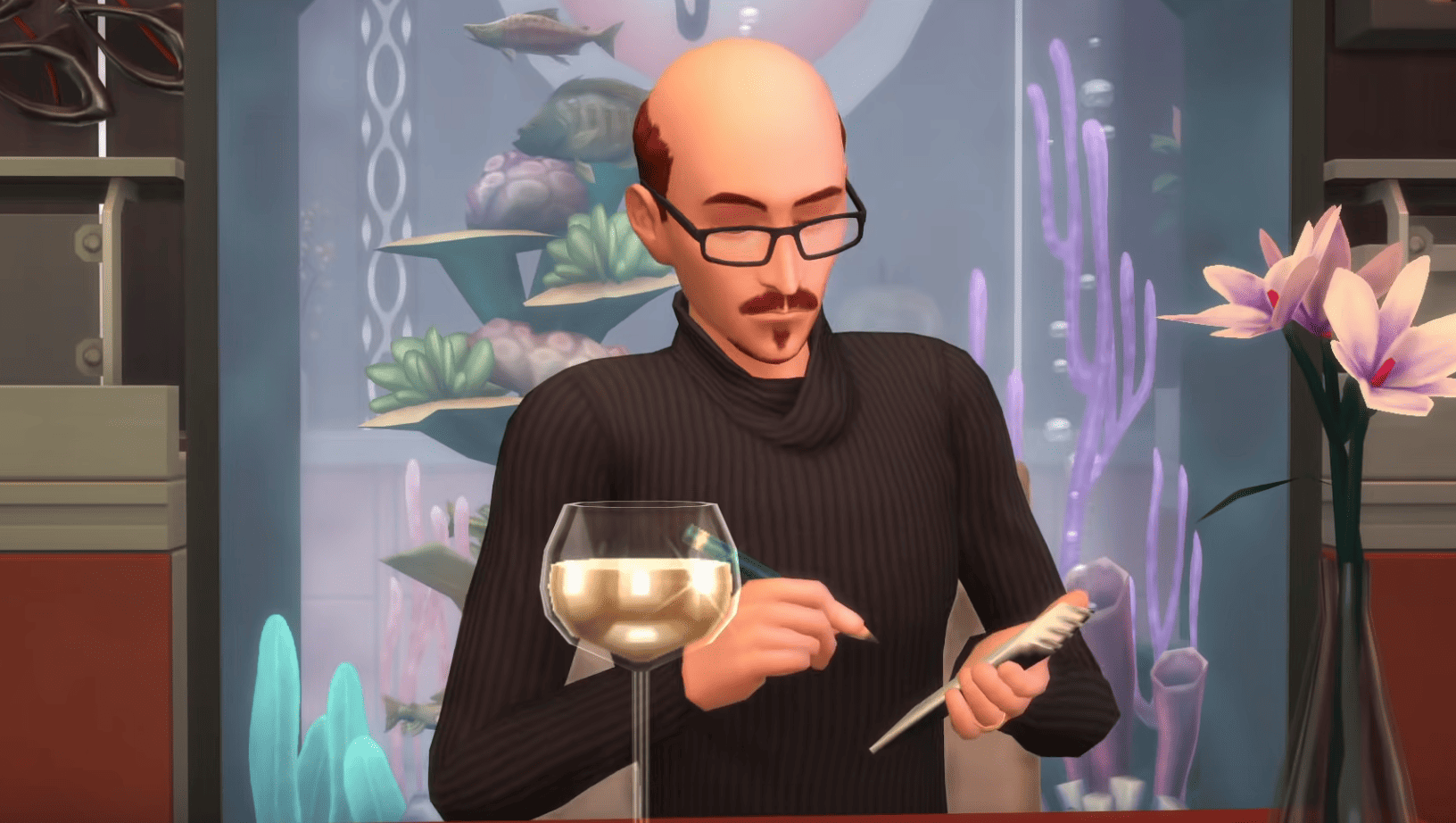 The Sims 4 Dine Out, as you can see, comes with a lot of potential for gameplay. You can run your restaurant and take your sim out to eat. I love the realistic gameplay it adds, and it's also great for giving your sims a way to celebrate, go on dates, and even spend family time together. I also cannot tell you how many Sims 4 play using this pack, at least some. The biggest downside is that it has many limitations and bug issues. 
Does Dine out Sims 4 Come With a New World?
Another downside– albeit a small one– is that Dine Out doesn't come with a new world. You'll get the new venue type, new CAS (create a sim) items, and new BB items (build/ buy). All are pretty niche and related to the game pack theme. 
Can you Work in Your Own Restaurant Sims 4?
You can't play as the chef yourself, and sometimes food simply never comes out all when you're eating out. Luckily, the best Sims 4 restaurant mods address some of these glitches and gameplay limitations. '
How Do you mod Your Sims 4?
I just want to offer a very quick primer about downloading and installing mods for Sims 4, so you can enjoy the best restaurant mods without any problems. Sadly, you can't use mods or custom content if you play Sims 4 on console, but all PC and Mac players can. 
To download a script mod, download the file. Navigate to documents, the "Electronic Arts", then "Sims 4" where you should find a folder labeled Mods. You'll do the same for any custom content. You can keep things organized by adding folders inside the Mods folder, but all mods must be in the Mods folder. 
Are Sims 4 Mods Free?
While occasionally creators put content behind a paywall (such as Patreon) that paywall is almost always lifted after a week or two. The majority of mods and custom content are free to the public. 
Are Sims 4 Mods Safe?
If you download for a secure website, CC and mods are safe. The only reason CC or mods are bad for Sims 4 is if they've been broken, been updated, or are outdated. Check to make sure that the website is secure. If you've done everything correctly, there's a chance it's broken. Test and remove the mods and cc one at a time, adding in new mods only in a small group. This cuts down on the time it takes to figure out what's causing the problem. Mods won't ruin your game, but outdated mods can cause problems. 
Best Restaurant Mods For Sims 4: My Picks
Sims 4 Restaurant Script Mods 
My first category is script mods. Script mods add, enhance or otherwise change gameplay and are larger files. My top picks are mods that make restaurants more realistic, provide fixes, and allow more sims to be involved in the restaurant management experience. 
Sims 4 More Realistic Restaurants Mod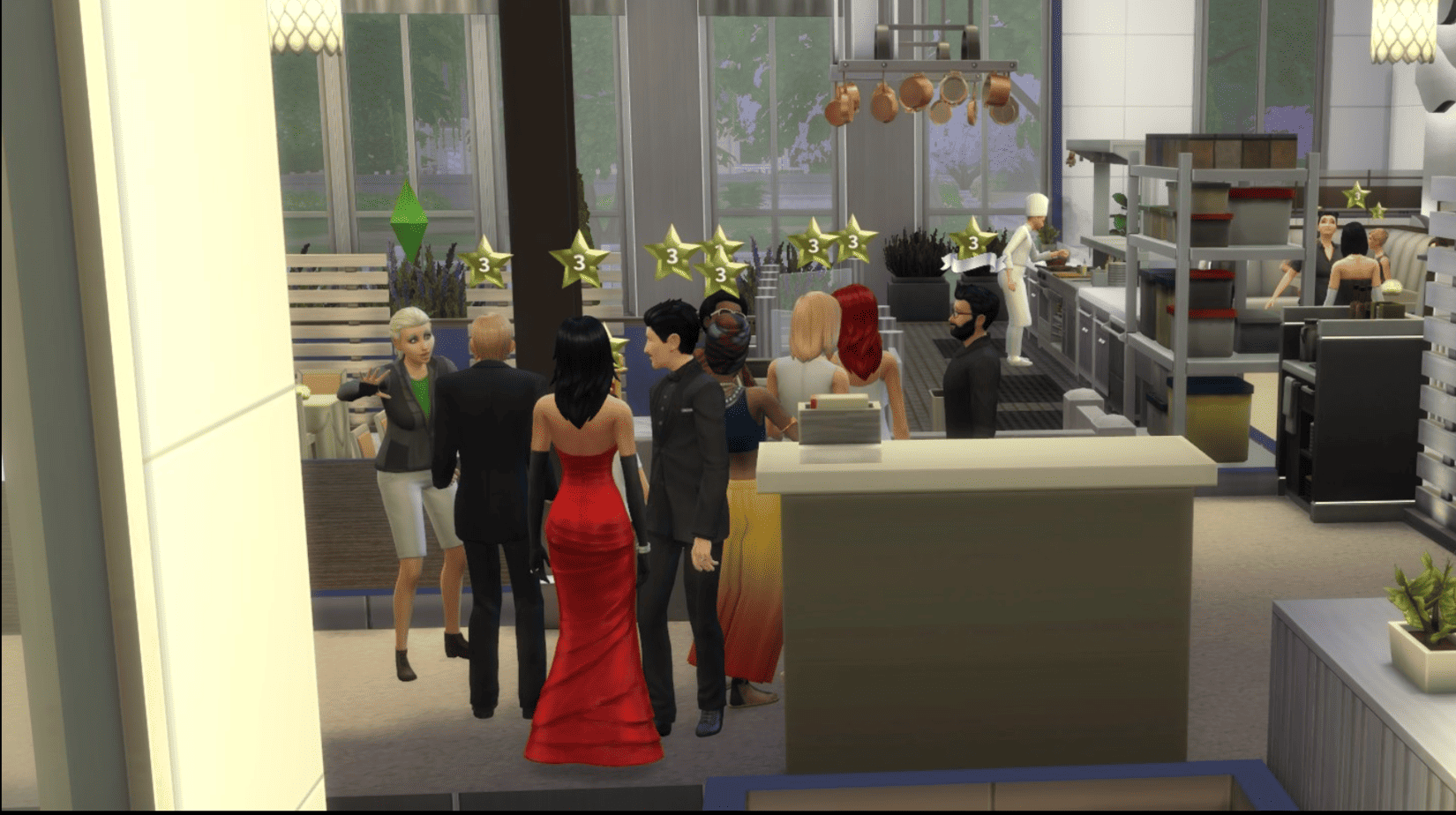 Love the concept of managing a restaurant in Sims 4, but get frustrated with how things run? This mod changes when Sims come to improving your chances for high-quality food and improves other experiences that can help your restaurant become profitable. Instead of customers arriving at random times without rhyme or reason, they now start coming at 6 am, and the large crowds come during a dinner rush (6 pm). When chefs are skilled and use fresh ingredients, meals will come out with outstanding results. Waiters can now wait for 7 (instead of 5) tables at a time, and there's a 400 to 500 percent markup allowed. Make sure to check mod conflicts before downloading. Download Here. 
Sims 4 Restaurant Additional Staff Mod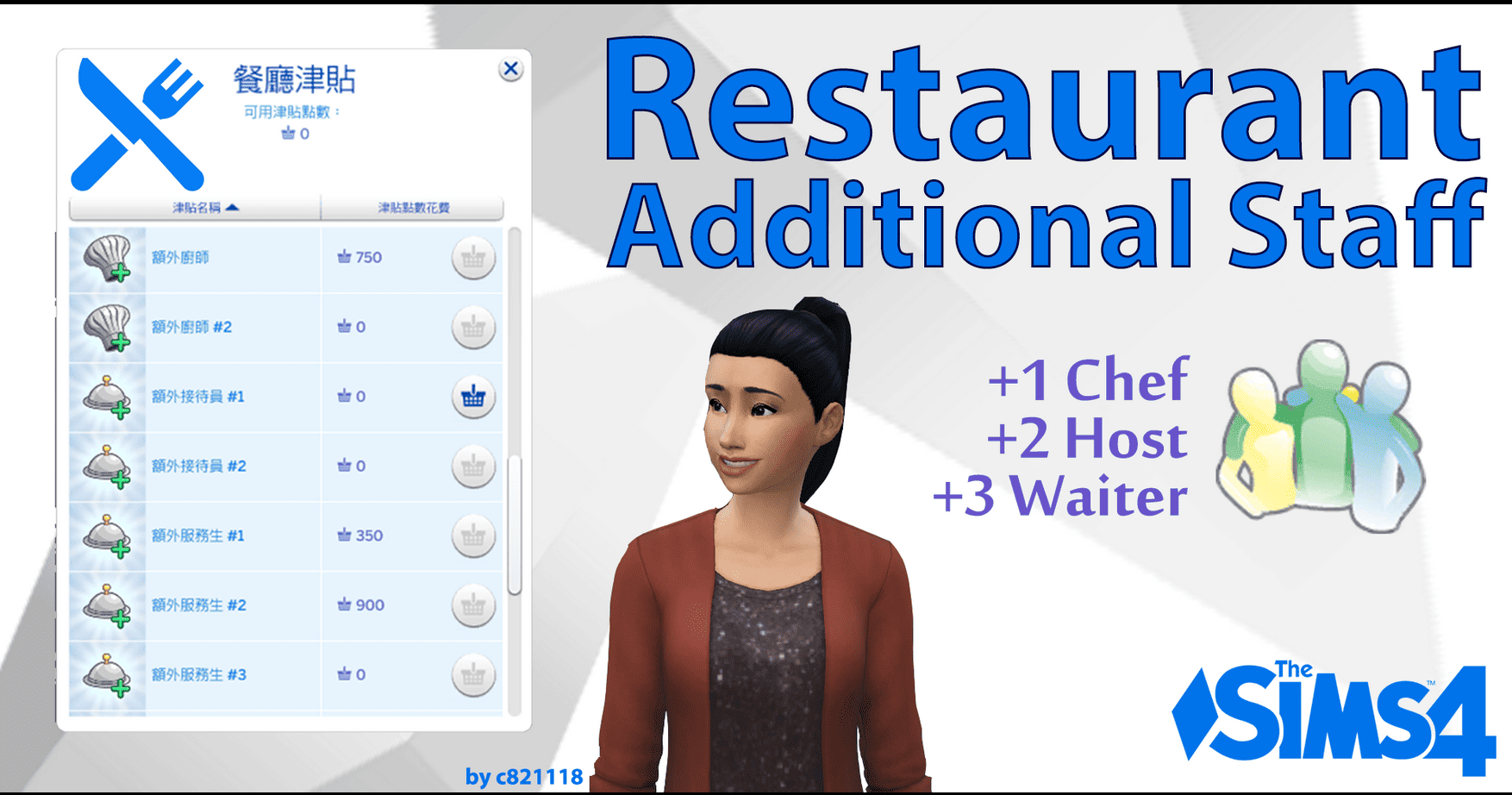 Ever get frustrated at how few people you can hire? With this mod, you can now hire an additional chef, host, and four waiting staff, increasing your productivity levels. Now I do only recommend installing this if your game is running fairly smoothly– it can add a little simulation lag for some.  You can install all additions together or separately. Download Here. 
Sims 4 Hire Teens for Restaurants Mod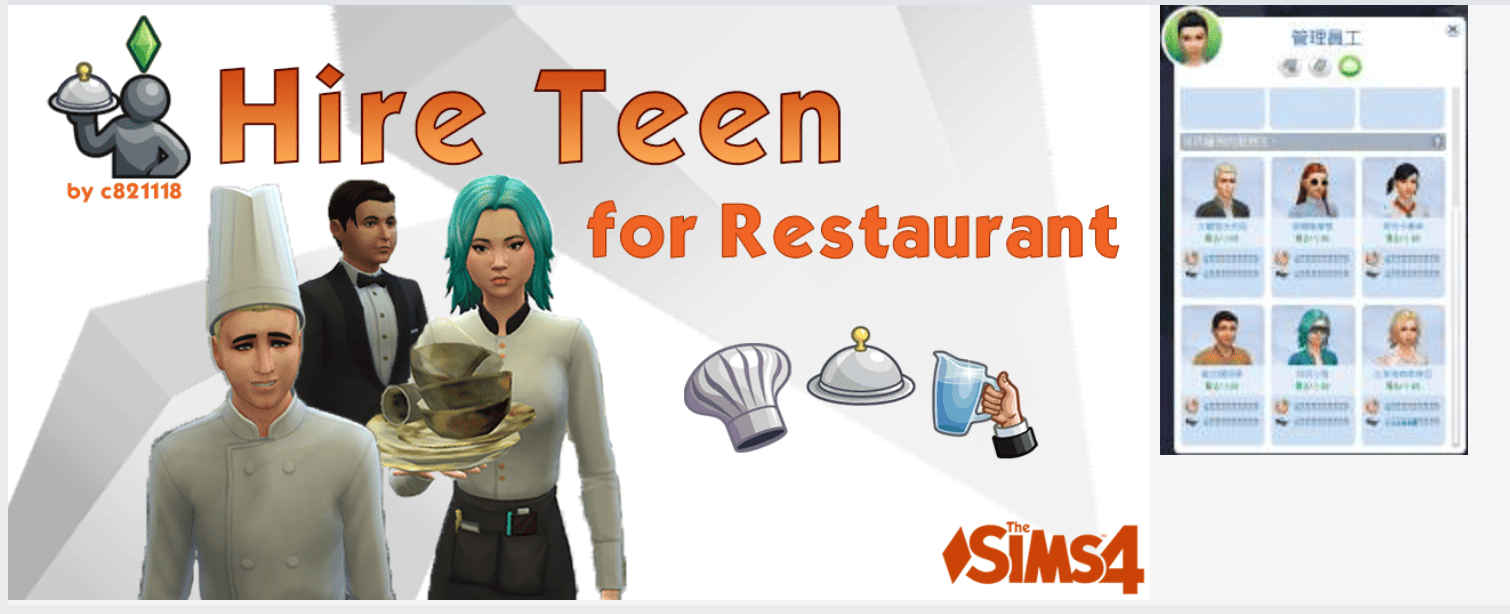 I've said it often and many in the Sims 4 community do as well: teens need more gameplay, as well as more ways to earn money. This mod expands who you can hire. The teen-only mod allows you to hire teens as staff, while the other mod allows you to hire teens through elders. Always look at the known conflicts section. Download Here.  
Sims 4 Hire Family Members Mod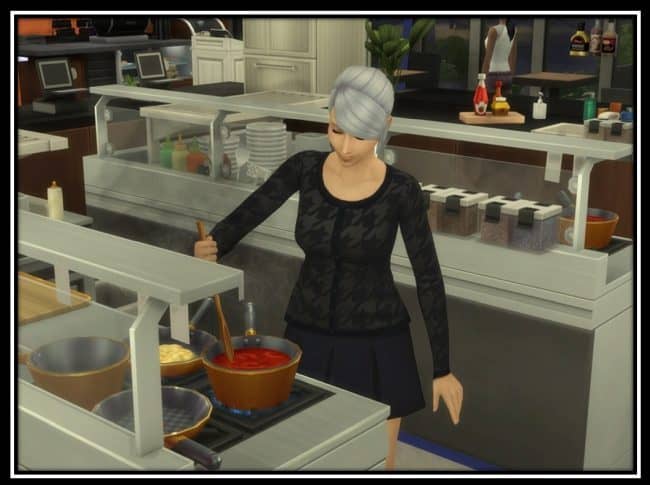 This mod is created by Little Ms. Sam, one of the most talented modders in the Sims 4 community. Not only do you have more freedom to hire different staff– including family– but you can even tweak your staff's traits to suit different skills. Download Here. 
Sims 4 Tuning Dining Fix Mod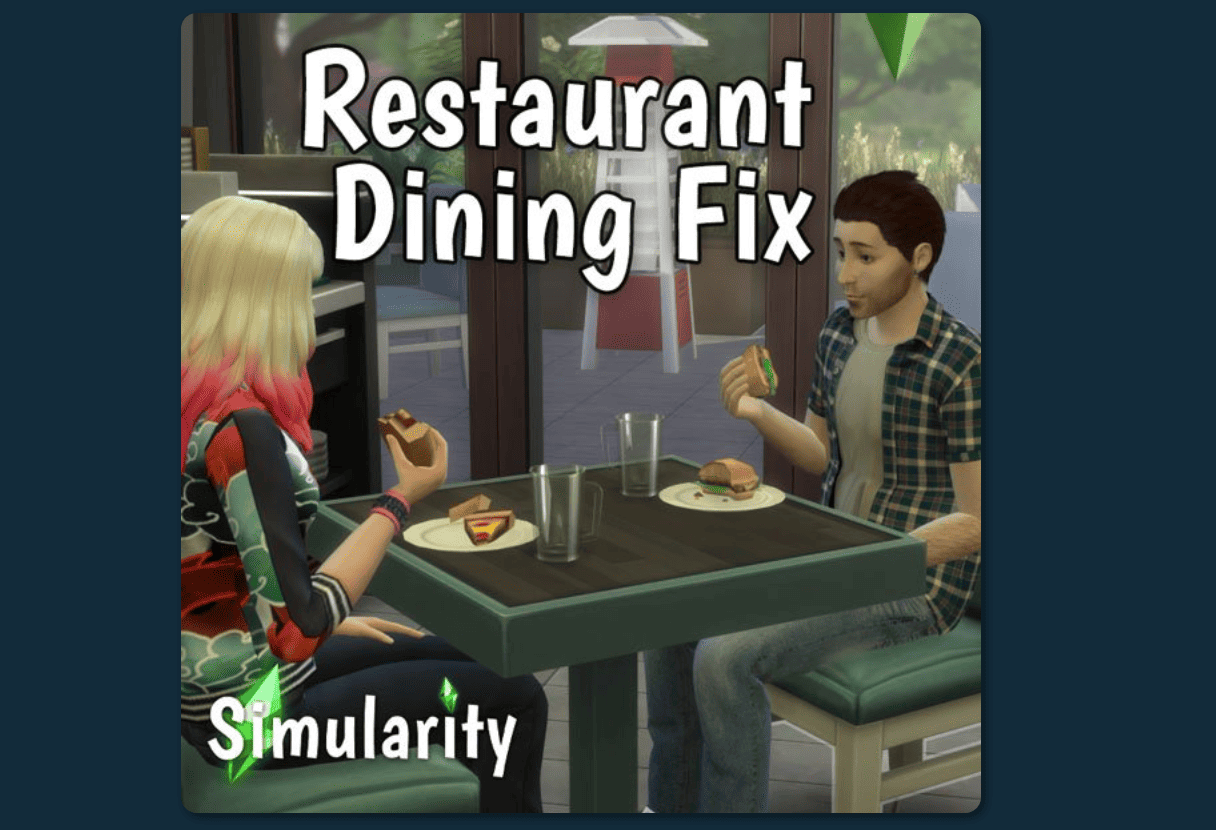 This is a simple fix– but a helpful one. If you've ever dined out in Sims 4 and sims are ordering but not eating, fear not. This tuning mod is designed to fix that issue and get things moving more smoothly again. Download Here. 
Sims 4 Bienchen's Mods for Food Fixes (Mod Collection)
This is a collection of mods, all to improve eating and dining experiences. They're all small mods, such as Less Walking in Restaurants to improve routing, Faster Cooking by limiting passive cooking animations, and even touches like More Food at Bars. You'll find these and more helpful for dining out or cooking at home. View All Here. 
Sims 4 Restaurant CC & Recipes
As much as script mods can add to the Sims 4, custom content (CC) that adds aesthetic touches is nice too. I've focused on building/ buying custom content and mild recipe tweaks that will allow you to recreate fast food restaurants and add a bit of decoration to your restaurants. 
Sims 4 Custom Recipes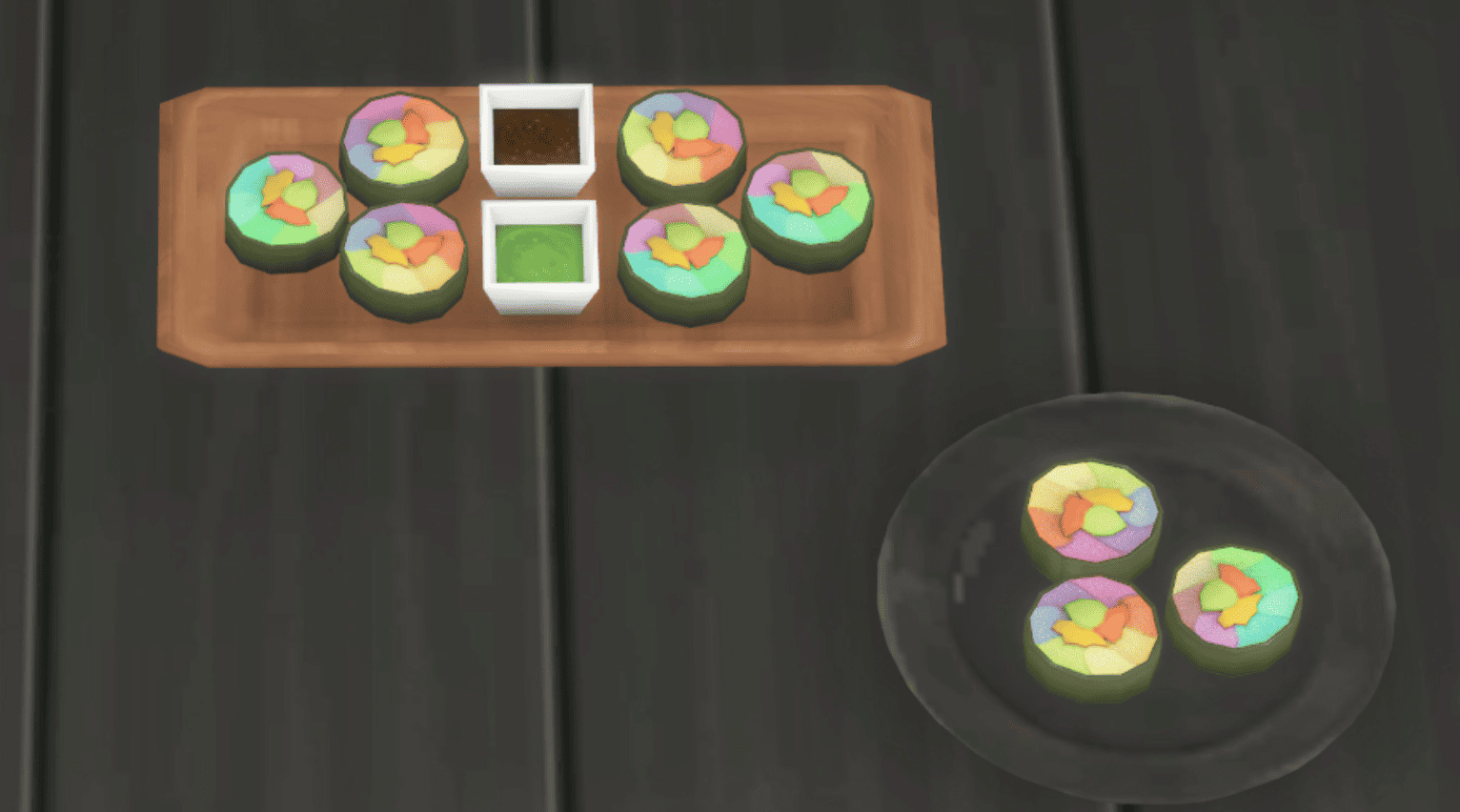 Iceman Mummy is another incredible creator. They make high-quality content and also update it frequently to ensure it works. Here, you'll find a collection of 141 unique custom recipes, from rainbow sushi to mochi, rustic floral pink cake, fried chicken tenders, scones and so many more. 
There are also downloads for unique food interactions. View All Here. 
LittleDica Greasy Foods CC Sims 4 Stuff Pack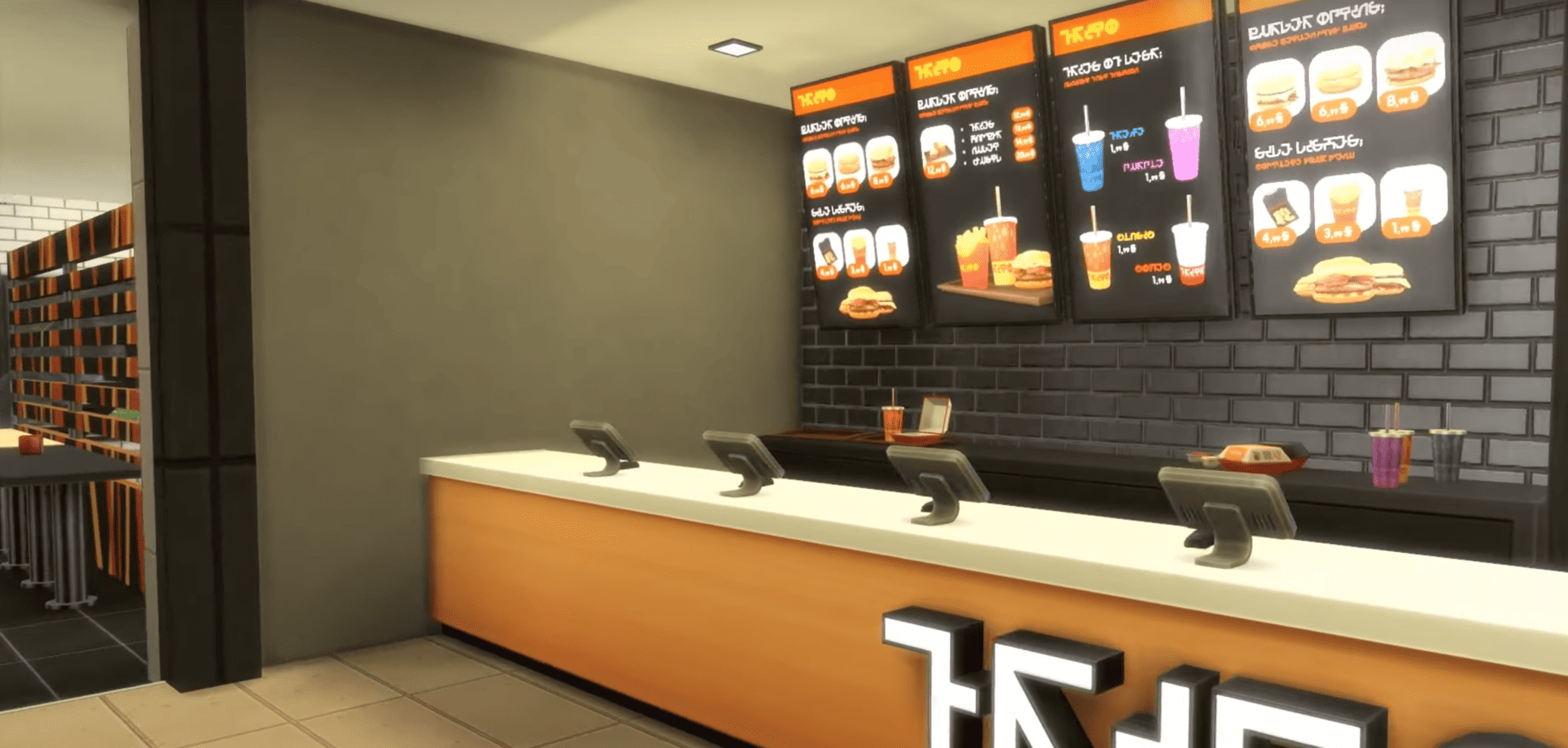 Be ready to be impressed. Even LilSimsie, one of the most well-known EA Game Changers in the Sims community, loved this custom. New wallpaper, flooring, and incredible CC allow you to create a fully functional restaurant experience. You can download the premade restaurant and use the incredible cc to your liking. And while it's realistic– frying vats and all– it's all in Simlish! Download Here. 
Sims 4 McDonalds CC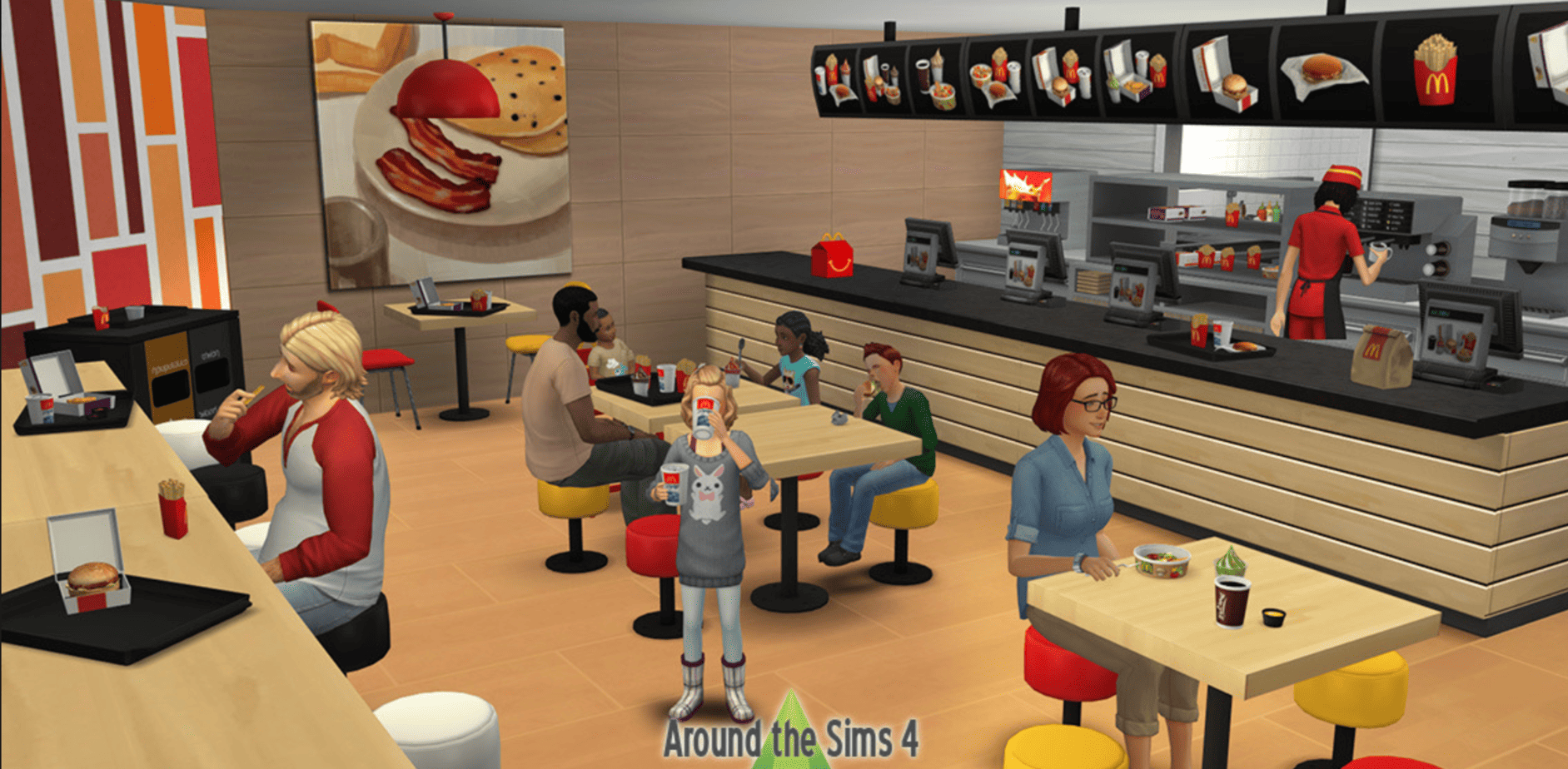 Want the Golden Arches in your game? This Sims 4 cc set offers a classic menu, with realistic packaging, in both Simlish and English. Download Here. 
Sims 4 Restaurant Clutter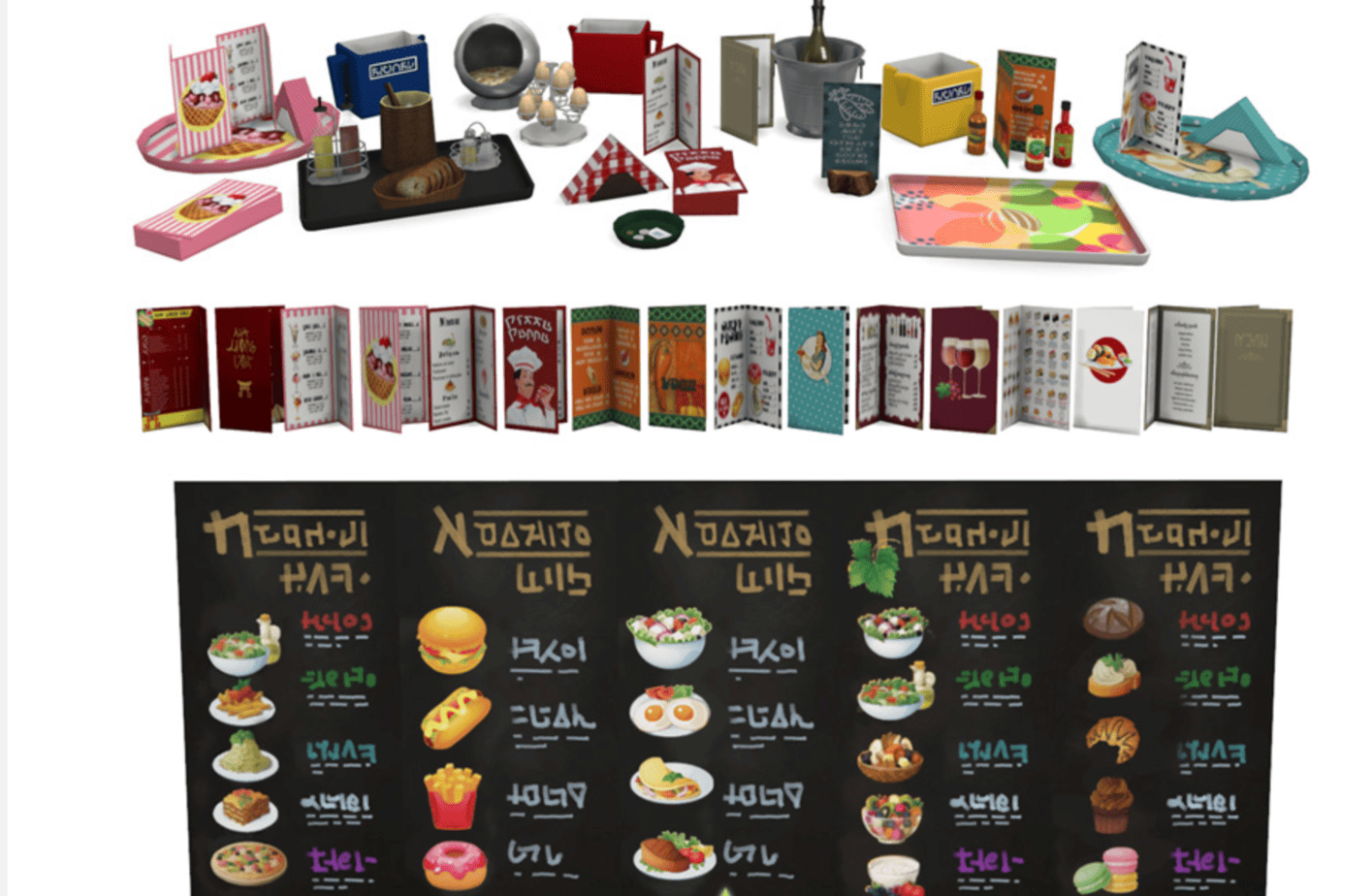 If there's one common request I see for building buy items– aside from spiral staircases and more curtains or carpets– clutter is easily among the most popular. And you get the clutter to make your restaurant more realistic here, all still in Sims 4 maxis match style. Trays, menus, napkins, and even a loaf of bread spruce up your business. All are nonfunctional/ decorative only. Download Here. 
Sims 4 Pizzeria CC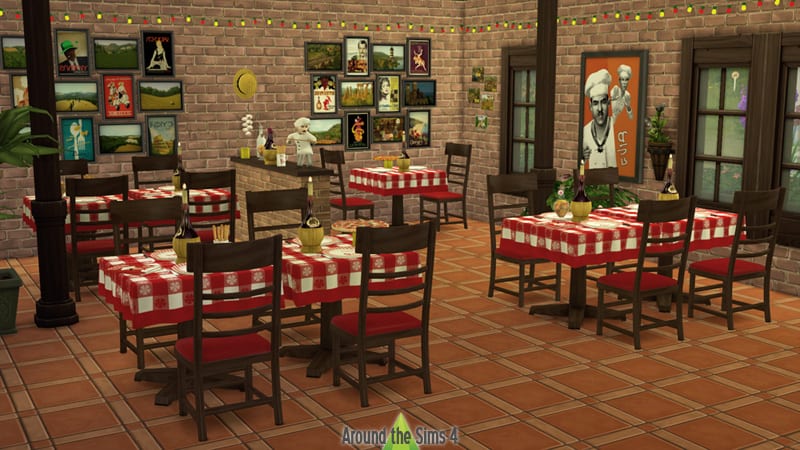 This set makes me realize how peculiar it is that Sims 4: Dine Out didn't come with this type of decor. The set includes tables with classic checkered covers, chairs, wall lights, a sign, and wall decor. Download Here. 
Frequently Asked Questions
Question: Do I need EA Play Pro for Sims 4 Dine Out?
Answer: EA Play Pro is a subscription service for EA games. It's an upgraded form of EA Play. Both offer you discounts on games, but neither are required for Sims 4: Dine Out or any Sims 4 games. 
Question: Can you have a restaurant in Sims 4 without Dine Out?
Answer: Dine Out is required to have an official restaurant in Sims 4. You can place cafes if you own the Sims 4: Get Together expansion. 
Question: Is Dine Out an expansion pack?
Answer: Dine Out is a game pack, not an expansion pack. Game packs in Sims 4 cost half the price of expansion packs and tend to focus on a smaller bit of themed gameplay. Everything in Dine Out is directly related to restaurant visiting and management.
Final Thoughts and Buying Recommendation
Whether you're looking to own and manage a restaurant in Sims 4 or just want to visit one, script mods and even some custom content can improve your experience. Whether you want a more realistic story to tell or just a way to make the experience run well, all of these are great options to consider 
Buying Recommendation
Own Sims 4: Dine out but want ways to enhance your experience? For an urban and cultural touch, I love the festivals and new recipes that come with the Sims 4: City Living— which remains one of my favorite Sims 4 expansion packs. 
Further readings: