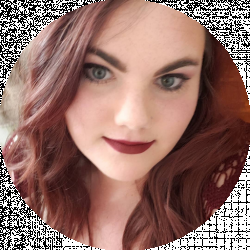 Latest posts by Miah Schmahl
(see all)
Not too long ago one of the most popular video game franchises in history celebrated its 20th anniversary and reached a milestone of selling 200 million franchise copies of The Sims games. The Sims franchise has been developed by Maxis and published by Electronic Arts; originally released in 2000, the franchise has spawned four games total, countless expansion packs.
The game creator Will Wright was inspired to create a game that was like a virtual dollhouse after he lost his house during the Oakland firestorm in 1991 and had to rebuild his life.
The first Sims game's architecture was created from the book A Pattern Language published in 1977, the artificial intelligence of the game was created by using A Theory of Human Motivation by Maslow, along with Maslow's hierarchy of needs and Charles Hampden-Turner's Map of the Mind.
The Sims is essentially an open-ended sandbox life simulation game, there are no goals and no plans, except the ones you as the player make for your sims. Gameplay consists of a mix of world-creation, building, sim creation, and sim control.
Over the last two decades, each element of the game has continued to evolve and change as technology allows the developers to push more boundaries with what they can do with the game and try different ideas. Each Sims game is different and has its own unique quirk and feel.
The Sims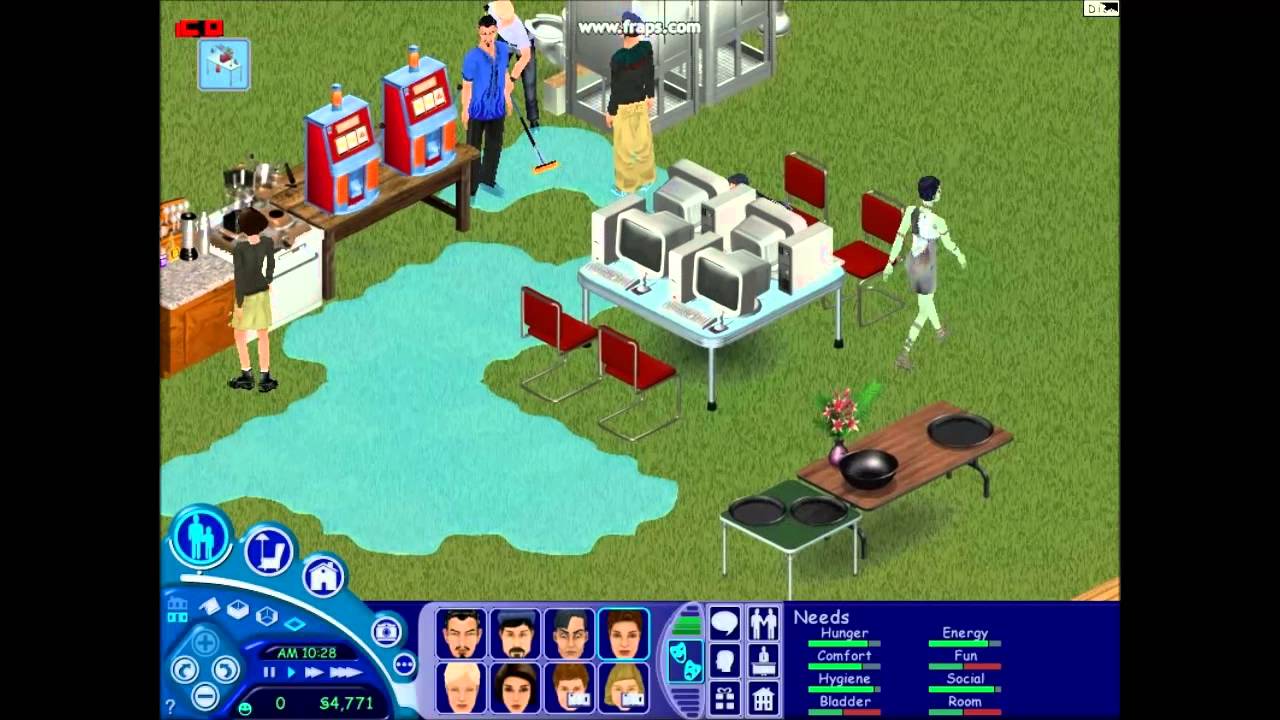 The Original Sims Game was developed by Maxis and published by Electronic Arts on February 4th, 2000. The development of The Sims was led by the creator Will Wright and was intended as a follow-up to his SimCity Series. The game was successful upon release because it attracted casual and primarily female players.
Ultimately seven expansions were packs that added new items, characters, features, and skins to the game. The gameplay of The Sims consists of Sims which are little computer-simulated people. The player's ultimate goal is to essentially make sure that their sim's needs are taken care of and the sim doesn't die.
The game becomes easier if the player makes the sim get a job so they can earn simoleons. Which can then be exchanged for objects to furnish their home or used to renovate the sims home by using the building tools available in the game. The game technically has unlimited replay value and is there is no true way to win the game, despite this, there ways to essentially lose the game.
This happens if a Sim dies. Sims can also leave the game by moving out of the household if they don't get along with everyone in the house. if children are sent to military school for failing their classes or if their needs are not meant they will be taken away from the household and won't be returnable.
Expansion Packs
After the release of the initial game seven expansion packs, we're released for The Sims.
Sims Livin' Large
The Sims Livin' Large, otherwise known as, Livin' It Up in Europe is the first expansion pack for The Sims. The main idea behind the expansion pack was the add new game features and items. The most notable feature this expansion gave the game was the ability for players to have multiple neighborhoods in the same installation.
The expansion pack added a total of five NPC characters, five new careers, six new objects, four new building themes, and two new features.
The notable creatures of this expansion pack are the Grim Reaper who appears to take a Sim soul when they die. The Grim Reaper can be pleaded with by an alive Sim and if they win a game of rock-paper-scissors the Sim will come back to life.
The next notable creature is the Zombie which is the result of losing the game against the Grim Reaper. Zombies function like normal Sims but don't have any personality points, however, they retain their skill points, they also have a green tint to their skin.
The Sims
House Party is the second expansion pack for Sims 1 and was released in 2001. The new features added to the game allowed Sims to throw a house party and invite a large number of Sims to their house.
The expansion also adds seven new objects, five new NPCS the most notable one being Drew Carey, three new building themes, new soundtrack music, new costumes, the ability to roast marshmallows, sing, and tell ghost stories by a campfire. Sims can throw a variety of parties, such as toga parties or beach parties.
Hot Date
The Sims Hot Date is the third expansion pack for The Sims. This expansion pack adds a host of new features for sims, including the ability to have community lots and play with your sims on another lot that isn't your own.
The expansion also added a new neighborhood called Downtown, where sims can travel via taxi either alone or with someone. It also added several new NPCs including the notable townies who are the non-playable residents of the Downtown area. This expansion also added life relationship bars and seven new interests. The new soundtrack music was added, as well as, sub-categories in buy mode and auto lights.
Vacation
On Holiday is the fourth expansion pack for The Sims. It introduces a new vacation island sub-neighborhoods that have pre-existing base neighborhoods. The new neighborhood is called Vacation Island, this expansion also introduces several new objects and NPCs.
New interactions are also introduced in this expansion pack, such as archery, snowboarding, and beach volleyball.
Unleashed
The fifth expansion pack in The Sims is called Unleashed. This expansion adds the ability for Sims to own their own pets. Sims can choose from cats, dogs, birds, fish, or reptiles. The expansion adds over 125 new objects and 5 new careers. Additionally, there are a variety of new NPCs, new interactions, an inventory for Sims. This expansion pack also added the well-known and beloved Goth family, as well as, four other families.
Superstar
The sixth The Sims expansion pack is called Superstar. This expansion added the ability for Sims to become famous by adding three new careers: supermodel, actor, or singer. Additionally, the expansion pack adds a New Neighborhood called Studio Town and new TV channels. The developers even added a Simmy Award and a Sim Choice Award.
Makin Magic
The last expansion pack for The Sims is called Makin Magic. This expansion pack introduces magic to the game, by allowing a Sim to collect a variety of ingredients in their inventory which can then produce an item of food or charge the Sims magic wand with a spell or charm.
The ingredients can be purchased in Magic Town which is accessed by using a hole in the ground. Additionally, Sims are not supposed to use magic in the normal world and only in Magic Town. Lastly, the ability to have a pet dragon was added.
Sims 2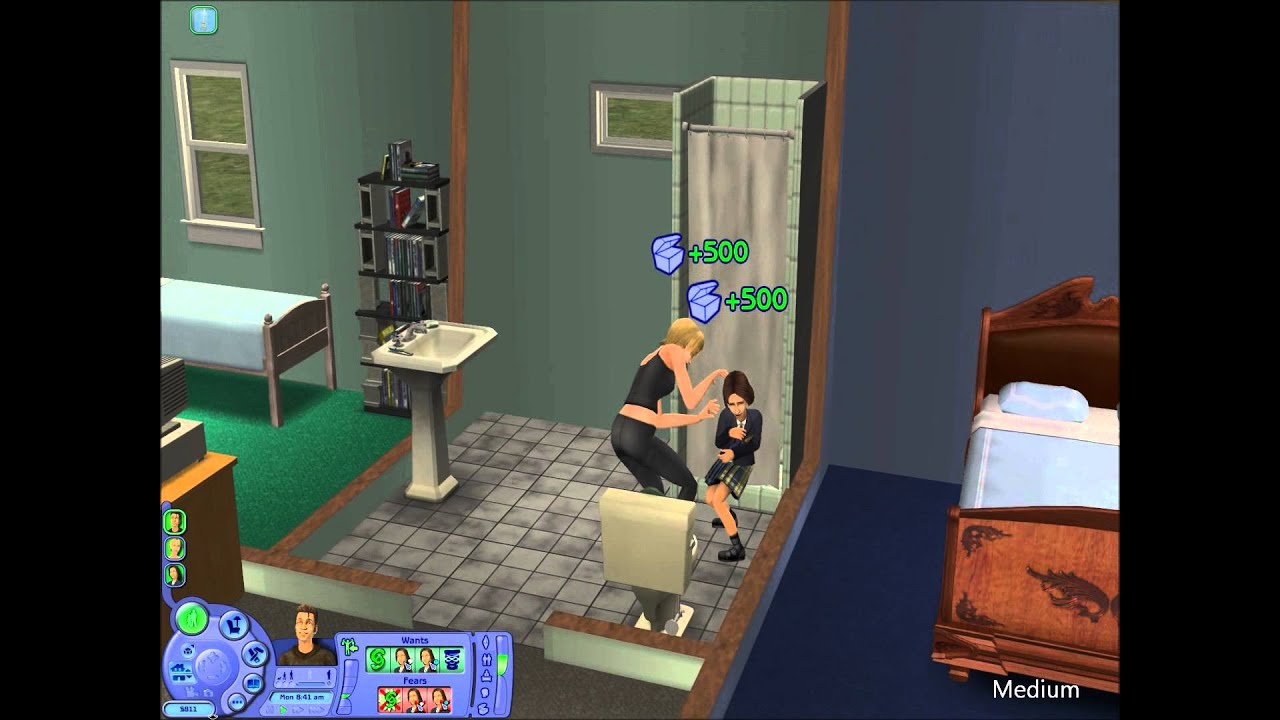 The second installment in the Sims franchise brought a host of improvements, changes and became a favorite among players. The first biggest improvement to the game was introducing a full 3D environment, previously in The Sims, the game used an isometric view instead of a 3D environment.
Additionally, the Sims now experience a life cycle, where they go through different life stages, life stages are baby, toddler, child, teen, young adult, adult, and elder.
They also added a genetics system, that allows parents to pass on their genetics to their offspring. This new system imposes the time limit of death on a Sim, meaning that it's even more important for players to prioritize the wants and needs of a Sim.
The personality system was also given an overhaul, giving Sims an aspiration, wants, and fears. The new personality system gives Sims an astrological sign and an aspiration. There are now five areas of personality that each Sim poses: sloppy/neat, shy/outgoing, lazy/active, mean/nice, and serious/playful. During Sim, creation players are given 25 personality points to divide between each category as they wish.
The game also introduces career rewards, aspiration rewards, new social interactions, new items, and moviemakers/game recorder. TS2 developers decided to give the game a tutorial that players can go through.
The game shipped with three premade neighborhoods, Pleasantview, Strangetown, and Veronaville, with expansion packs adding 3 neighborhoods. Sub-neighborhoods are also a feature of expansion packs. Stuff packs were also added as another type of expansion pack that was purely focused on objects.
Expansion Packs
Sims 2 University
The basic premise behind the expansion pack is to give the Sims a college experience. The main feature was to send teens and young adults to college, allowing them to live in dorms, join fraternities or sororities, go to classes and eventually graduate.
The expansion includes 11 majors to pick from, four new careers, new music, new interactions, new social interactions, and new objects. The expansion also brings back the zombie life state.
Sims 2 Nightlife
The Sims 2: Nightlife is the second expansion released for TS2 and is based on the previous expansion pack for The Sims: Hot Date. This expansion pack centers on the new Downtown sub-neighborhood. The new features include inventories, new interactions, and new objects There are new activities, such as bowling, karaoke, dining, dancing, and a photo booth.
Two new aspirations were added including pleasure and grilled cheese. Drivable cars were introduced in this expansion pack and quickly became a favorite among fans of the game. Lastly, Sims are now able to go on dates and outings with friends.
Open for Business
The Sims 2: Open for Business is the third expansion pack for TS2 and it is based upon the idea of Sim opening and owning their own businesses. The businesses can either be run on the home lot or on a separate community lot that they own.
The business is run by picking which products to sell, crafting goods, hiring and firing employees, and stocking shelves. This expansion pack also introduces a new sub-neighborhood called the shopping district. Servo is also reintroduced into the game with this expansion pack.
Pets
The Sims 2: Pets is the fourth expansion pack for TS2 and it focuses primarily on adding pets to the game. The expansion adds the ability for players to own various pets including dogs, cats, wombats, and birds.
The expansion ships with 72 premade breeds for dogs and 30 premade breeds for cats. Skunks are also introduced in this expansion pack. Some features of this expansion pack include pet genetics allowing for cross-breeding, and pets have skills and jobs.
Seasons
The Sims 2: Seasons is the fifth expansion pack for TS2 and focuses on adding seasons and seasonal activities into the game. This expansion pack adds four seasons, Summer, Fall, Winter, and Spring, it also adds more realistic weather patterns, a temperature gauge for Sims allowing them to become too cold or too hot.
The pack introduces gardening and fishing, as well as, a new life state called the PlantSim which is half plant half sim. The expansion added six new careers, new aspiration rewards, new wants, potions, and radio stations as well.
Bon Voyage
The Sims 2: Bon Voyage is the sixth expansion pack released for TS2. The expansion pack focuses on leisure and traveling similar to The Sims: Vacation.
The pack adds a new type of sub-neighborhood where Sims spend their vacation. There are three types of vacations: a far east destination, tropical destination, and mountain destination. Each destination is unique and has its own attractions and special features.
Free Time
The Sims 2: Free Time is the seventh expansion pack released for TS2. The main theme of the expansion is back introducing hobbies and group activities for Sims to participate in.
The expansion contains a new Neighborhood called Desiderata Valley, as well as, a new life state, new career, new lifetime wants new NPCs, and even new skills. Additionally, this pack introduces NPC aging, when a Sim grows up their can choose three townies to grow up with them, this allows for childhood friends to grow up together, teen couples become adult couples, and now have the options of adult couples.
Apartment Life
The Sims 2: Apartment Life is the eighth and last expansion for TS2. This expansion pack is most notable for introducing apartments into the game. Additionally, the community requested features, such as magic, butlers, and ceilings were also added.
The expansion features a new city called Belladonna Cove, the ability for Sims to have roommate NPCs. It also adds witches, landlords, spectral cats, and door locking features.
The Stuff packs featured in the game included
Holiday Party Pack
Family Fun Life
Glamour Life Stuff
Celebration Stuff
Happy Holiday Stuff
H&M Fashion Stuff
Teen Style Stuff
Kitchen & Bath Interior Design Stuff
IKEA Home Stuff
Mansion and Garden Stuff
The Sims 3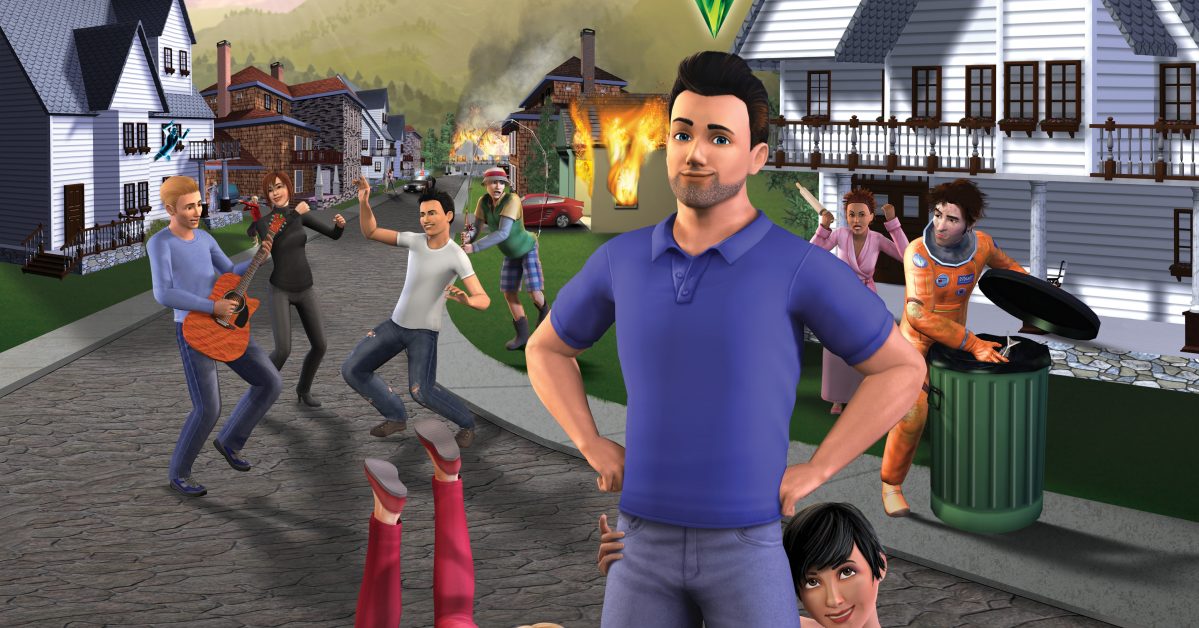 The Sims 3 builds upon its predecessor while also adding and changing features that allow it to stand out from the previous games. Sims 3 introduces an open-world concept that no longer limits players to a single loaded lot at a time.
Sims can explore the entirety of a town without triggering a loading screen. This gave the game an open feeling that many players, including myself, enjoyed. However, the concept was also a resource hog, making the game slow and buggy. Additionally, the create-a-style object allowed players to change the patterns or colors of both objects and create sim clothing.
Unlike The Sims 2, Sims 3 replaces the point-based personality system with a system that was based on traits. The traits influence the Sim's behavior, needs, and wishes.
The need system for Sims also receives a welcome update through the use of moodlets that are influenced by Sim's surroundings, which affect Sims' mood and needs. The game also changed how players had access to more Sims content.
In addition to the 11 expansion packs and the 9 stuff packs released for the game, there was also additional content that could be purchased on The Sims Store, along with the occasional free item, such as, the neighborhood of Riverblossom Hills. SimPoints were used as currency and could be obtained only by buying them from The Sims Store, occasionally an expansion pack might contain a gift of SimPoints.
Lastly, how the game launched was also changed. Instead of launching directly into the game, a launcher first opened that would allow players to install free custom content, as well as, The Sims Store content. From there, players can launch the game fully.
Expansions
World Aventures
The Sims 3: World Aventures is the first expansion pack for TS3. This expansion is similar to its predecessors The Sims: Vacation and The Sims: Bon Voyage. Players can take Sims away on vacations, with the choice of three destinations: Shang Simla, Champs Le Sims, and Al Simhara.
The designs for these vacation locations are based in China, France, and Egypt. While on vacation Sims can experience a variety of adventures that will allow them to discover new and hidden parts of the vacation neighborhoods.
Ambitions
The Sims 3: Ambitions is the second expansion pack for TS3 and focuses on adding careers and new activities to the game. Instead of jobs just being rabbit holes where sims disappear, now players can follow their Sims to work and influence how they do their job.
Six careers allow this type of gameplay: Architectural Designer, Firefighter, Ghost Hunter, Investigator, and Stylist. This expansion also allows for Sims to register as self-employed at city hall after gaining a skill point any of the following: fishing, gardening, painting, writing, nectar making, photography, inventing, and sculping.
Late Night
The Sims 3: Late Night is a third expansion pack for TS3 and focuses on bringing both fame and nightlife to the game. This allows players to let their Sims explore a vibrant downtown scene with clubs, music, hot tubs, and other secrets as the lights go out.
This expansion featured a new neighborhood called Bridgeport, vampires, penthouse lofts, butlers, and new lifetime rewards. Additionally, new lot types, such as film studios, skyscrapers, and an underground transportation system were also introduced to the game.
Generations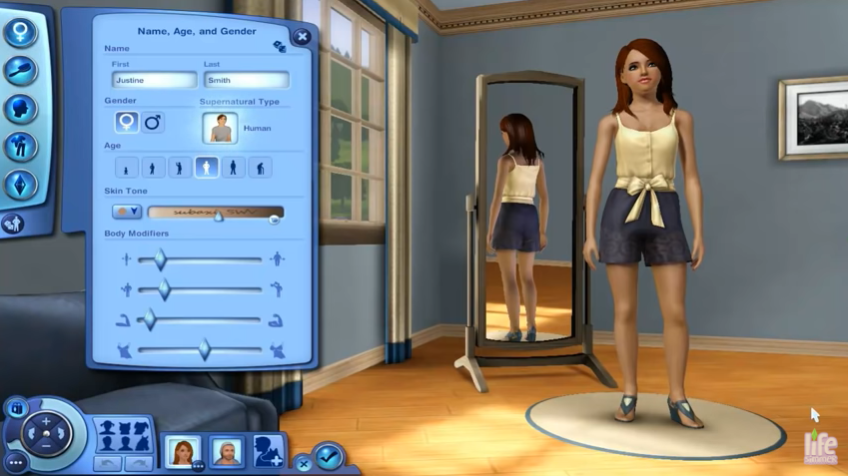 The Sims 3 Generations is the fourth expansion pack for TS3. This expansion pack revamps each life stage, adding new and exciting life experiences for Sims. Children experience more imagination and make-believe through a costume chest, as well as, join ballet classes or scouts.
Teenagers can now rebel and experience learning how to drive, going to prom, graduating high school, and joining school clubs. Adults now experience a midlife crisis and lastly, the concept of boarding school was introduced into the game, and children and teenagers can now go to boarding school.
Pets
The Sims 3: Pets is the fifth expansion pack for TS3 and brings dogs and cats back into the game and the expansion also introduces horses into the game for the first time.
In total there are 46 cat breeds, 72 big dog breeds, 46 small dog breeds, and 30 horse breeds, as well as, snakes, turtles, birds, rodents, lizards, deer, and raccoons. Cats, dogs, and horses can all learn skills and horses can learn racing and jumping skills. Additionally, horses can partake in riding competitions.
Showtime
The Sims 3: Showtime is the sixth expansion pack for TS3 and the pack is career and stardom themed focusing on careers in entertainment.
Sims can now become acrobats, magicians, or singers, they can tour, perform gigs, pick a stage name, and compete against one another during SimFest. The expansion adds three new traits, three new lifetime wishes, and a new neighborhood called Starlight Shores.
Supernatural
The Sims 3: Supernatural is the seventh expansion pack for TS3 and it introduces new supernatural life states into the game, as well as, mythical features such as a lunar cycle and alchemy.
Supernatural shipped with the town of Moonlight Falls, a spooky home where the supernatural beings live. This pack includes multiple life states, such as witches, wizards, and werewolves. Vampires, ghosts, and fairies also get a revamp with this expansion pack.
Seasons
The Sims 3: Seasons is the eighth expansion pack for TS3 and brings seasons, seasonal activities, and realistic weather patterns into the game. The pack also introduces seasonal festivals, holidays, seasonal clothing, and aliens as well.
University Life
The Sims 3: University Life is the ninth expansion pack for TS3 and brings the college experience back to The Sims games. While many of the features from TS2: University are present in University Life, the pack still introduces new features and the worlds for University are compatible.
University Life allows for Sims to go to University and earn a degree by going to classes, partying with fellow students, and obtain quicker promotions and higher entry-level jobs.
Island Paradise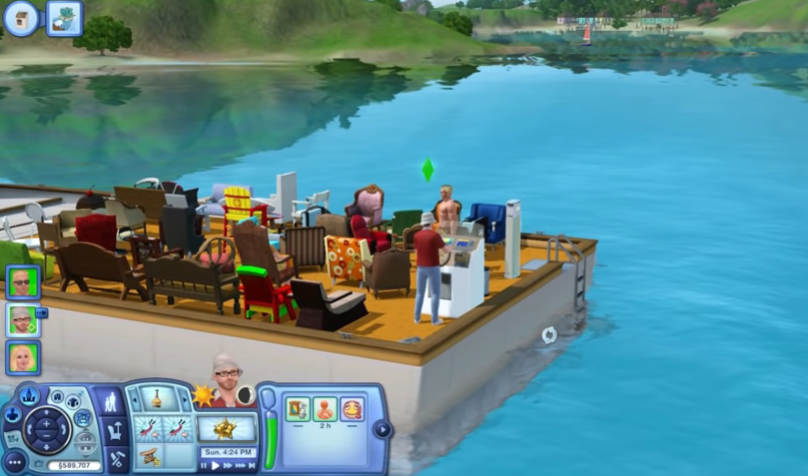 The Sims 3: Island Paradise is about giving Sim a fun beach-like experience. The expansion pack shipped with a new world called Isla Paradiso, which has multiple islands to explore. This expansion adds paddle boats, speed boats, and houseboats into the game, scuba diving, and snorkeling. Sims can also have their own beach resort and turn it into a 5-star resort with all the amenities.
Into the Future
The Sims 3: Into the Future is the eleventh and final expansion pack for TS3. This expansion pack takes your Sims into the future of the Sim world. Sims can travel to Oasis Landing which is a futuristic sub-neighborhood.
There they can experiment with future technology, change lives in the future, and create a Plumbot. Sims can even choose to stay in the future, marry, have children and raise them if they want, however, pets cannot go to the future.
Stuff packs included for TS2:
High-End Loft Stuff
Fast Lane Stuff
Outdoor Living Stuff
Town Life Stuff
Master Suite Stuff
Katy Perry's Sweet Treats
Diesel Stuff
The 70s, 80 and 90s
Movie Stuff
The Sims 4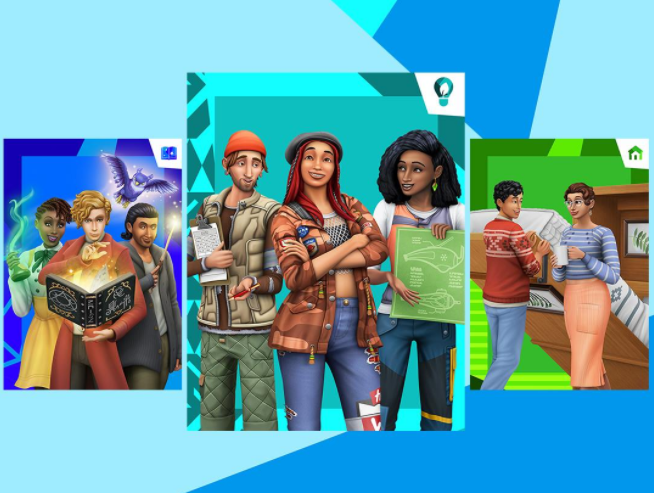 The Sims 4 is the current installment of The Sims franchise. This version of the game focuses on creating smarter and more unique and interesting sims but adding emotions, enhanced create a sim and various traits. Sims now experience and express a variety of emotions that are influenced by other Sims, events, and even objects in the game. Both create a sim and build mode received complete overhauls.
While the create a pattern tool was gone both modes offer a much more intuitive overhaul. Create a sim now allows you to sculpt sims faces and use build modes new room-based building to create the house of your dreams. The gameplay also did away with the open-world concept, however, they have made it possible for SIms to travel to every available world in-game and have relationships across various worlds.
While the open-world feature is gone, the ability to have a more intuitive and larger Sims world to discover at any time more than replaces it. Finally, families can move from one town to the next without losing their friendships and connections.
The gallery was also introduced into the game, which allows players to share the sims they have created or the houses they have created without ever having to leave the game. The concept of neighborhoods was replaced with Worlds, originally the game shipped with Oasis Springs and Willow Creek, Newcrest was also added shortly after launch as a free patch.
Additionally, sims 4 created another way of categorizing Sims content. In addition to expansion packs and stuff packs, game packs are now also available for purchase which add a variety of functions to the game.
Expansion Packs
Get to Work
Get to Work is the first expansion for TS4 and it combines elements from Open for Business from TS2 and Ambitions from TS3.
This expansion pack enables Sims to run their own business and follow them during work. Sims whose careers are to become a doctor, detective, or scientist can now be followed to work and instructed through their day's performance by you the player, these careers are considered active careers.
This expansion also comes with a new world called Magnolia Promenade. Lastly, this expansion reintroduces the alien life state into the game.
Get Together
Get Together is the second expansion pack for TS4 and the expansion focuses on socializing, partying, and clubbing. This expansion allows players to create unique Clubs that Sims can be a part of and Sims can now join clubs and be a part of an exclusive group of people.
This expansion also introduces the idea of clubbing where Sims can dance, socialize, and get drinks. Lastly, this expansion introduces the world of Windenburg to the game, a northern European style village with several clubs and hotspots for Sims to hang out.
City Living
City Living is the third expansion pack released for TS4. This expansion focuses on the new world San Myshuno which is known for its nightlife and oddly dressed townies. This pack uses its new world to bring back apartments in their own way.
There are 21 apartment units available which can be fully remodeled, however, the exteriors can not be edited. There are three penthouses in San Myshuno also available for purchase. Additionally, festivals and new careers, such as critics, politicians, and social media.
Cats & Dogs
Cats & Dogs is the fourth expansion pack for TS4 and focuses on bringing cats, dogs, raccoons, and foxes back into the game. The expansion also introduces a new world and buyable business in the game. Brindleton Bay is a coastal town with a pre-built vet clinic that Sims can buy. Additionally, Sims can have vet clinics which work the same as ownable businesses in Get To Work.
Seasons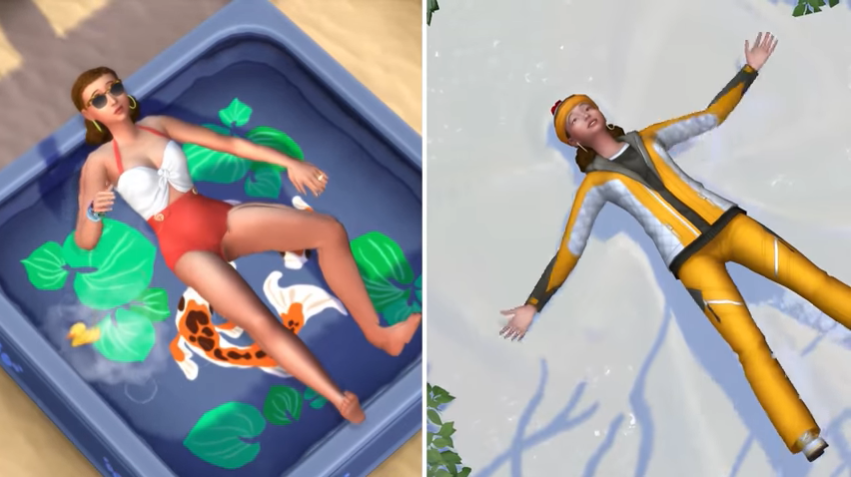 Seasons is the fifth expansion pack for The Sims 4 and similar to its predecessor the expansion pack adds seasons, seasons weather patterns, and seasonal activities. Additionally, this pack also introduces holidays, such as the new year, love day, Winterfest, and harvest feast. Lastly, this expansion adds a new gardening career which allows for sims to become a botanist or floral arranger and gardener.
Get Famous
Get Famous is the sixth expansion pack on The Sims 4 and focuses on fame and nightlife. Sims can now rise to stardom in a variety of different ways.
As sims become more famous they will have to deal with more attention, perks, and fans. Sims can now become part of the acting career which is a live career. The expansion comes with a new world called Del Sol Valley, which has a Hollywood feel to it.
Island Living
Island Living is the seventh expansion pack for TS4 and focuses on giving Sims a tropical paradise to explore and live in. The main feature of this expansion pack is the World Sulani where sims can sit back and relax. This expansion adds canoes, sandcastles, and mermaids to the game. Sultani also comes with its own unique culture in which Sims can learn about and engage in.
Discover University
Discover University is the eighth expansion pack released for TS4 and it brings the University experience back into the Sims games.
The expansion back introduces a new world called Britechester, which is home to the University of Britechest and Foxbury Institute. In addition to allowing sims to experience college life, by living in dorms, going to classes, and graduating college the expansion also introduces a roommate feature.
Eco Lifestyle
Eco Lifestyle is the ninth expansion pack for TS4 and focuses on the eco-footprint that affects the world. The expansion introduces the idea of sustainable living, renewable energy, crafting, and community projects into the game. A new world called Evergreen Harbor is also added to the game. Sims can now vote on various neighborhood actions that influence the world and the townies around them.
Snowy Escape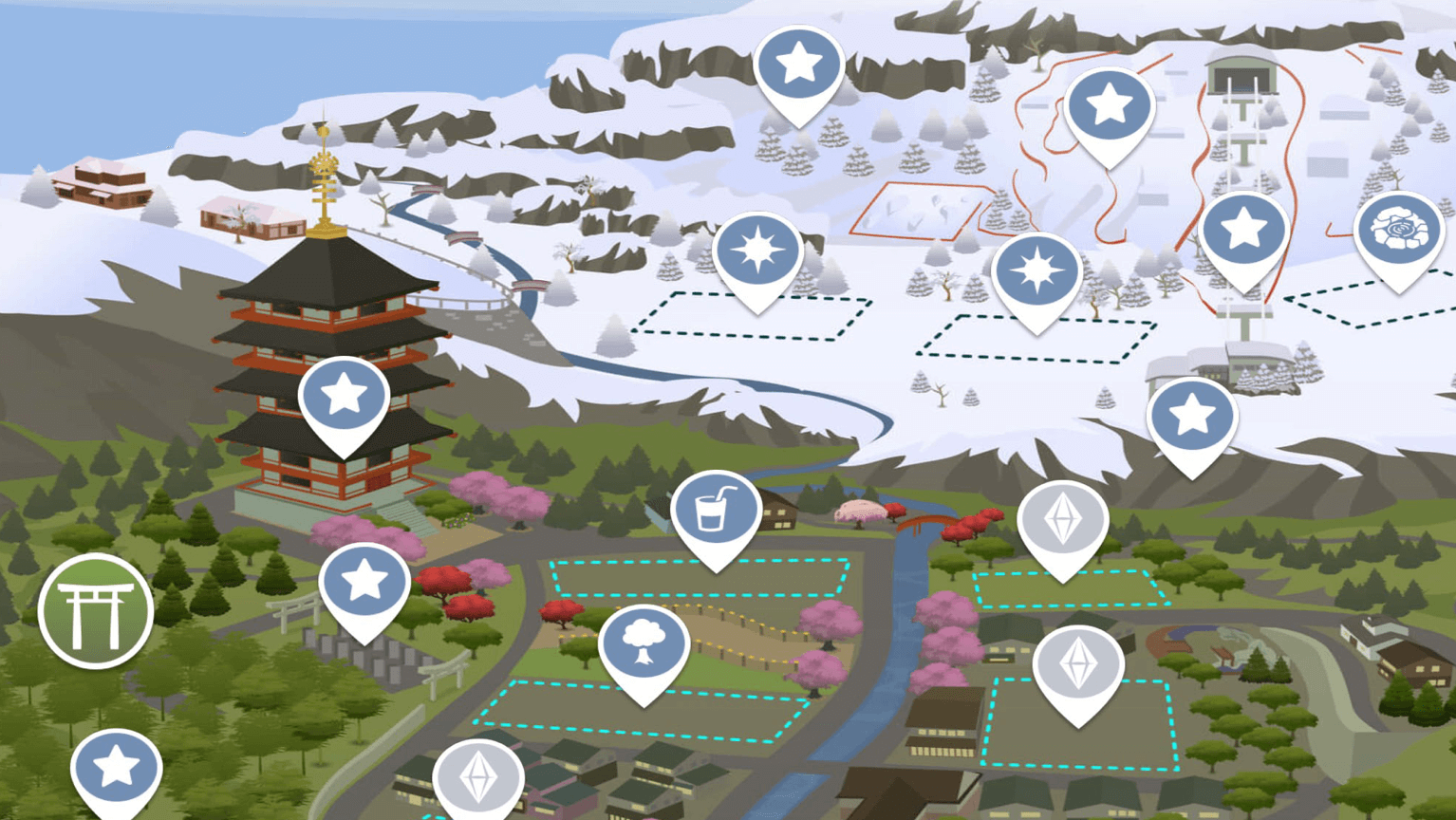 Snowy Escape is the tenth expansion pack for TS4 and introduces a new Japanese inspired mountain world, Mt. Komorebi. This expansion mainly focuses on bringing activities, such as skiing, snowboarding, and sledding. It also adds mountain climbing into the game and natural hot springs.
Game Packs
Game packs feature small gameplay changes than expansion packs and more objects than stuff packs. There are currently nine-game packs.
Outdoor Retreat is the first game pack and it introduces a new world called Granite Falls, which Sims can visit while on vacation.
Spa Day is the second game pack and introduces a new venue type called the spa, as well as, spa based objects.
Dine Out is the third game pack and it reintroduces the ability to go out to eat and own a restaurant in the game.
Vampires is the fourth game pack and it reintroduces vampires back into the game, as well as, a new residential world called Forgotten Hollow.
Parenthood is the fifth game pack and it mainly focuses on parenting and creating more in-depth children and teens. It also allows Sims several different interactions with children and how they influence them.
Jungle Adventure is the sixth game pack and it introduces a new vacation world called Selvadorada. When Sims go on a vacation to Selvadora they can learn about the unique culture and develop their archaeology skill, as well as, explore the world of Selvadorada.
Strangerville is the seventh expansion pack and it mostly focuses on a linear storyline Sims can complete by being given the Stangerville ambition. This game pack also reintroduces the military career to the game.
Realm of Magic is the eighth game pack and it reintroduces magic into the game. This pack comes with a secret magical realm where sims can become spellcasters. This pack also introduces a new world called Gilmmerbrook that holds the key to accessing the magical realm.
Journey to Batuu is the ninth game pack and is a Star Wars themes game pack.
Stuff Packs
Stuff packs in Sims largely focus on bringing more objects to the game and the functionalities that go with those objects.
Luxury Party Stuff
Perfect Patio Stuff
Cool Kitchen Stuff
Spooky Stuff
Movie Hangout Stuff
Romantic Garden Stuff
Kids Room Stuff
Backyard Stuff
Vintage Glamour Stuff
Bowling Night Stuff
Fitness Stuff
Toddler Stuff
Laundry Day Stuff
My First Pet Stuff
Moschino Stuff
Tiny Living Stuff
Nifty Kitchen Stuff
The Sims franchise has had a long 20 years with no signs of slowing down. Each game had its own unique traits and styles and they each built upon the success of the others. Today Sims have a loving and active fan base who are excited to see what the future brings for the Sims Franchise.
FAQs
Question: What systems is Sims 4 available for?
Answer: The Sims 4 and its expansion packs are available for PC, Xbox One and PS4.
Question: What type of games are in the Sims Franchise?
Answer: The sims games are need-based simulation games that focus on controlling various Sims that are either pre-created by the game or are created by the player.
Question: Will there be a Sims 5?
Electronic Arts and Maxis are both working on and releasing content for the Sims 4. While there may be a Sims 5 in the future it likely won't be announced for a few years yet.
Continue reading: