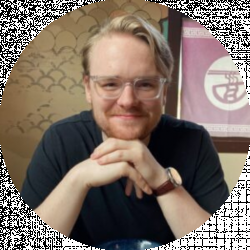 Latest posts by Arron Kluz
(see all)
Every expansion for The Sims 4 comes with new career paths to customize your Sims with, but even then, it often is not enough, which is at no fault of the developers. There are so many careers in the world that a single development team making options for every avenue while making them attractive is impossible.
Thankfully, that is where the solid modding community helps support Sims 4 with gameplay tweaks, new customization options, and, of course, plenty of new jobs that help you further customize the lives of your Sims. There are a ton of options available, so here are my favorite job mods out there that you should check out.
Key Info Up Front
If I were only going to pick one mod from this list to suggest to you, I would have to go with Active Photographer by simawhimhot. While all of the job mods on this list are well worth picking up, this mod has an impressive amount of interaction.
It allows you to go out on the field, design photos, and interact with your subjects. This makes it likely the most impactful and universal mod on this list, so it is an easy recommendation to any Sims 4 player.
Selection Criteria
I've used dozens of career mods to mix up my save files in Sims 4, and thinning down the list was difficult. So, to help, I tried to pick a range of job mods that feature different themes from one another and not be too close to any of the options already present in the game.
I've also attempted to pick job mods that have some fun ideas that haven't been seen in Sims before or that see the return of options from previous games to Sims 4 so that fans of the series can keep using the jobs they have come to know and appreciate.
Finally, I also tried to include some job mods that cater to different styles of players. I hope this will help ensure that anyone reading this list can find something worth their time to check out. Whether you want to have a Sim that is a vigilante crime fighter or are more interested in telling stories within the Sims 4 framework, there is something on this list for you.
Part-Time Career Bundle
Creator: BosseladyTV
Link: Part-Time Career Bundle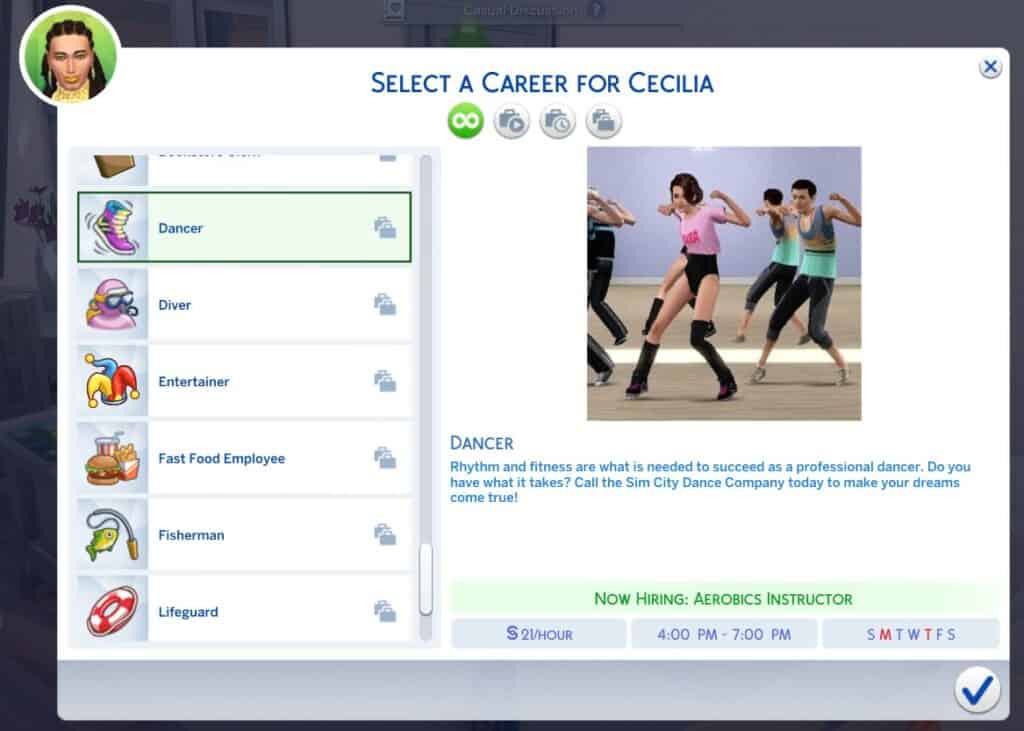 BosseladyTV is one of my favorite mod creators for The Sims 4, so you'll see them on this list several times. This mod bundles together eleven separate mods that all focus on giving your Sims more part-time job options to make some money on the side while they are in school or trying to make a hobby gig work financially.
Most of these options come from Sims 2 and Sims 3, so if you're familiar with those games, you'll find some standard feeling ground here. The various jobs also focus on different schedules so that your Sims can find one that fits their busy schedule regardless of what else they have going on. The part-time jobs included in this pack are:
Adventurer
Alien Test Subject
Bookstore Clerk
Dancer
Entertainer
Grocery Store Clerk
Indie Band Musician
Mausoleum Clerk
Pin Chaser
Slacker
Spa Specialist
Pros
Adds a lot of part-time job options
Brings back jobs that fans of previous games will be glad to see again
Jobs have varied schedules so you can only find one that works with any Sim
Cons
Doesn't have many new part-time jobs that haven't been seen before
Trade School Bundle
Creator: BosseladyTV
Link: Trade School Bundle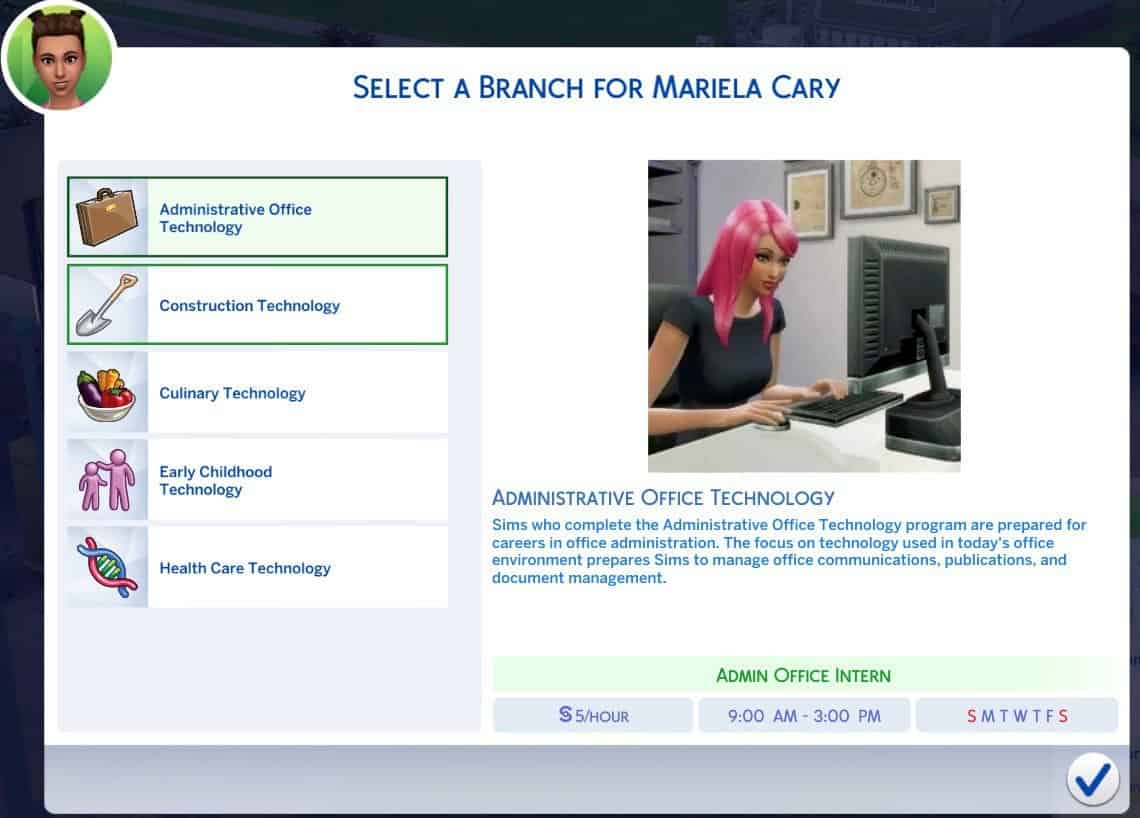 The first career level is signing up for tech school, which only pays $10 a day but can be started even with Teen Sims. Another significant part of this mod is the addition of online courses that any Sim can enroll in to help them level up their skills conveniently from home.
Once your Sim finishes the Academic Studies Program, you can choose one of the other five paths to enter through a paid internship program. The paths then work like any other job, each having five to six levels of advancement.
However, none of the options will make as much money as more traditional jobs in Sims 4, since they max out at around $100 a day. The options your Sims will have going through the tech school, though, are below.
Healthcare Technology – Five Levels
Early Childhood Technology – Five Levels
Culinary Technology – Six Levels
Construction Technology – Six Levels
Administrative Office Technology – Six Levels
Pros
Introduces a great new way for any Sim to level up skills, even if they aren't enrolled in the Tech School
Adds some fun new job options to customize Sims with
Cons
Jobs pay very little compared to even base game jobs that don't require a degree
Jobs don't have as many promotion levels as most jobs
Private Investigator
Creator: BosseladyTV
Link: Private Investigator Job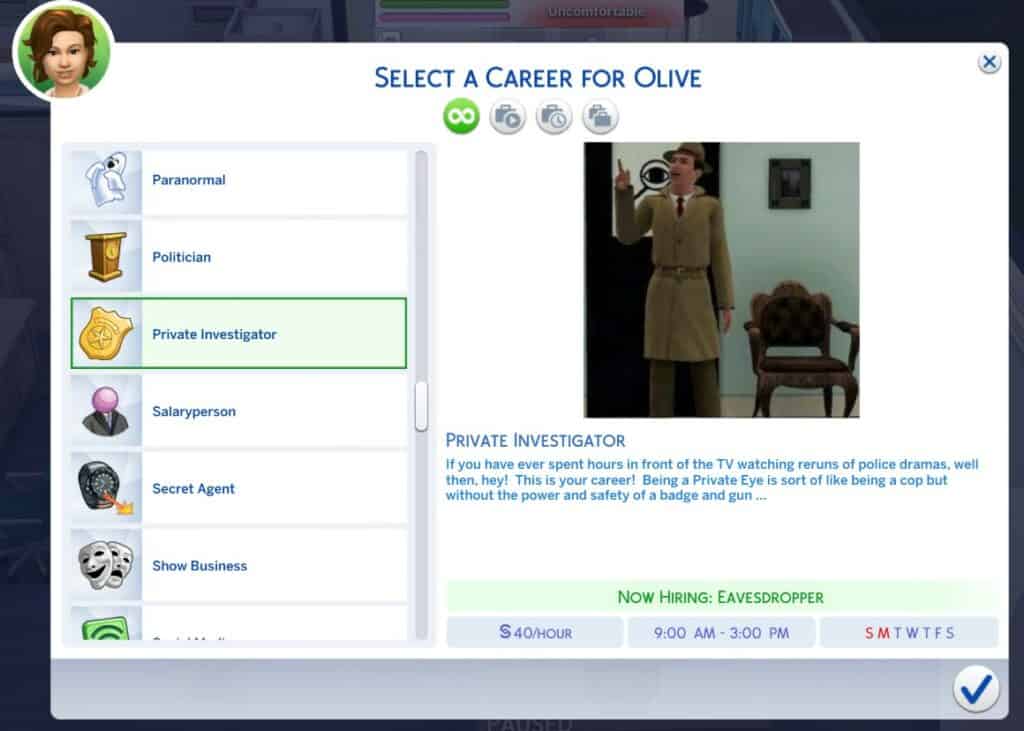 This is the last mod on this list from BosseladyTV, but it is a great standalone career mod. This is a "rabbit hole" job mod, meaning that when you Sim goes to work, they will leave their property, eventually returning after their shift is done. This mod allows your Sims to become private investigators that can be hired to solve crimes or find information for other Sims.
The private investigator job track from this mod comes with ten complete levels that require your Sims to level up specific skills to get promotions. Each higher tier comes with additional pay and standard shifts that decrease in length as your Sim is promoted.
This job track focuses primarily on Logic and Fitness, so you'll have to have your Sim working toward maxing out both skills early on. This job also comes with great pay, capping out at $397 for each hour worked.
Pros
It is unlike any official job released for The Sims 4
Has a good pay rate that won't disrupt your game by being too high or too low
Does a good job of focusing on the Logic and Fitness skills
Cons
Isn't an active job, meaning that you won't be doing any investigating
Batman
Creator: atillathesim
Link: Batman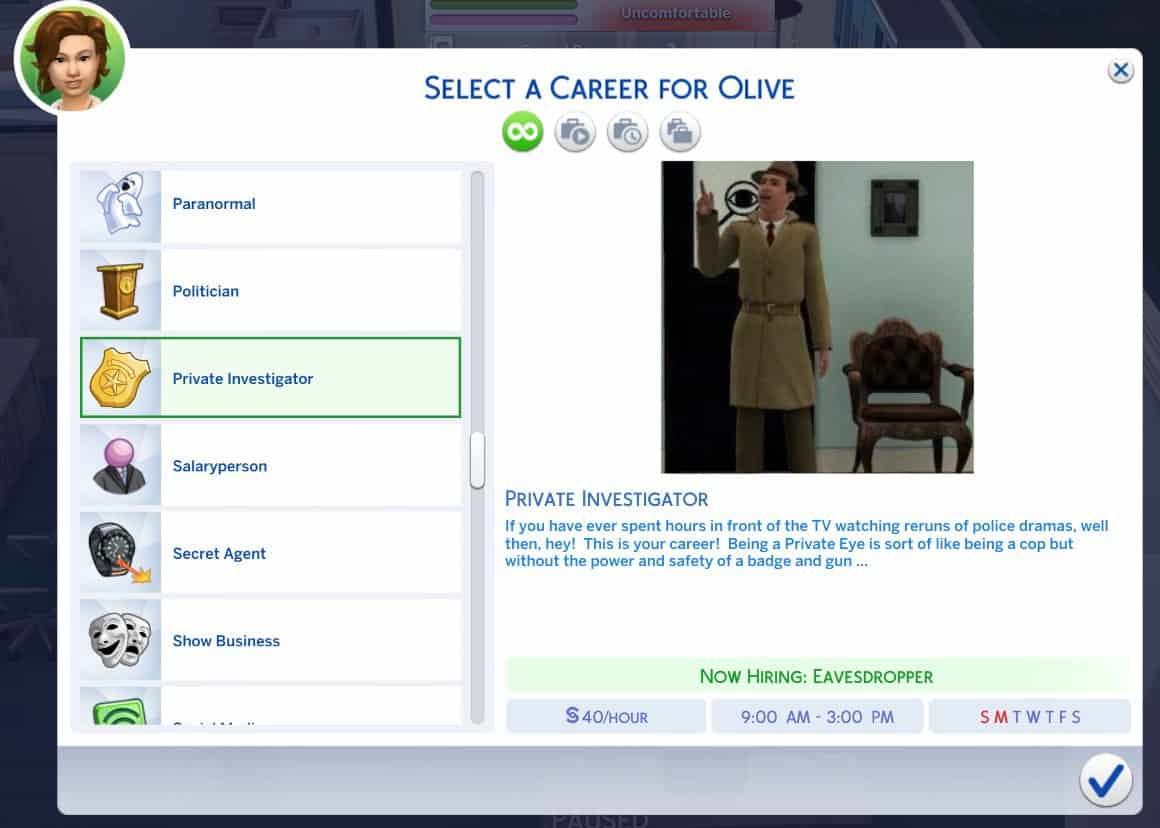 Sure, being a regular Sim is excellent and all, but what if one of your Sims could also go out in the middle of the night to fight crime? Well, this job mod is for you, as it allows your Sims to become crime-fighting vigilantes. To do so, they'll have to maximize their Logic and Fitness to help them catch super villains and fight off hordes of henchmen. The job has seven levels for your Sim to advance through, split into two tracks.
The first track is Trainer, which sees your Sim working on training a new generation of heroes that will take up the mantle and help you keep the city streets clean. The second track is Leader, allowing you to form a unique team of elite superheroes. This job will never get your Sim working less than 40 hours a week, but my favorite part comes from its salary.
When your Sim elects to follow this job path, they have the option of taking a version that pays or one that doesn't. This is awesome for fully roleplaying the masked crusader himself and having a super-rich Sim who doesn't have to work but becomes a superhero to leave a mark on the world.
Pros
You get to be Batman
Has two different branches for your Sim to choose between
Can be paired with other superhero job mods to make your own Justice League-style house
Cons
Doesn't come with a Batman costume
Entrepreneur
Creator: VaughanHD
Link: Entrepreneur Career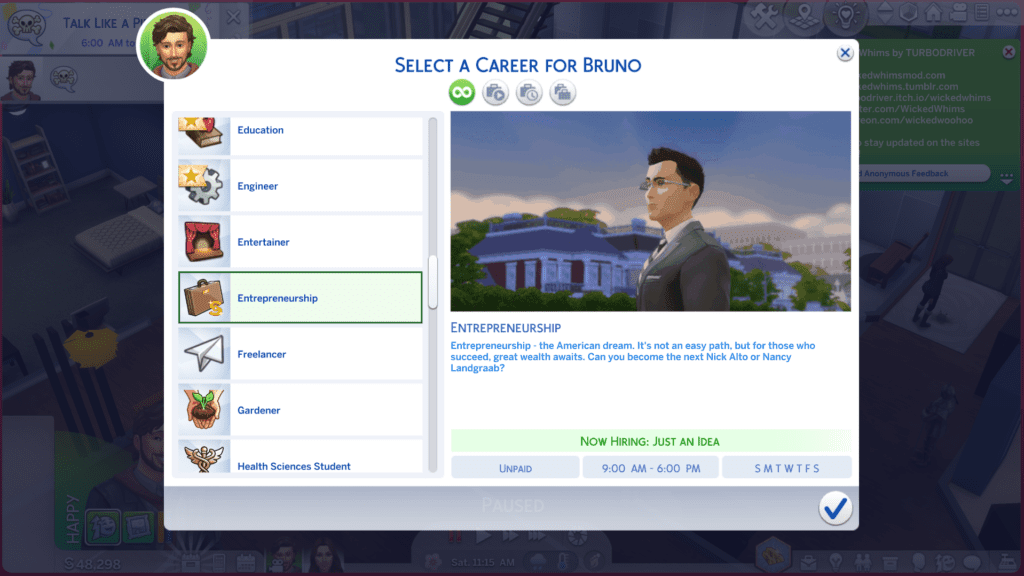 This mod is a modernization of a Sims 3 mod by PSDuckie, allowing Sims to become their self-made business owners. This mod is currently a rabbit hole job that is very difficult in the earlier range of its ten levels. This is because the first two levels don't pay your Sim at all as they work on developing a sellable idea and then establishing their very own business.
The mid-levels of the job path also have low pay as your Sim works to start showing their business and invest most of their resources. So, to make surviving it more manageable, your Sim will likely have to pick up a hobby gig or even a part-time job.
I also advise considering the impacts of this job path before modding it into your game. The upper levels of the job suddenly give your Sim a lot of money, with a level 10 salary of $10,000.
This can make the struggle of long hours and little pay at lower levels worth going through, but you may also find that amount of money spoiling your saved file or being too much to even do anything with. Of course, if you get that far your Sim's child could always become Batman.
Pros
Is a very unique career path that presents a fun challenge for experienced players
Can make your Sim extremely rich if you play through it
Cons
The payment curve can be brutal if trying to complete this career with a fresh Sim or a Sim living on their own
Can eventually make so much money that it disrupts your playthrough
Online Therapist
Creator: marlynsims
Link: Online Therapist Career
Required Expansions: City Living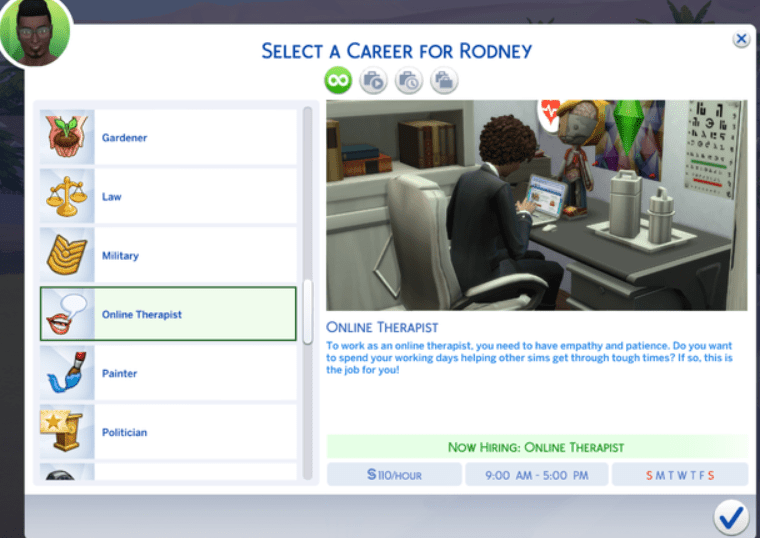 This job mod does touch on some sensitive topics, so I wouldn't recommend downloading this one if mental health issues can be uncomfortable for you. However, if you are okay with that subject matter, it is an enjoyable and interactive job for a Sim to tackle. It is a semi-active job, meaning that your Sim can work from home to complete tasks.
Each day your Sim works, they will receive four studies and $220 for each one they meet. There are no promotion levels or a traditional career path in this mod, but that is because it is focused more on the player's interactions with it.
When it comes to interactions, this mod comes with a whopping 374 new interactions for the player to consider while working. These make up the tasks that your Sim has to accomplish during their day, and there is a ton of variety regarding them.
However, one of the best aspects of this mod is the interactions' details. The patients that your Sim works with can have up to 23 different mental disorders, with each one having other practices and treatments to perform that are all from real-world psychiatric practices.
On top of the mental disorders, your Sims will also work with patients with 37 different focuses that motivate their therapy goals. This mod also comes with a brand-new Therapy skill that they can level up to unlock actions interacting with other Sims to remove their negative emotion modifiers.
Patreon supports Marilynsims, so if you like this mod, consider looking through their different options and maybe even subscribe to get early access to their future releases.
Pros
Introduces a unique style of job to the game
Is very well researched and an interesting way to incorporate really psychology into The Sims 4
Has a good pay rate that is easy for a family to survive on
Cons
Is essentially a mini-game that has to be played every day your Sim works
Doesn't have any payment change throughout it
Active Photographer
Creator: simawhimhot
Link: Active Photographer Career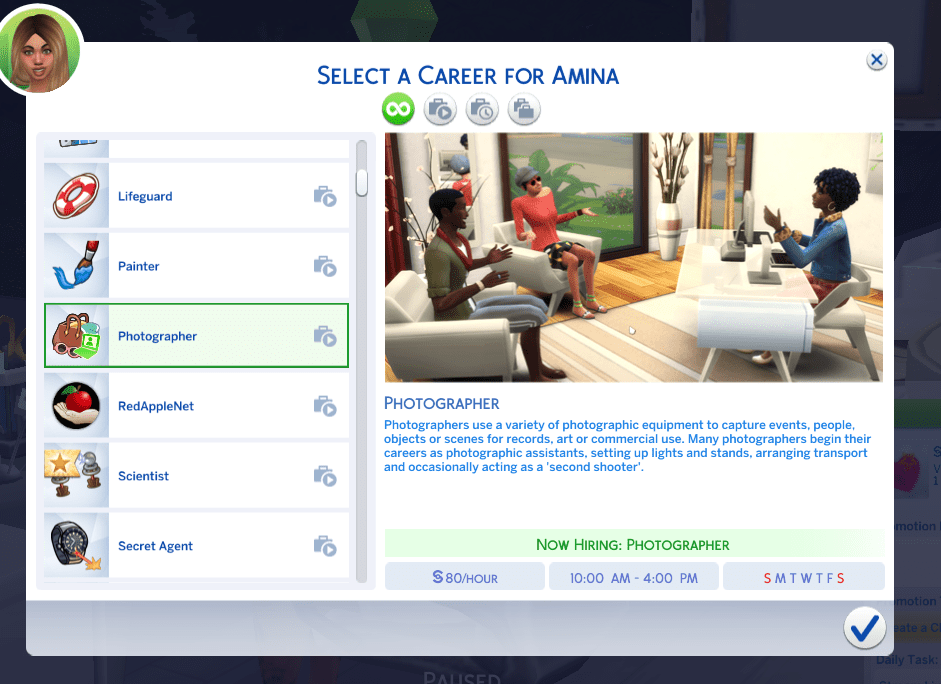 This job mod includes two jobs, a nine-level Photographer job, and an adjacent three-level Stylist job. This can be a great way to have two Sims that work together at the same company and have their jobs intersect, but the mod's main attraction is the Photographer's career path.
This career is active, meaning that you will have complete control over your Sim the entire time they work.
While you control them, your Sim will have to set up photoshoots of particular scenes or Sims and then snap the best pictures they can. Sometimes they will even be called to go to on-location shoots, such as traveling to the hospital to take promotional images of doctors as they work with patients.
As you ascend through the career's nine levels, you'll think of working eight to six hours and eventually making $325 a day.
Another exciting part of this mod is the need to set up your photography studio. These count as a new venue type that you will have to place in your city that can be entirely customized.
As you progress through your career, you can upgrade and change your studio even more to reflect your new status. This and the dynamic nature of the job make this one of the most influential mods on this list, as it has a massive influence on how you play the Sim that follows this path.
Pros
Is an active job to help keep you busy as you play
Has unique gameplay to mix things up for experienced players
Comes with nine full job levels
Cons
Gameplay can get a bit repetitive unless you really like taking pictures
Museum Curator
Creator: pissy hissy
Link: Museum Curator Career
Required Expansions: Discover University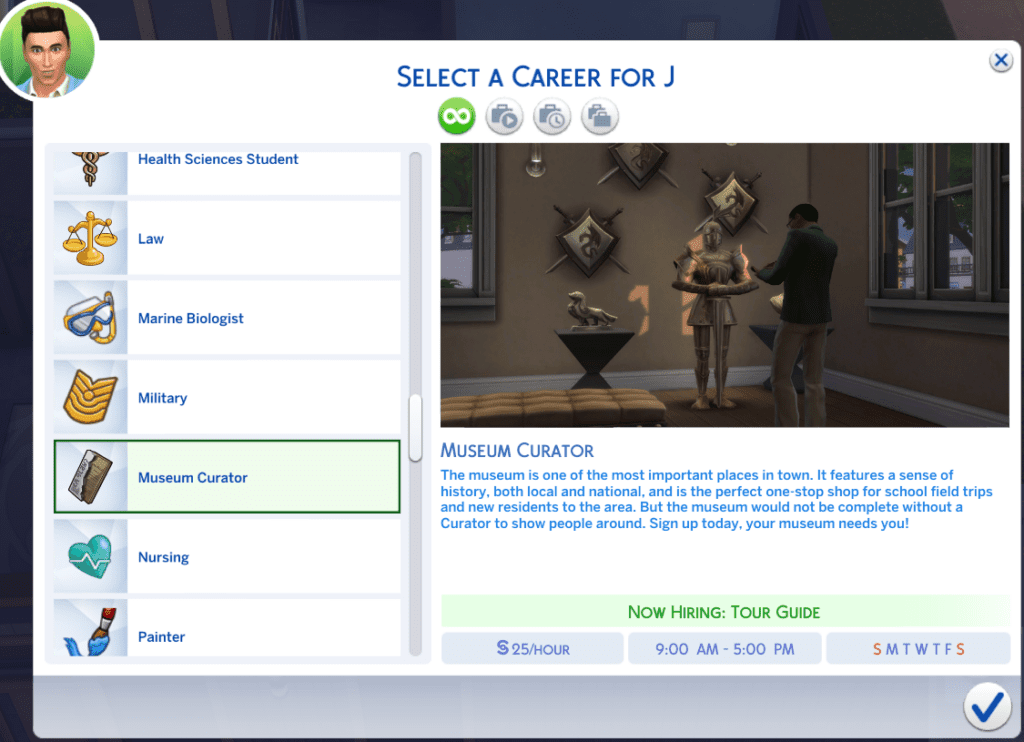 The Museum Curator mod also has some enjoyable interactions for your Sims to have with others, including lecturing about different parts of the museum and its exhibits. These lectures not only give the Sims giving them some benefits but also any Sims that participate and listen.
This career also pushes your Sims to learn multiple skills, which is excellent to help keep your promotion experience varied, and they'll need a degree in History or Art History before they can take the job. This mod has also been exceptionally well supported by its creator and includes English to Chinese, French, and Russian translations.
Pros
Has some fun and unique interactions for your Sims to have with others
Pushes your Sims to learn multiple skill lines for a variety
Job has a very stable and consistent work schedule
Cons
Players have to play their Sim through college first before this job even appears
Active Daycare Career
Creator: ItsKatato
Link: Active Daycare Career
Required Expansions: Get-To-Work, Toddler Stuff
Required Mods: Venue Changes, ItsKatato_AlwaysActiveCareer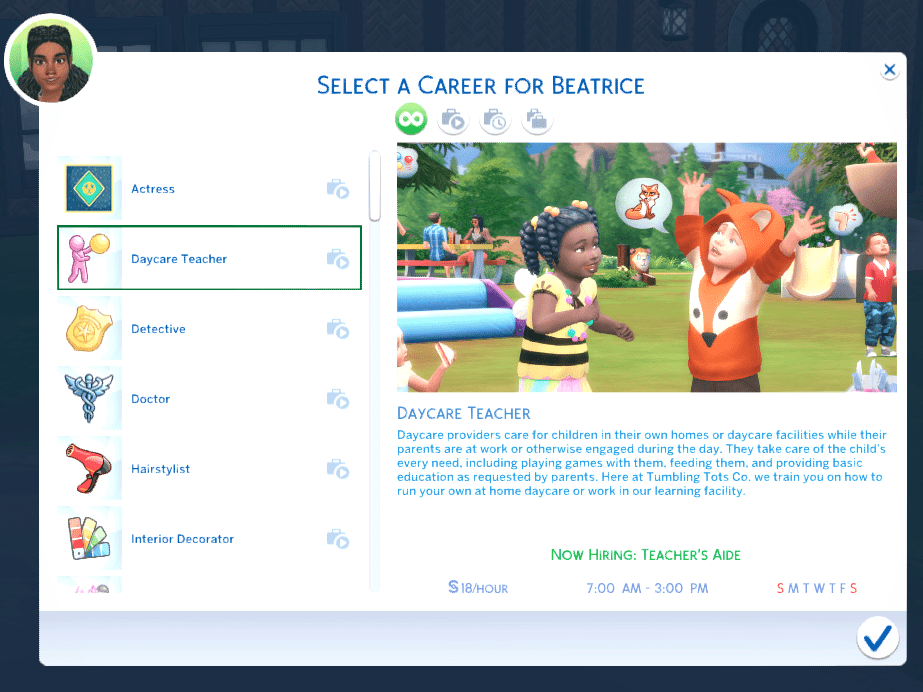 This mod introduces the new Tumbling Tots Co. daycare! This new active career allows your Sims to become daycare workers, where they help take care of multiple children at once. To do so, they can either work at the daycare venue or open their own daycare at home.
If you decide to have them go to the forum, you'll first have to designate a customizable daycare venue that can be customized. If your Sims don't take up this career path, they can even take their toddlers to the daycare to visit, which is a great way to help your toddler Sims socialize and make new friends.
If you instead want your Sim to run a daycare from their home, there is a separate career path to take. This version of running your daycare is a bit more involved because you'll need to make a daycare in your Sims' house for them to use, and it also comes with five different levels.
The career can be very taxing, however, because you will have children to take care of from 9 am to 7 pm. Each rank lets you watch after more children at a time, up to six, and your Sim makes $120 for each child watched. However, you also get a bonus at the end of each week, depending on your career level, up to a maximum of $500.
Pros
Has two different careers included
Is completely active, helping keep players busy
Cons
Requires you to really like taking care of children in The Sims
Workday is really long and will take up most of your Sims' days
Tattoo Artist
Creator: marlynsims
Link: Tattoo Artist Career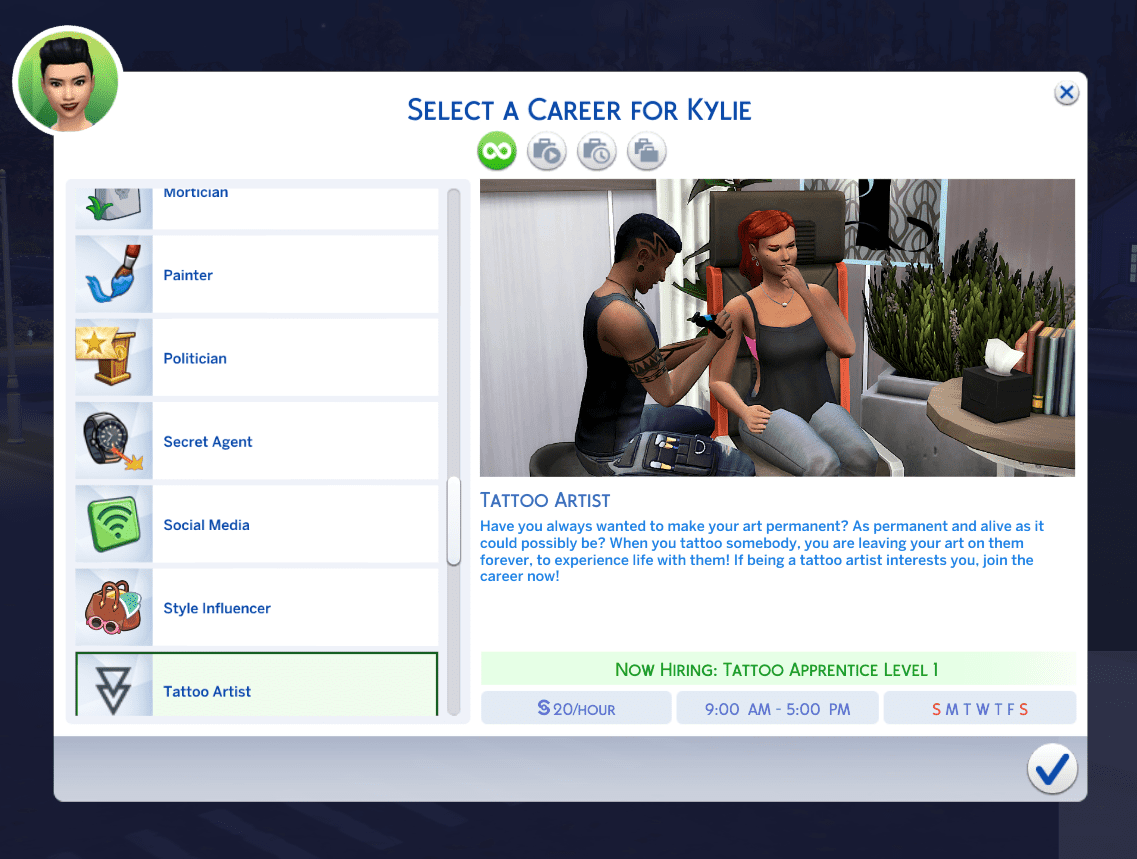 Each requires your Sim to raise different levels, while their performance on the job based on those skills can lead to your Sim doing a better job and getting more important tips.
Perhaps what is most impressive about this mod is that it comes with 35 exclusive chance cards that allow you to make choices toward your Sim's actions while on the job.
These boast an incredible 135 outcomes and buffs that your Sims can receive due to their actions. Some of these chance cards are very in-depth, with entertaining and unique stories and outcomes that play into your game.
Pros
A fun nod to the same job in The Sims 3
Incredible library of new chance cards and buffs to make the job more interesting for players
Cons
Isn't active like its previous incarnation
Knight Career
Creator: sokkarang
Link: Knight Career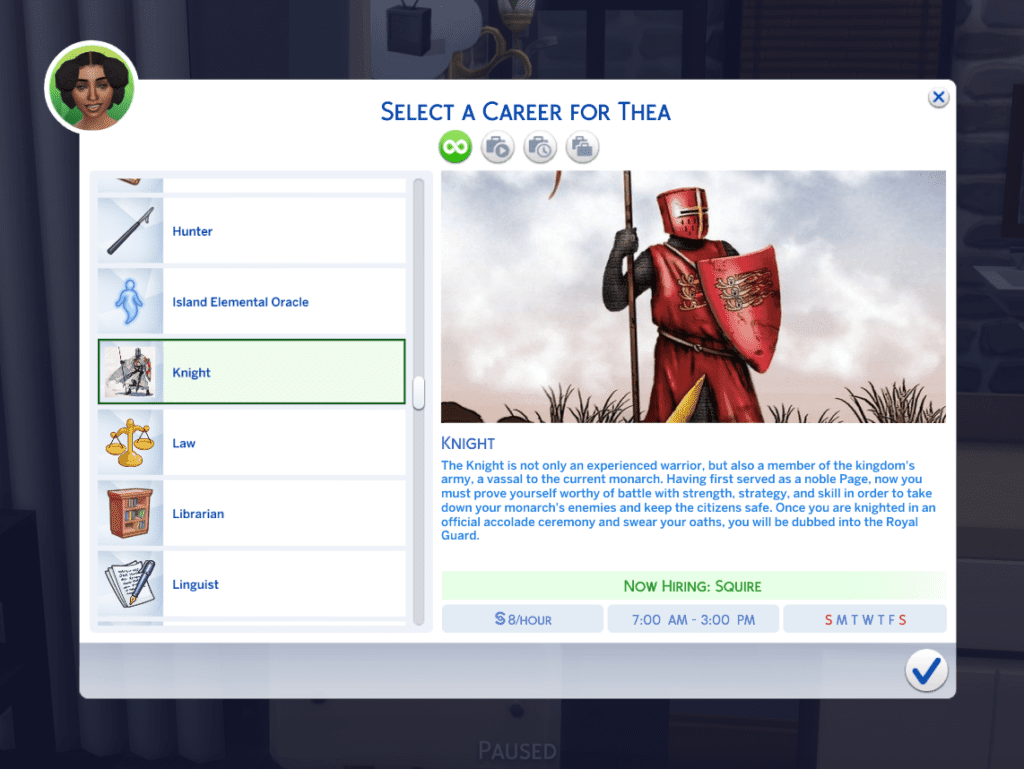 The creator, sokkarang, has multiple medieval job mods available, but this one, in particular, is focused on your Sims' journey from a meager squire to a renowned knight across the realms.
It comes with seven promotion levels that can be reached by leveling up particular skills, playing games of chess, meeting other sims, and various other objectives. This makes playing through this career path enjoyable and varied.
Interestingly, the mod's information and payment structures have all been researched based on historical facts from medieval Europe.
Pros
Historically accurate payment and elements
Great for roleplaying playthroughs
Mixes very well with other medieval-themed mods
Cons
Doesn't fit well at all in non-modded medieval games
Storytelling Mega Pack
Creator: ItsKatato
Link: Storytelling Mega Pack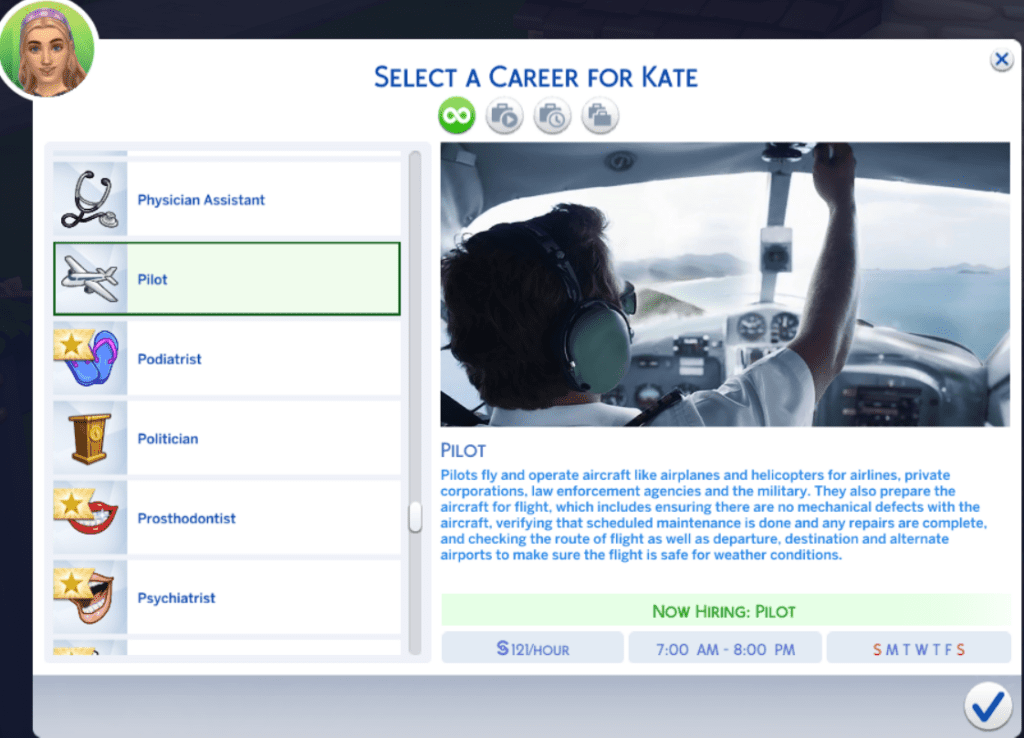 This pack is one of my favorites on this list because of how specific of a role it fulfills in the game. This mod is a must-download for players who either like playing with large groups of Sims or those who enjoy exploring different storylines that have side characters you don't want to have to spend too much time playing. Toward this end, this mod adds 53 new career options.
However, these options aren't like other careers in Sims 4, as they only have one level and a flat rate of pay. This makes them perfect for assigning a job to a Sim and then not having to worry about focusing them on particular skills, getting promotions, or anything other than contacting them hired and making sure they go to work.
This has been so helpful for me with larger families or roleplay games, and there are many options. The pack includes jobs like Chiropractor, IT Manager, Nurse Anesthetist, Occupational Therapist, and Wind turbine Technician.
Pros
Huge variety of jobs
Fulfills a great purpose that the base game has no answer for
Very easy to use
Cons
Doesn't have much content for players uninterested in storytelling or roleplaying
Conclusion
The careers your Sims take on play a massive role in how you approach the game. Once you've gone through all of the jobs available in the base game, downloading mods like these can add a lot of variety to your game and the personalities of your various Sims.
If you don't see any here that piques your interest, nearly countless mods are available, so you will likely be able to find one that fits your interests.
FAQs
Question: What is the Best Website to Find Sims 4 Mods?
Answer: I recommend using modthesims.info as there is a wide range of quality mods and a great community willing to help newcomers.
Question: Can you get Banned for Modding Sims 4?
Answer: You do not have to worry about your account getting banned for using the vast majority of mods available for The Sims 4. However, some mods have been flagged by the developers for including graphic or illegal materials, and players can have their EA accounts banned for using those mods in their game.
Question: Are Mods Safe to Use in Sims 4?
Answer: Yes, mods are perfectly safe to use for your Sims 4 games. As long as you only download mods from reputable websites, you don't have to worry about downloading any viruses or malware.