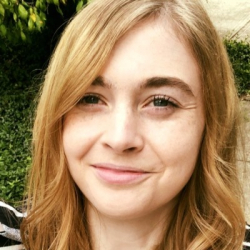 Latest posts by Erin Jamieson
(see all)
Tattoos are just one of the many ways you can customize your sims in Sims 4– and this guide for tattoos will help you up to your customization game.
From the moment the Sims 4: Island Living debuted in the summer of 2019, many questions were on simmers minds– from the unexpected queries about mermaids and the potential for hotels and resorts– to less obvious questions, like if the pack would include new tattoos.
Island Living received mixed reviews. While I remember the excitement when the expansion pack was first announced at 2019 EA Play, many initial impressions about the mermaids, stunning world of Sulani, and new gameplay features were later muted over critique from the lack of resort-style living, to mermaids that lacked the nuanced skill tree that came with Sims 4: Vampires.
But one area where initial impressions were correct was an unexpected one: tattoos. The Sims 4: Island Living comes with a webbed, arm to chest tattoo, as well as two leg tattoos and a signature back tattoo– less than what some were hoping for, but still an update to the just over two dozen tattoos in the Sims 4 base game.
But if you're new to the Sims, or simply have never played with tattoos, you may be missing out on customization, how to find the best tattoos, and how to make the most out of this create a sim feature in Sims 4.
Consider this your tattoo guide in Sims 4– from DLC packs to custom content, I'll give you my best tips on how to rock tattoos for your own sims.
Tattoo Basics: How to Get Started
First, I want to cover some basics of tattoos in Sims 4– how you find them, how you place them on your sim in CAS (create a sim), and how to select different options. Once you have a handle on how to use tattoos in the Sims 4, you can gain greater degrees of creativity and customization.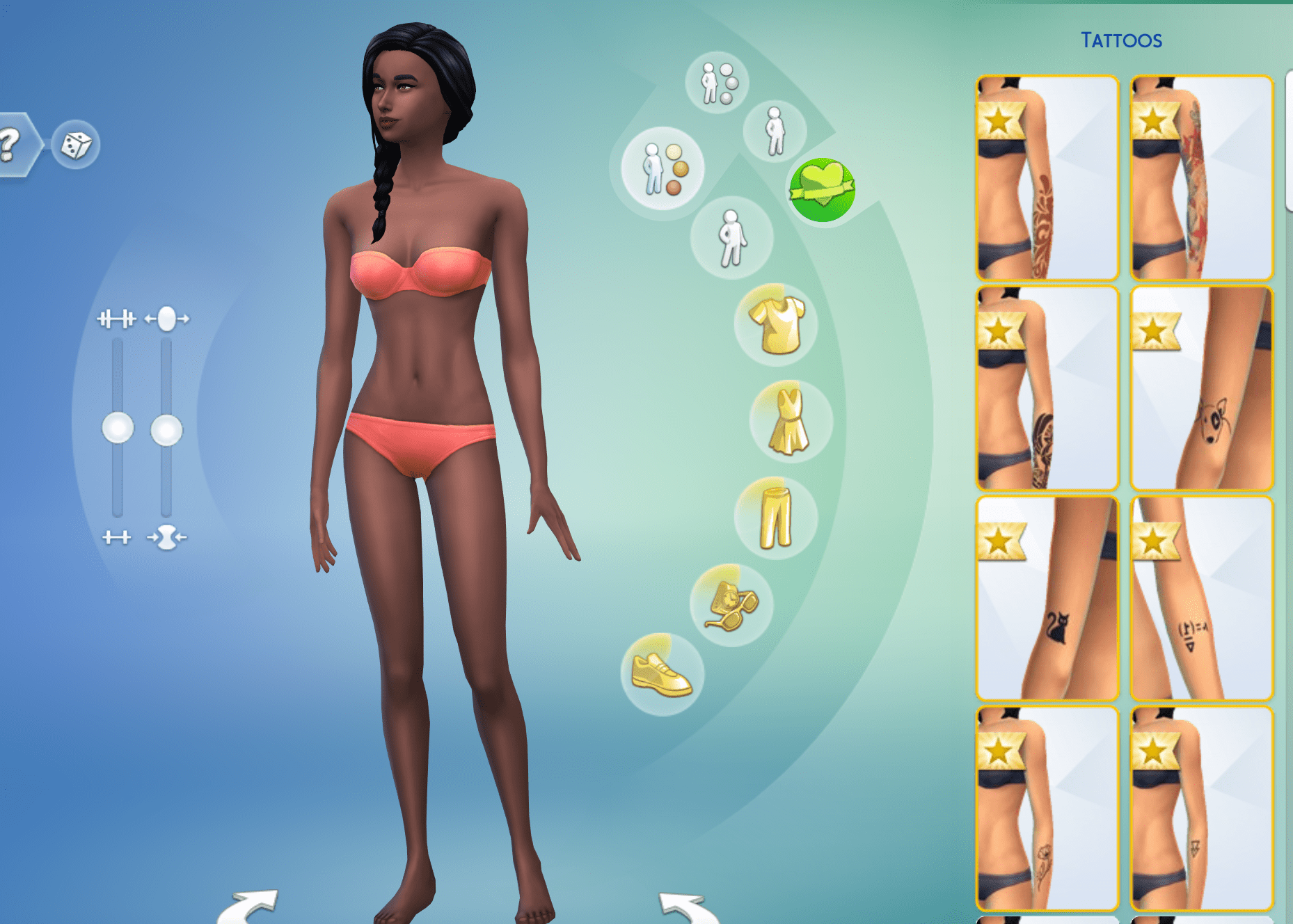 How do you get Tattoos on Sims 4?
You can get tattoos in Sims 4 one of two ways: either through the game and its expansion itself or through downloading Sims 4 custom content. For this section, I want to stick to the basics– no downloads required. The good news is that you can have access to tattoos in Sims 4 even if you just own the base game, though some expansion packs will add to your selection.
Base Game
The base game of Sims 4 comes with just over two dozen tattoos, including leg, arm, and back tattoos. These can all be accessed by creating a sim. To find tattoos, follow these steps:
Enter CAS mode. You can access CAS mode in Sims 4 through the main menu by selecting "New Game." You can also access CAS mode in a current save file by editing a household or selecting to add a new household.
Click on your sim and navigate to the "Skin Details' tab. Note that tattoos are limited to teens, young adults, adults, and elders in Sims 4.
Select the tattoos icon. It will look like a heart.
Scroll down through your options. You'll see options for the arms, neck, back, and even other places, such as the ankles, wrist, chest, and more, depending on what packs you own.
Click on each tattoo option to have it placed on your sim. You can see a preview in CAS. Multiple tattoos can be applied at once if they are not in the same location. For instance, you can have a left arm tattoo and a chest tattoo at the same time.
DLC Tattoos
Not happy with your tattoo collection in the Sims 4 base game? The good news is that you can ramp it up with some add ons. Of course, I personally would never recommend buying a full pack for tattoos alone, but if you like the other content in the pack and catch a good Origin sale, then it may be an added perk.
Sims 4 add ons that include more tattoos include the Jungle Adventure game pack, as well as the City Living, Island Living, and Discover University expansion packs.
Of these, Jungle Adventure is arguably the least impressive, adding a mere one additional tattoo for teens through elder sims, while Discover University supplies 9 arm tattoos, 3 ankle tattoos, and 2 neck tattoos– making for the most impressive tattoo add-on.
I should also note that, while it comes with a few less tattoos, Sims 4: Island Living features distinct tattoos that really stand out, and fit very much in theme with the new world of Sulani– but at the same time are versatile enough you can use them in your everyday gameplay as well.
How do you Change Tattoos on Sims 4?
If you're indecisive as I can be when creating sims, the good news is that it's easy to change tattoos on your sim once they've been applied. You can do so once you are in sim mode, but note that currently, you can't do so in Live Mode unless you have access to a dresser or a mirror. Dressers and mirrors also allow you to change makeup. However, I personally prefer starting in full CAS mode from the main menu.
Enter CAS mode. This can be entered via the main menu under "new game" or uploading your saved household from the gallery. From Live mode, exit your current household and click on the household, then the pencil icon from the map view to edit the family.
Navigate to skin details and the tattoo icon
Hover over your tattoo options. The tattoo that is currently applied on your sim will be highlighted/ selected. Click on it again to remove the tattoo.
To remove all tattoos at once, simply hover over the main tattoo tab. You will see a red X. Click on the tattoo tab and all tattoos will be removed at once.
Select a new tattoo the same way you did originally, by clicking on it once. You can rotate your sim and preview it.
To access additional swatches (colors) and variations for the tattoo, click on it and hover over the icon. You will see a small pop-up that shows a few swatch options. Click on each one to preview and apply. You can easily go from swatch to swatch by clicking on one of your choices.
How Do I Find More Tattoos?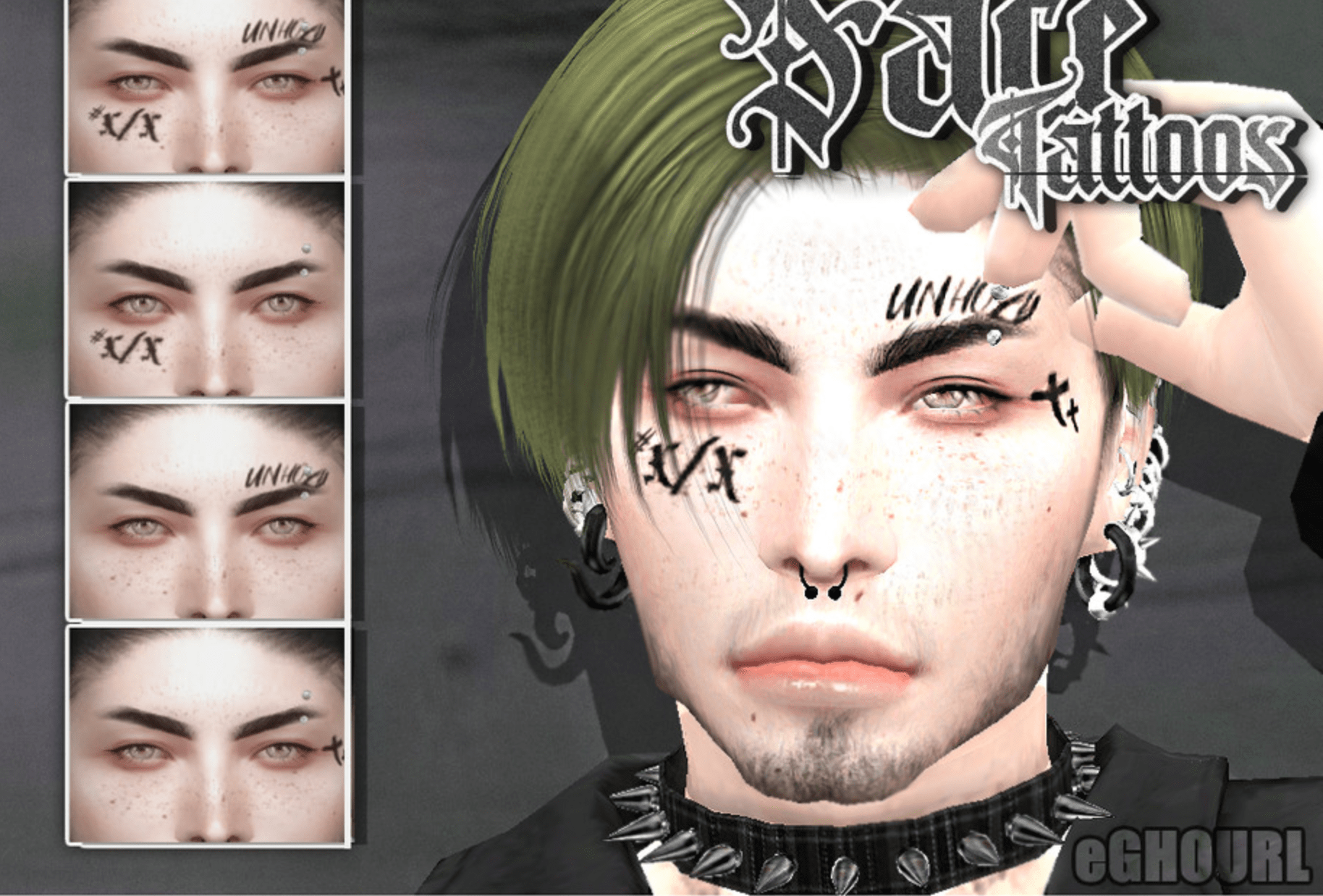 If you have the Sims 4 base game and have bought all of the add ons that I mentioned, your other option is to look for custom content tattoos.
Note that custom content and mods, at this time, are only available for those playing on Windows and Mac platforms. Console players (PlayStation and Xbox platforms) cannot currently use custom content in the Sims 4.
I always caution that custom content is downloaded and used at your own risk. I personally have not had any issues with custom content for skin details, but here are some important things to keep in mind before downloading Sims 4 cc tattoos.
Before you Download Sims 4 CC Tattoos
Other skin details can affect the appearance of cc tattoos. For instance, alpha skin overlays can hide maxis match cc tattoos. Alpha refers to custom content that is meant to have a more realistic style, whereas maxis match custom content is meant to mimic the more cartoon aesthetic signature to the game's content.
Alpha skin details, especially fun alpha skin, skin overlays, and even some skin details like dimples and freckles can either impact or even cover the appearance of maxis match tattoos. For this reason, I either recommend you download skin details (alpha with alpha, maxis match with maxis match) or simply experiment with these pieces to see what works.
Finally, you need to make sure that the custom content you're about to download is also safe. I recommend only downloading from secure sites. You can tell a website is secure by looking at the URL. There should be a locked symbol in your browser. Many browsers will also notify you when a website is not secure.
Downloading Sims 4 CC Tattoos
Once you've ensured that your website is secure and bookmarked tattoos you like, the process is simple– and is the same process as downloading any Sims 4 mods or custom content.
First, locate your mods folder. To do so, access the My Documents folder on your computer. From there, find EA, then The Sims 4. There should already be a folder labeled mods. It must be titled mods, and you cannot have more than one folder named the same thing.
I do, however, recommend organizing your mods folder, especially if you plan on collecting mods and cc. To do so, click to open your folder, then create folders within that folder. You can create as many folders as you like, and name them whatever you want, so long as they are under the mods folder.
I recommend a Skin Details folder. If you have many skin details, I recommend dividing it even further and creating a Tattoos folder under your Skin Details.
From there, click on the indicated download link of the cc of your choice. It should be a package file. Compressed files must be unzipped, through a free program such as the Unarchiver or WinZip.
Place all of your new cc pieces within your folder and open up your game to preview.
Help! My CC Tattoos Aren't Showing Up
If your tattoos aren't showing up in creating a sim, chances are something went wrong during the process– or you're having a conflict with other custom content or settings. Follow through the following steps to ensure that your new cc tattoos show up in your Sims 4 create a sim mode.
Make sure you have custom content enabled. This must be selected if you've never selected it before, or following any Sims 4 update. Note that Sims 4 updates automatically disable custom content.
To check this, go under game settings under the main home screen, before you enter CAS. There are options for all types of game settings, including one for custom content. Click the box to enable all mods and cc. You'll need to save these changes and restart your game for them to apply.
Make sure another CC isn't the issue. As I mentioned, some alpha skin details can hide the tattoos or additional skin details. Deselect any alpha cc, try the tattoos again, and see if the problem resolves.
Make sure you've properly downloaded the CC. Check to ensure that it's in your mods folder and that it's a package file. Any compressed files will not work.
Make sure it's a package file intended for Sims 4. This may sound strange, but some websites do intermix Sims 3 and Sims 4 custom content. This is most likely to happen if you look for tattoos on someplace like Pinterest– the initial link may read as though it's intended for Sims 4, but be for an older sims game. This has, in fact, happened to me before. Sometimes your game won't even load, and other times, the cc simply will not show up.
Finding CC Tattoos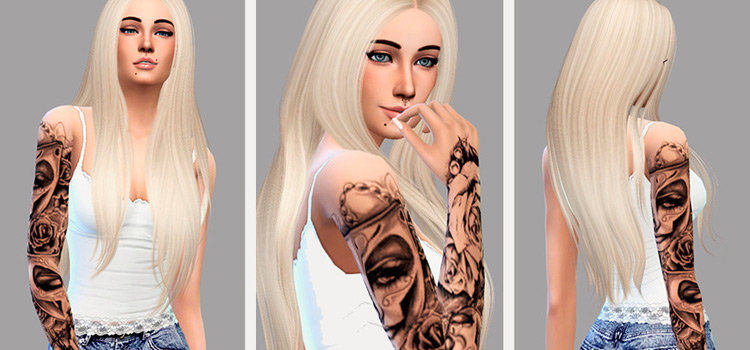 To find CC tattoos, I recommend the following resources. All of these I've always had no trouble downloading from, are fairly organized, and provide high-quality custom content for Sims 4. Tattoos can be a bit trickier to find, but all of these sources have an arm, leg, neck, and back tattoos for your sims.
Sims Resource
Sims Resource is my number one source for tattoos when I'm craving some custom content. I like how everything is clearly organized– plus it's a respected and secure website for custom content. In order to find tattoos here, I recommend either using the general search feature (top of page) or navigating to accessories– this, oddly enough, is where tattoos are included. Do note that they are dividing my masculine and feminine. Visit Here.
Maxis Match CC World
Your one-stop source for maxis match cc of all kinds, I love this website for many reasons– especially when I only want to download maxis match and don't want to navigate for alpha cc, broken links, or links to other sims game's custom content. To find tattoos, head to the navigation tab. From there, go under the tattoos option under the create a sim column. You can view all female or male tattoos at once, or even filter by tattoo location. They have many tattoo options, including arm, back, belly, chest, face, finger, full-body, leg, neck, and shoulder. Visit Here.
Tumblr
Tumblr is certainly not my first choice, because you may or may not get the best links. However, it is a place that has links to unique tattoos– just use at your own caution and only follow links that are secure. I recommend Savage Sim Baby, who's compiled an excellent collection of links to Sims 4 cc tattoos. Aside from specific or individual accounts, you can search generally or via hashtags. Again, this can be a more frustrating source to use, but if you feel like you've seen all there is for cc tattoos on the previous sources, it's worth a try. It also, in my experience, tends to lead to more actual cc than Pinterest, which too often tends to have broken links or even promotes Sims 3 or Sims 2 cc instead.
Frequently Asked Questions
Question: Can you be a tattoo artist in Sims 4?
Answer: In Sims 3 Ambitions, you could play as a tattoo artist. In Sims 4, there are no current DLC or base game features that allow you to officially be a tattoo artist. Your only option is to change tattoos by creating a sim or download the Tattoo Artist mod. The mod provides a base game compatible career, but it's a rabbit hole career, meaning you won't actively play your sims while they're at work.
Question: Can you get tattoos in Sims Mobile?
Answer: Sims Mobile, a game that is not directly related to Sims 4, and, as the name implies, is played on mobile devices, does allow you to have tattoos, through limited promotions and events. You can have a tattoo instead of facial hair or makeup, but not both at once. In addition, you can only have one tattoo at a time per sim in Sims Mobile– far more limiting than in Sims 4, where you can have multiple tattoos and skin details at once.
Final Thoughts
Now you have your guide to making the most of tattoos in Sims 4. From the more than two dozen tattoos in the base game to unique tattoos in expansion and game packs and a great custom content community, you'll have plenty of options to make masculine and feminine sims showcase a unique look.
As just one way to make your sims feel unique, adding a few tattoos may just get you more interested in creating more sims– and even uploading them to the Sims 4 gallery to share.