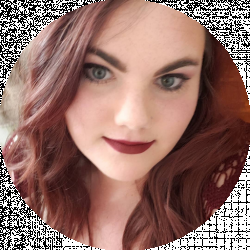 Latest posts by Miah Schmahl
(see all)
The Sims 4 is the fourth installment in the loved Sims game series. Sims 4 was released in 2014 by Maxis and Electronic Arts and regularly has content and new updates released. Currently, there are 10 expansion packs, nine-game packs, and eighteen stuff packs for the game.
In addition to the massive amounts of official game content, the Sims 4 has inspired fans to make tens of thousands of pieces of custom content that are for the most part completely free to download. I personally have over 12,000 pieces of custom content that come from a huge variety of websites and creators.
How To Throw A Successful Wedding In Sims 4
A wedding in Sims is essentially a big party that allows players to enjoy a big moment in their Sims' lives and earn rewards in the process. In order to have a wedding, Sims must first become engaged by becoming a couple and then building up their romance and friendship to at least 60%. Once engaged sims can choose to elope or have a traditional wedding.
Eloping is easy as sims become married instantly without needing to spend simoleons or bake a cake. To plan a wedding a sim can either plan a social event through the phone or clicking the sims fiancee and choosing the plan a wedding option. Weddings cost 1000 to 1750 simoleons depending on if you hire a mixologist, caterer, or musician.
Weddings in Sims 4 can be a bit buggy and caterers aren't really the best at their job. I personally skip catering and just use buffet tables for my Sims weddings which can be found in the build/buy mode. A minimum of two guests needs to be invited with a maximum of 15.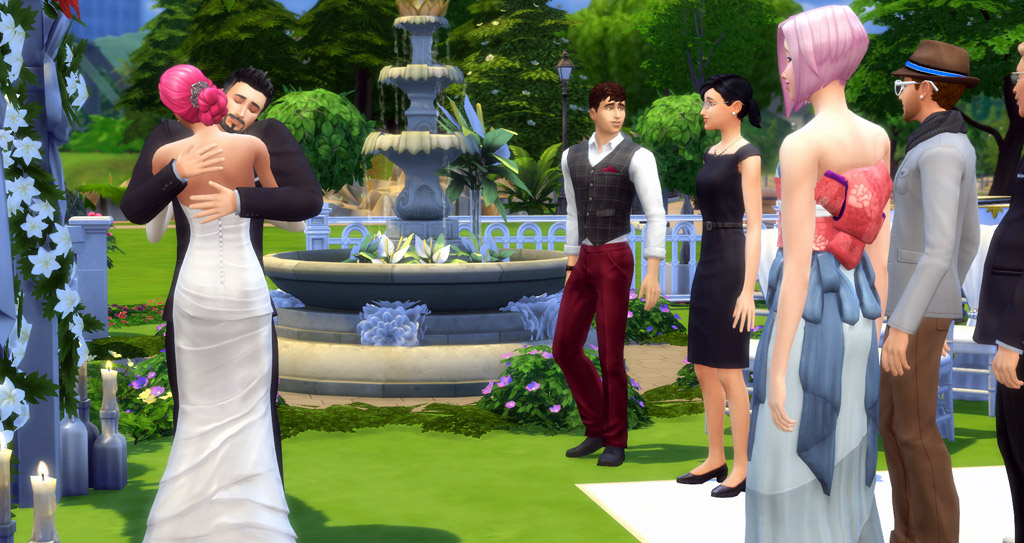 Once the wedding is planned it will start immediately so make sure that Sims are fully rested and ready for the big day before planning it. Weddings last around 9 in-game hours and are rated on gold, silver, or bronze depending on how many goals your sims are able to complete. Each bar in the event meter represents a medal and completing all of the tasks listed will get you that medal.
The main goal of the wedding is to get married, it's recommended that you get this part out of the way so you can focus on other objectives like having drinks, mingling with guests, eating food, and of course having cake. Slicing the cake is always included in the wedding goals, so make sure to have a cake made before the wedding so it's easily accessible and your bride or groom doesn't end up having to bake a cake in the middle of their reception.
Rewards
There are three rewards depending on which medal you are able to achieve during the wedding. The rewards can be found in your sims household inventory after the event. You can choose to use the rewards or sell them to recoup wedding costs.
Gold- Royal Crabtree Tea Set, The Food Annihilator and Tea Magic Personal Brewer as well as, the silver rewards.
Silver= Wedding Pillar with Floral Basket and In Full Bloom Centerpiece
Bronze- Charisma Vol1:Diplomacy for Dummies A skill book for Charisma
Best CC Sites
Mod The Sims
Mod The Sims has been around since the early days of the Sims franchise and holds a variety of custom content for Sims 2,3 and 4. While it doesn't get the same amount of use as other sites it's a valuable resource for game mods and other basic custom content. It's also home to a few creators that make absolutely wonderful game mods that will enhance your gameplay, such as, Turbodriver and scumbumbo.
Link: modthesims.info
The Sims Resource
The Sims Resource is where I get 90% of my custom content and I even pay every month for their VIP subscription. The site is easy to use, well thought out and has categories and tabs for finding specific pieces of custom content. They even have a section dedicated to weddings, where you'll find a large number of dresses, accessories, and venues to download.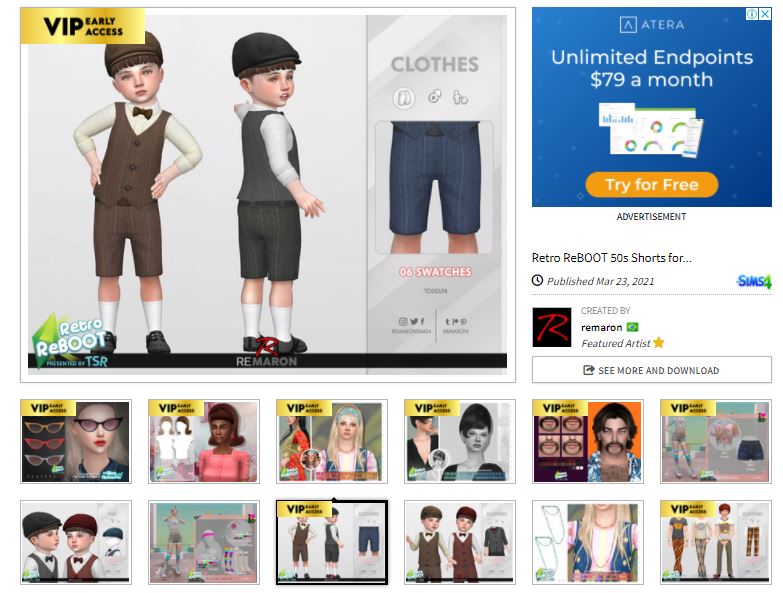 Reddit
Believe it or not, the Sims 4 subreddit is a wonderful place to find various custom content and even inspiration for your sims game. Oftentimes you will find venues and other creations that can be downloaded directly into your game from the gallery. You can also talk to other simmers about various aspects of the game that you love or hate, share your own creations and enjoy a community built around a fun game. This is one of my favorite subreddits because everyone is kind and helpful.

BEO Creations
If you are looking for a creator that focuses heavily on wedding and formal wear content then BEO Creations is for you. Not only is the site easy to use, but it's also chock full of various wedding dresses, veils, and formal wear so all of your Sims can be styled at your wedding.
Her content largely features modern dresses or other clothing items with vintage twists. Many of the items look to be inspired by Haute Couture making it great for a Sim who wants to look their absolute best.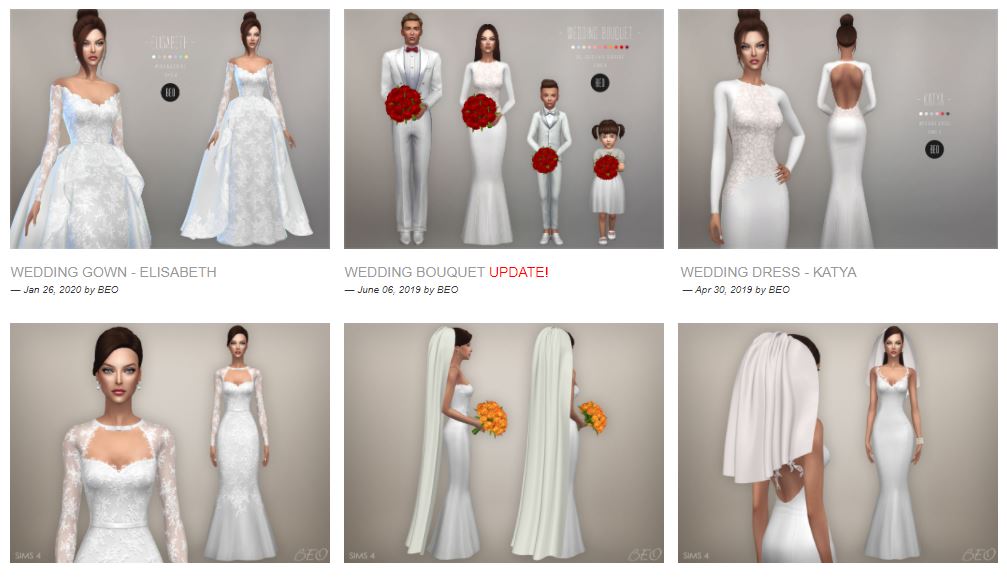 Weddings Mods
Pose Player
Pose player is a must-have for players that want to create cute and memorable screenshots. Created by a creator that goes by Andrew Pose Player allows sims to perform a specific pose or animation. This can be used on both household sims and nonhousehold sims. Below are two pose packs that are perfect for weddings and will allow you to get the best screenshots possible.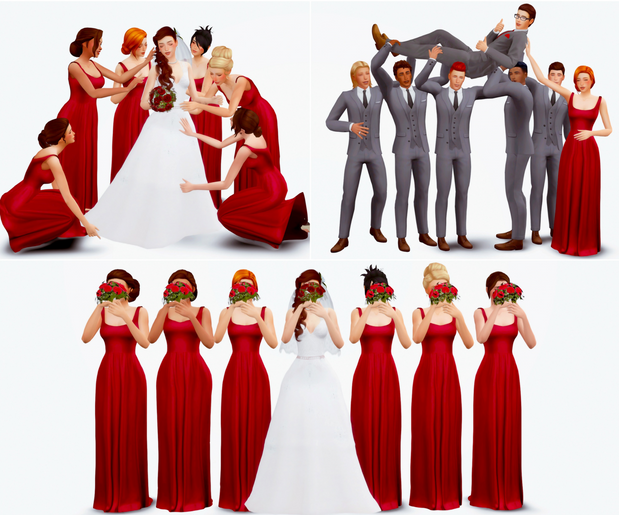 Pose Packs:
Memorable Event Mod
The Memorable Event Mod was created by KawaiiStacie and adds over 40 different social events to the game. While the mod doesn't directly affect weddings it does add the ability to have a more complete wedding experience.
Now your Sim can plan a romantic proposal for their partner, have a bachelor or bachelorette party and even go on a honeymoon. It's the ultimate mod for storytellers or people who want a more complete immersive experience.
Various Seating Fixes/Additions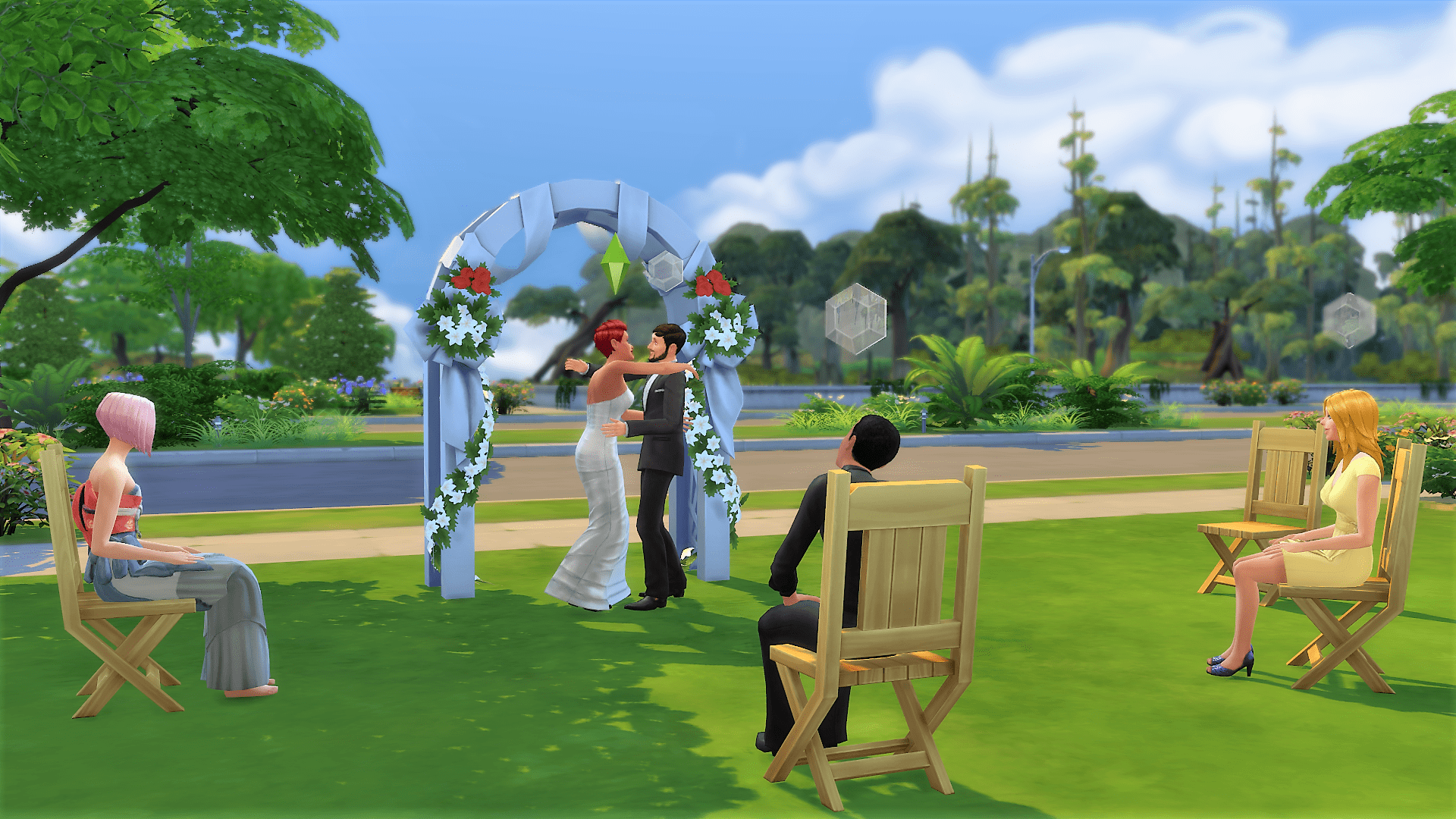 This mod is a must-have for weddings and for those who want to take awesome screenshots for their memories. Created by camsin259, this mod forces sims to sit in seats instead of just standing around while someone gets married. It even extends to other things such as performances, movie watching, and karaoke. Overall it just makes the game much more realistic and less annoying.
Venues
While you can have a wedding on nearly any lot in-game, sometimes it's nice to place a wonderful venue that will allow for a much more blissful experience, beautiful screenshots, and an event worth bragging about. Below are five beautiful and functional wedding venues.
Babs Barn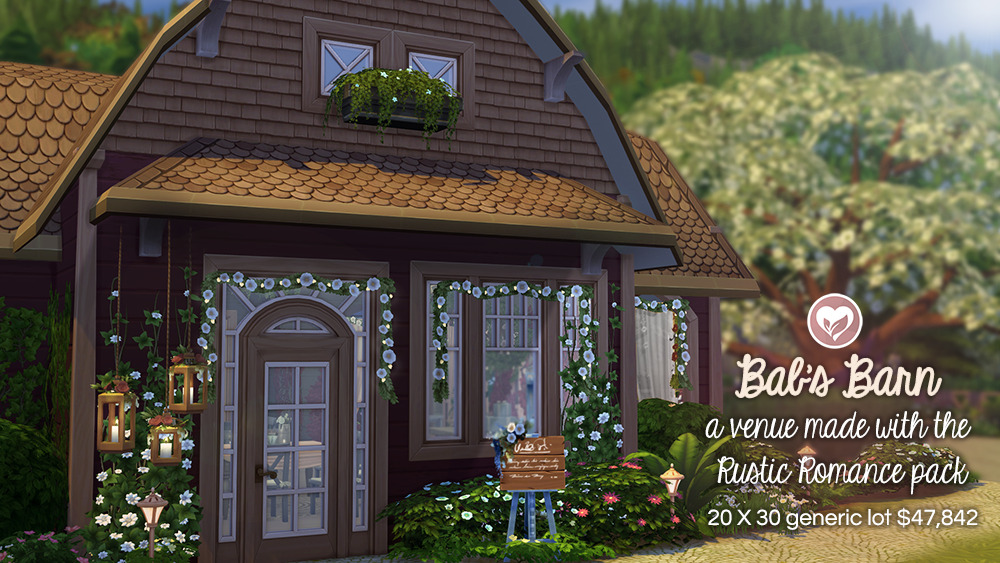 Babs Barn was created using a fan-made stuff pack just for rustic weddings. The venue includes a reception barn complete with a bathroom, an outdoor ceremony area with a tree arch, and a bar. The only CC the venue requires is from the Romantic Romance Stuff pack detailed below. You will need the Cats & Dogs, Get Together, Parenthood, Vampires, Dine Out, Laundry Day, Backyard, Romantic Garden, and Holiday packs for the venue to appear as it does in the pictures.
Underwater Wedding Venue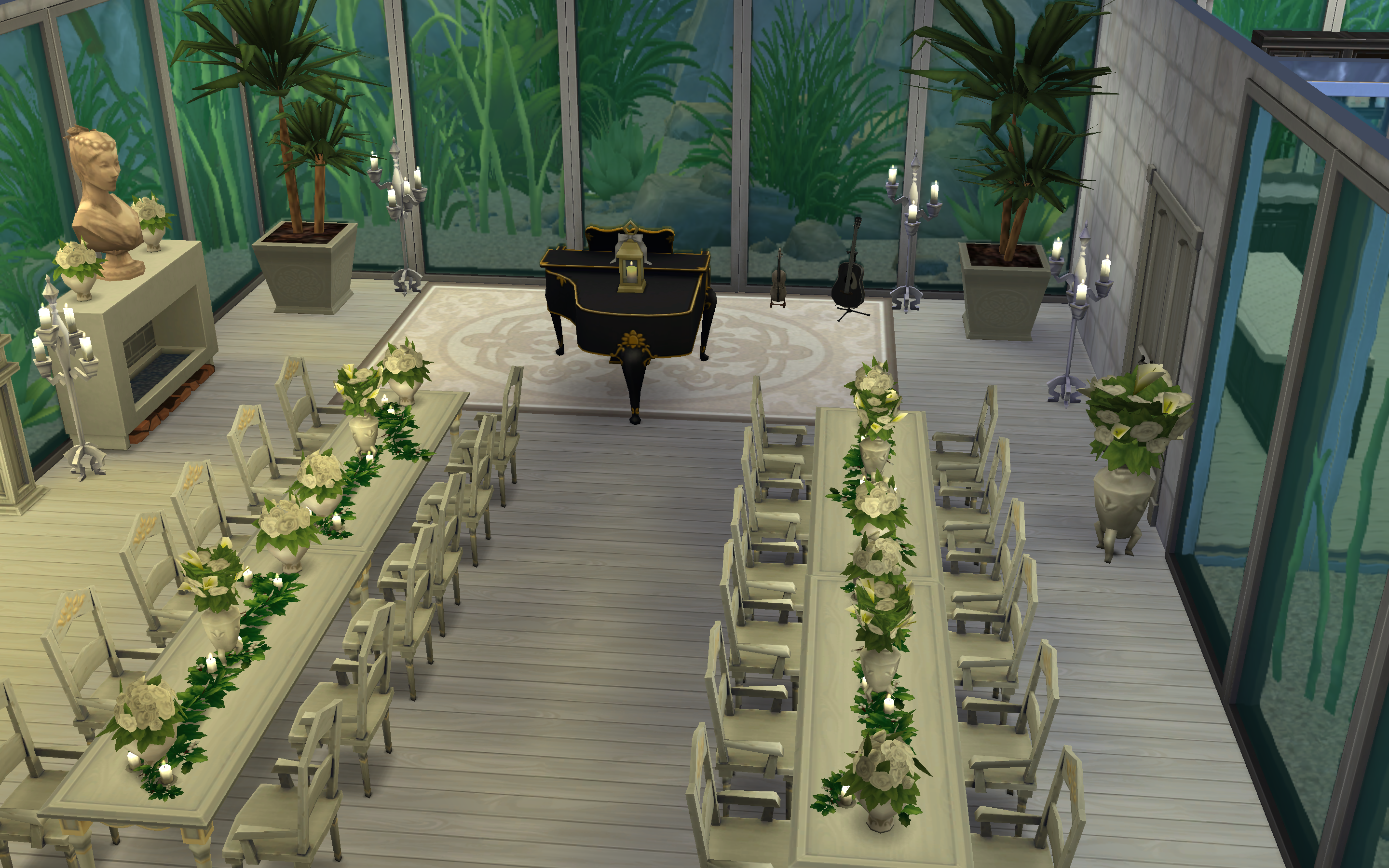 This venue was one I came across while pursuing the Sims 4 subreddit. It's beautiful and different that I just had to include. The venue includes a candlelit pergola, private garden, and dance floor that is surrounded by water lily gardens. The reception area is completely underground with views of the plants growing under the water.
It comes complete with a kitchen and bridal suite. This venue is hosted in the gallery and can be found by searching for the creator Kaashley19. The link below will take you to the Reddit post about the venue, as well as, the wonderful screenshots taken by the creator
Magical Marquee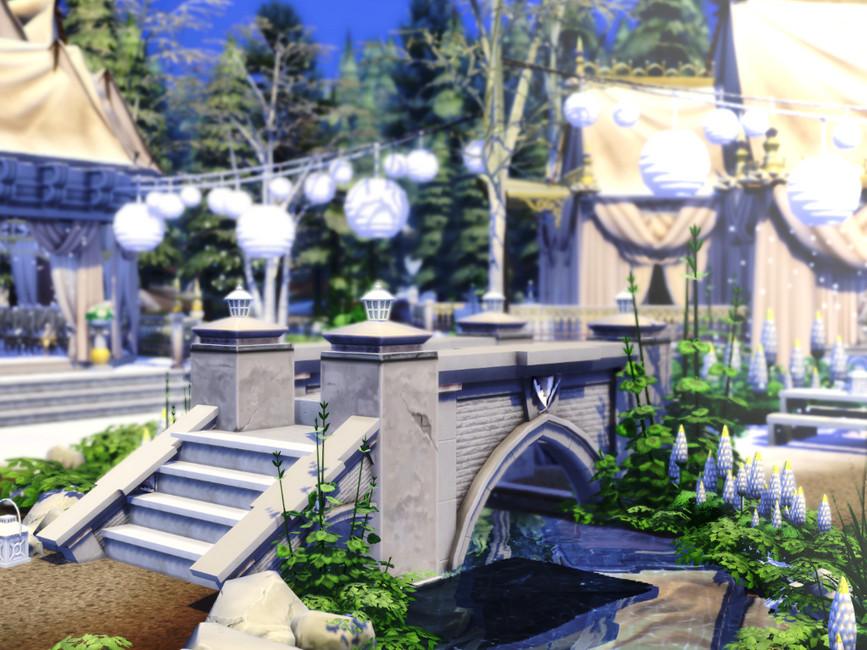 This is by far one of my favorite wedding venues, the tents, nature, and attention to detail make me want all of my sims to get married just for the pictures. VirtualFairytales created a beautiful venue that houses a full kitchen, dance floor, bar, ceremony space, and large reception space; this venue also comes complete with a honeymoon suite. This venue was created without custom content so you will find everything you need for it to appear properly in your game.
Magical Wedding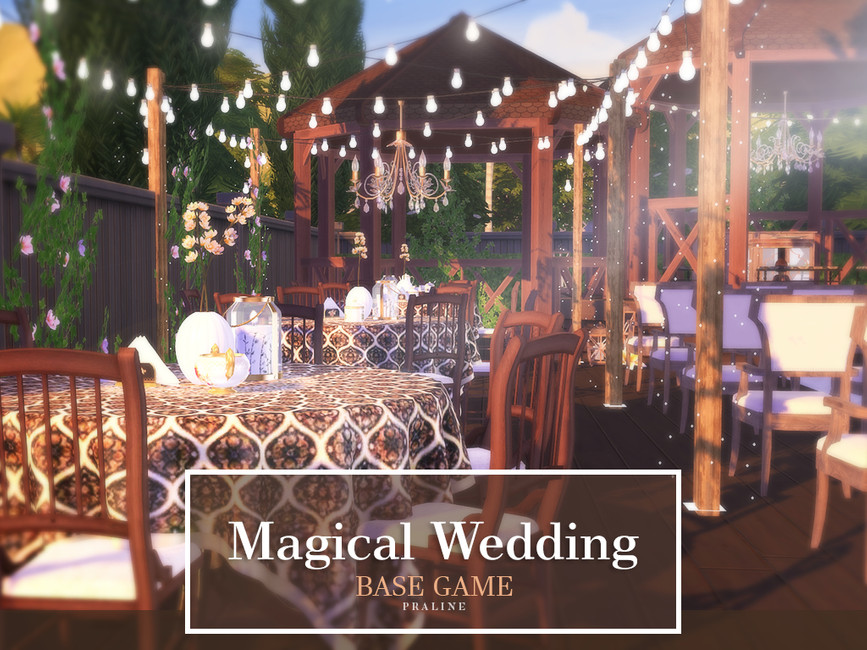 Created by one of my favorite creators Praliensims this beautiful wedding venue was created using only base game content and a small amount of custom content from three creators. It's a beautiful basic venue with a ceremony space and reception space all rolled into one. It's perfect for players who want a chill but beautiful and rustic wedding space.
Valentine Wedding
Another beautiful wedding venue created by VirtualFairytales, this valentine's day themed wedding venue is just as beautiful as it is large and detailed. The venue comes with a wedding chapel, party location with a bar, honeymoon suite, and perfect photo spots for your screenshots. This venue doesn't contain any custom content and only requires City Living, Get Famous, and Holiday Celebration Pack.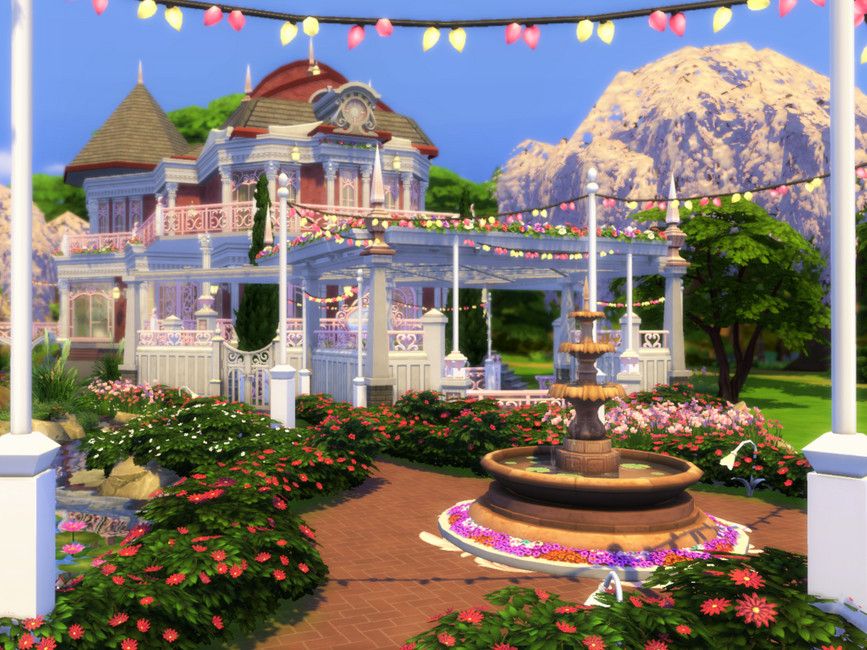 Clothing and Objects
Rustic Romance Stuff
The Rustic Romance Stuff pack is a fan-created stuff pack by little cakes and zx-ta at Plumbob Tea Society that is completely free for Sims 4. The stuff pack includes over 50 items, 30 of those items are just for create-a-sim alone and include dresses, tuxes, bridesmaid outfits, flower girl, and ring bearer outfits for kids of all ages. The other items are generally for lighting, comfort, and decoration. There is even a bar and banquet table included. Lastly, the pack includes five different poses that work with the pose player. This is the only wedding-specific pack I have found and it's a must-have for in-game custom content.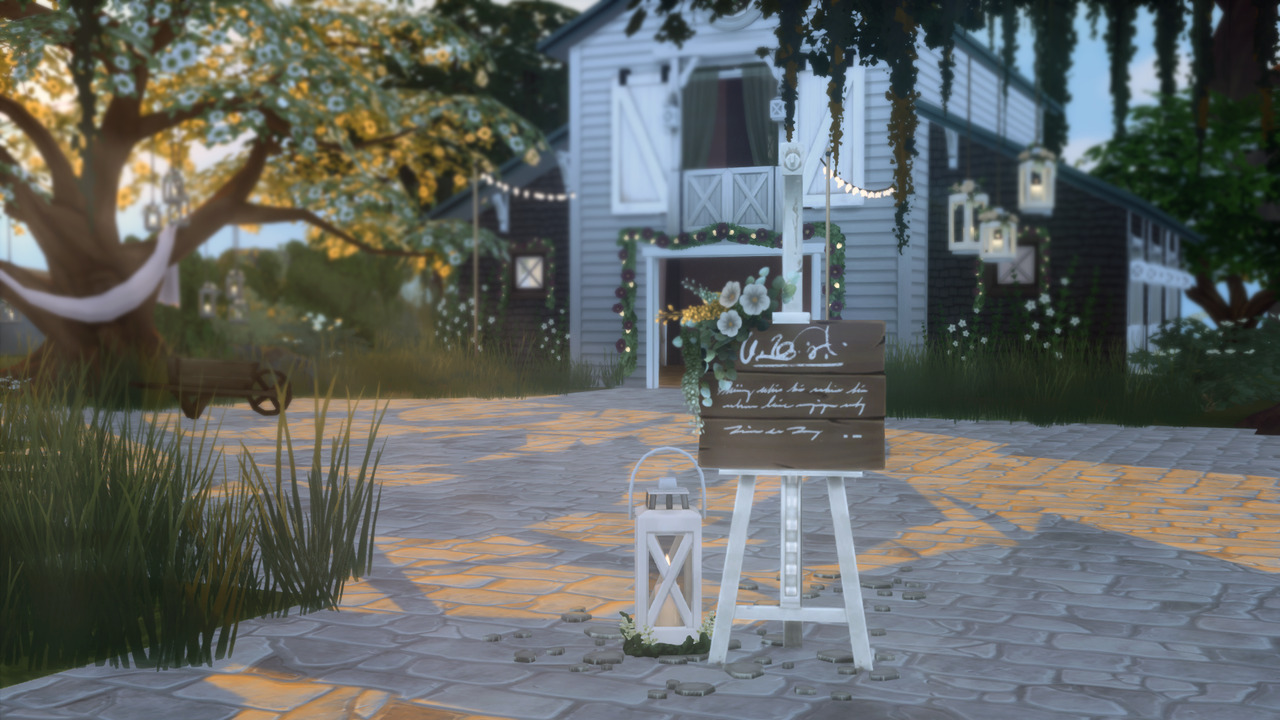 Wedding Bouquet
A wedding outfit isn't complete without a beautiful bouquet. Beo-creations has just what you need. This wedding bouquet comes in 11 colors and can be held by toddlers through adults and by both genders. Now anyone can have a beautiful bouquet to hold during their wedding.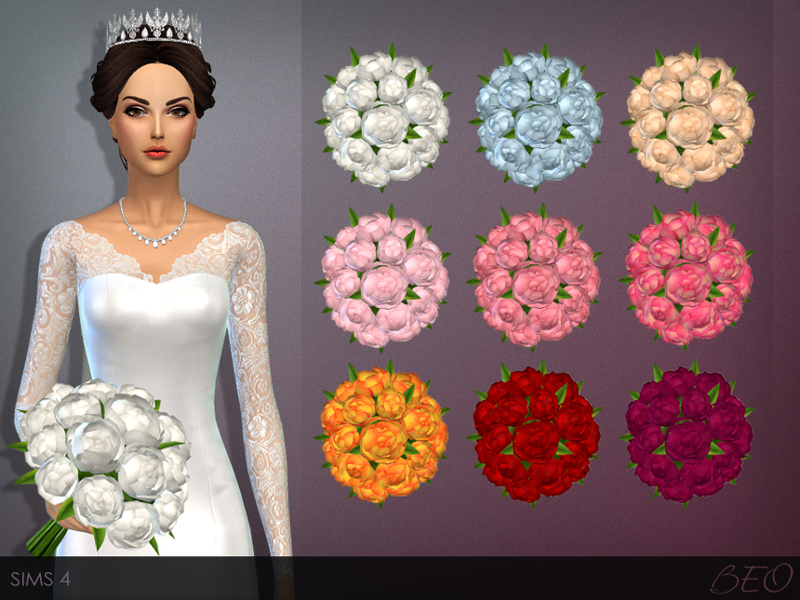 Boho Wedding Dress
Another beautiful creation by Beo Creations, this wedding dress comes with some very 70s vibes. I love the vintage and bohemian look that his wedding dress has. It comes in seven colors and can be worn by teens, young adults, adults, and elders. You also won't find this on a random townie so don't worry it'll be saved for the special day.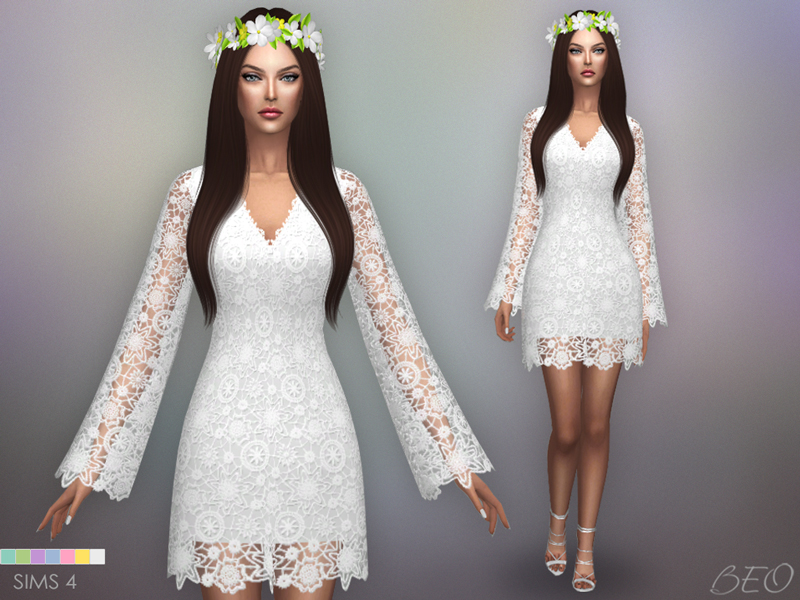 Duchess of Cambridge Wedding Set
With the popularity of the Crown and all things royal, it's no wonder that Kate Middleton's wedding dress made it into the game. This beautiful recreation was made by melonsloth on Tumblr. The download link includes downloads for the mesh, dress, and shoes. As well as, a list of custom content used in the screenshots. Your sim will be looking their most royal in the dress.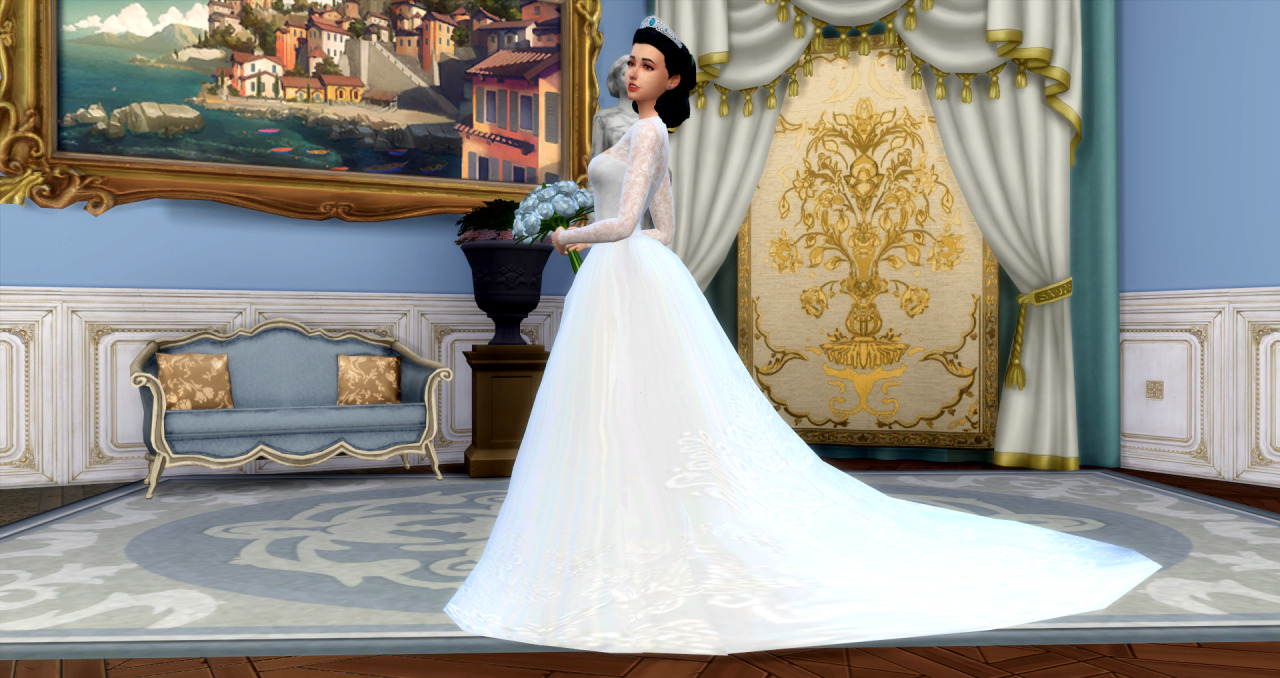 Titus Wedding Suit
If you want to spice up your grooms' wardrobe for the wedding this tux is sure to do it. Created by Briba32 on The Sims Resource, this tux comes in six different swatches all of the blue or black tones.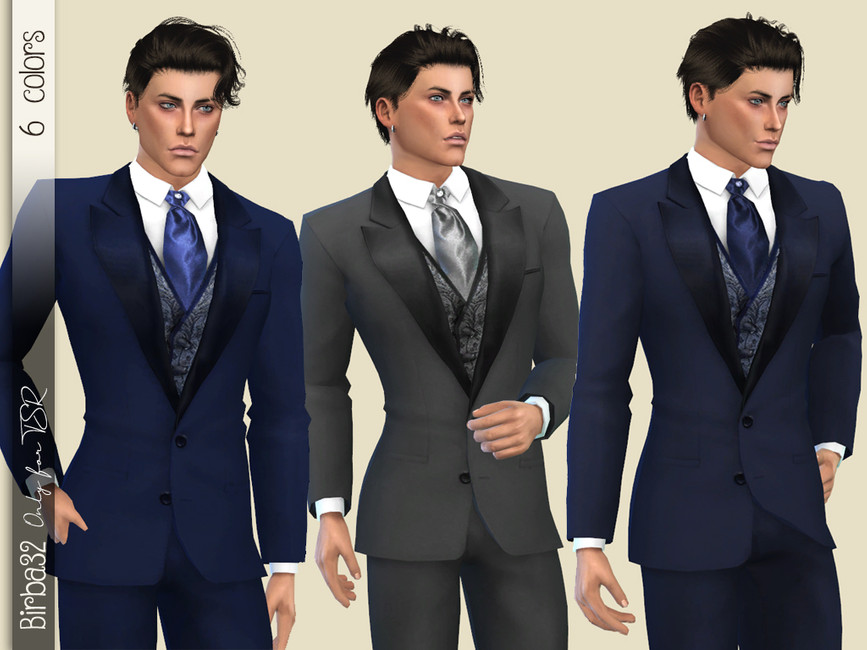 Romantic Wedding Gown
Created by ekinege this beautiful wedding dress comes in 14 different colors and is meant to simulate lace and tulle with lace appliques. I love the style of the dress and attention to the back detailing with the dress having buttons.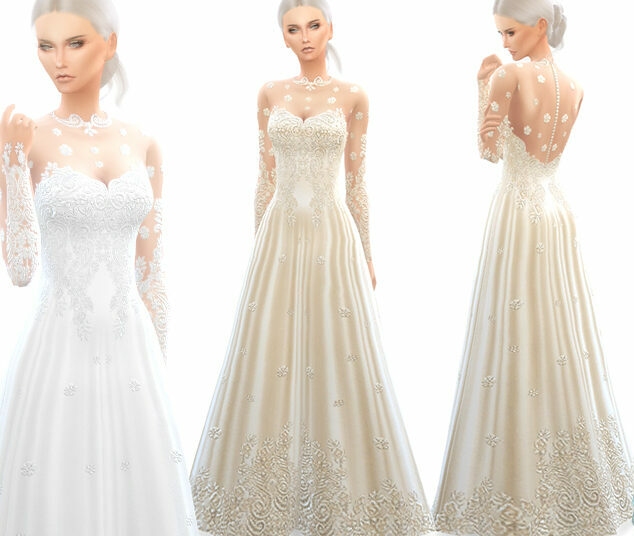 Tuxedo Top 3 Variants
Another download for men contains three variations of a tuxedo shirt. One with no vest, a short vest, and a long vest and comes in six swatches each. The variants used are created from EA meshes found in the game natively so the shirt should work well and show in the game properly. This also means that the tops will work with base game formal pants as well.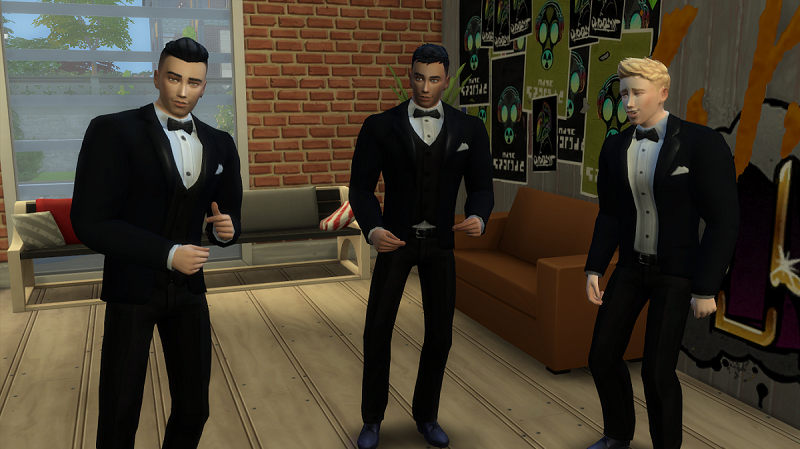 Tuxedo Transformed
If you like the look of the base game tuxedo but want more variety this CC is perfect. Similar took the base game tuxedo and recolored it so now there are multiple colored tuxedos in blue, black, grey, and white. Additionally, each color comes with different colored matching cummerbunds, bow ties, and pocket kerchiefs. A much-needed upgrade for the base game tux.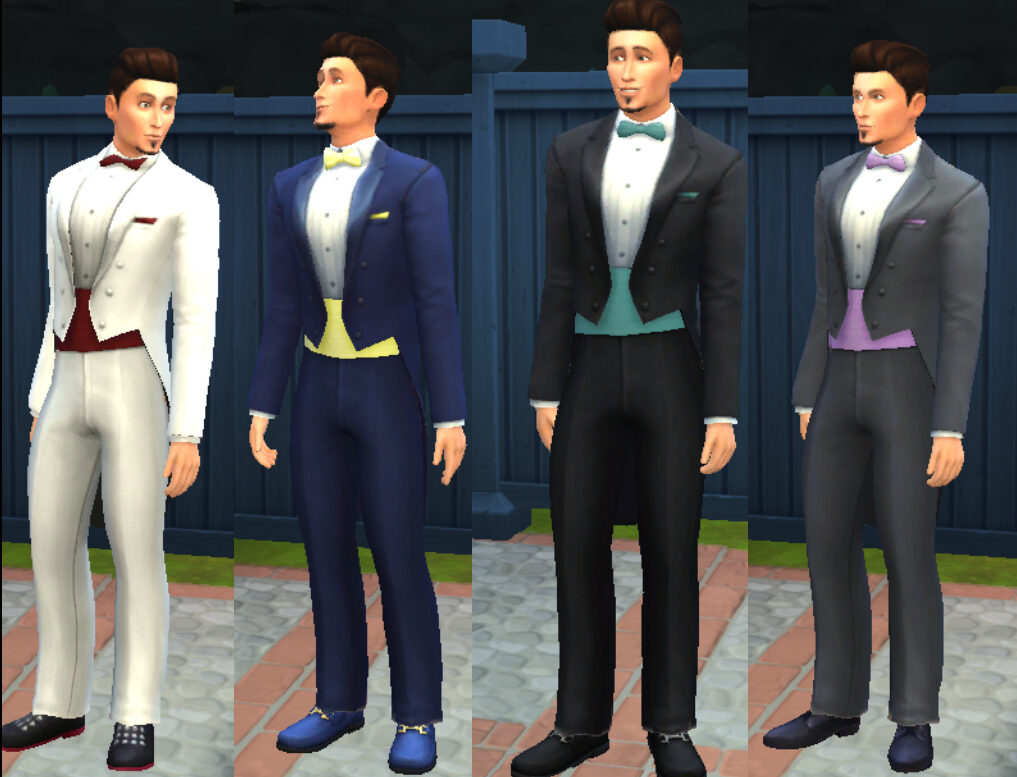 Forest Fantasy
If you want a nature-inspired arch for your wedding then look no further. Creator BigUglyHag took the meshes from idol ruin in Castaway Stories, resources from Sim 3 seasons, and textures from Sims 4 to create this forest wedding arch.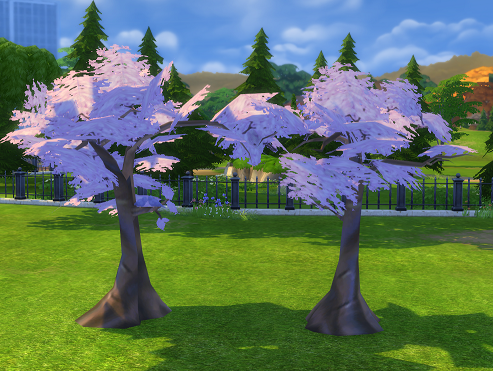 Old Mill Wedding Arch
This is another Sims 3 port creation by the same creator as Forest Fantasy. This wedding arch is perfect for the ancient ruins lot and looks lovely with flowers placed around it.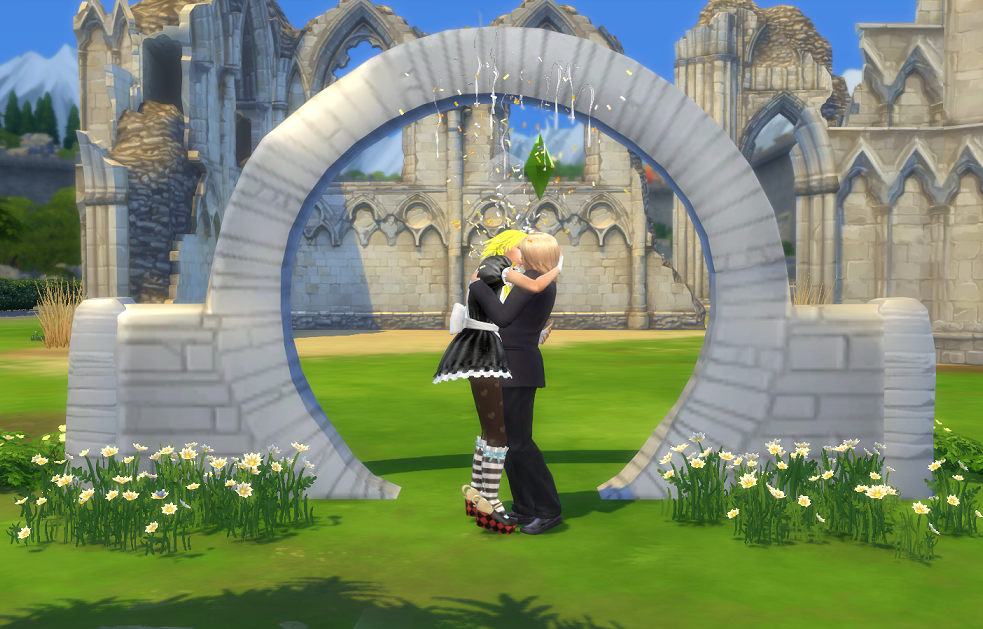 Final Thoughts
Weddings are a fun goal event in Sims 4 that can be used to gain rewards and tell a story. Custom content helps weddings be more personal and interesting by either changing how certain game mechanics work or by adding objects and clothing to match aesthetics. This list is just a small glimpse at some of the best wedding-specific custom content out there. Whether you are looking for a unique venue, a pretty dress, or a cool wedding arch you will find something that fits your taste and aesthetic.
FAQs
Question: Do weddings have to be goaled events?
Answer: Nope! If you want to throw a wedding without worrying about pesky goals then all you need to do is uncheck the goaled event box when selecting which social event you want.
Question: How do I install custom content?
Answer: Custom content can seem a bit cumbersome to install and sort through. Don't worry we have a handy guide just for you that explains how to install it and the difference between different custom content types. You can find it here.
Question: How much are the rewards worth?
Answer:
• Wedding Pillar- $335
• In Full Bloom- $480
• Royal Crabtree Tea Set- $770
• The Food Annihilator- $470
• Tea Magic Personal Brewer- $275
Final Thoughts
In total, the rewards are $2330 simoleons, if you sell all of them you can make $580 simoleons even if you go all out for your wedding. I personally like to keep the tea brewer because I never buy one for my sims when I create their house and it's a nice bonus. I do sell everything else, especially the Royal Crabtree Tea Set. I didn't include bronze rewards because it's basically a gag gift and not worth much.
Further read: