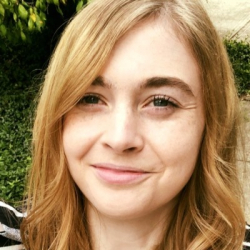 Latest posts by Erin Jamieson
(see all)
Summer of 2020 may have been quiet in real life, but in the Sims 4 community, it was abuzz with an update promising many changes, among them the long demanded ladders and firefighters– but even a short pixie hair for male sims. And that a single haircut received a mention just shows the lack of masculine hair in Sims 4– and why so many feel their best solution is to look for male hair cc (custom content).
The June 2020 update came just before the release of the Sims 4: Eco Lifestyle expansion pack. If I'm being honest, I, and a large portion of my fellow swimmers, were just as excited, if not more, about the sweeping update than the anticipation of a new pack.
That update brought not only ladders but also the famed NPC (nonplayable character), firefighters, which had been iconic in previous games. But that wasn't all. Now the Sims 4 finally allowed us to center windows and doors, regardless of the building grid. Another helpful addition? A more detailed breakdown of bills, plus the ability to get rid of those pesky guests who just wouldn't leave with the ability to send sims home.
But while those additions were the highlights of this patch, a few CAS items were also included. Among them? A single pixie cut for male sims.
While the expansion pack did include some male hair, it goes without saying in the sims community that, even with every pack and update, there are far fewer hairstyle options for male sims.
In this article, I'll tell you how to find and download male hair cc, and explain the difference between alpha and maxis match custom content– finishing off with just a few of my finds for the best male hair cc for Sims 4.
Sims 4 Custom Content 101
Before I discuss the best male hair cc for Sims 4, I wanted to include a section on custom content for anyone who's never downloaded custom content, or may even be new to The Sims. These frequently asked questions should help you understand the ins and outs of finding and safely downloading any custom content– whether that's male hair cc or even something more advanced, like the Sims 4 Royalty Mod.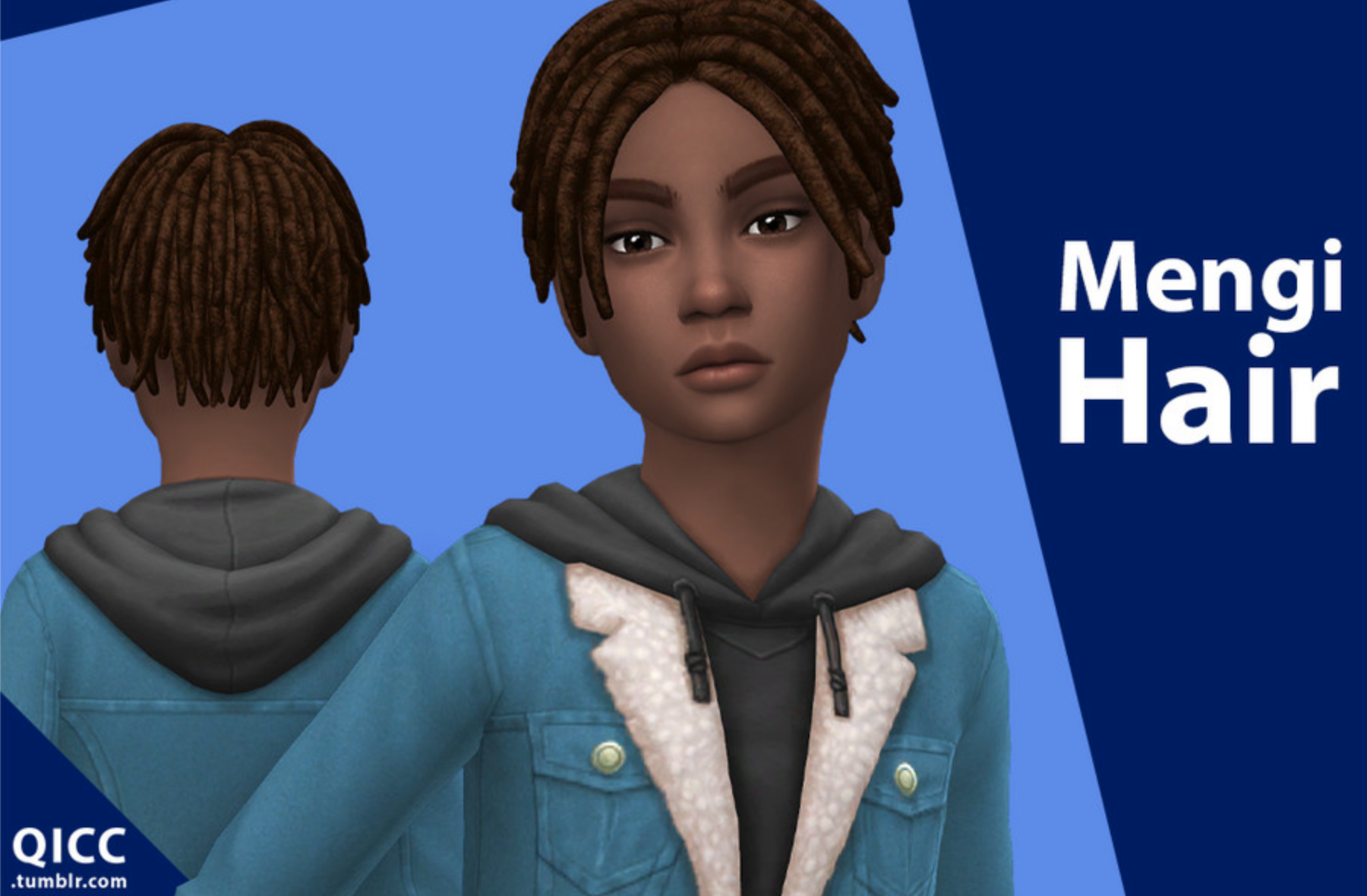 Does CC Ruin Sims 4?
Custom content does not inherently ruin your game; in fact, the best cc can make Sims 4 more enjoyable and allow you to customize your game, from CAS mode (create a sim) to BB mode (build/ buy) and even live mode (actual gameplay).
But there are many caveats. Here's what you need to know before downloading any Sims 4 cc or mods.
Console Players Can't Use CC
As of now, custom content is only available for Windows and Mac users. That means that if you're playing Sims 4 on any console platform, you'll be limited to items in the base game and kits, stuff packs, game packs, and expansion packs. It's something I always hope will change, but for now, any custom content of any kind isn't available for console players.
Download From Secure Pages
While the best cc is perfectly safe, there are pieces of custom content that could cause problems. Check to make sure the website you're downloading from is secure, and don't click on side ads or pop-ups. I recommend against Adfly. Sometimes, individual content creators will require a download via this platform, but it runs some risks. Far safer is to download from a Patreon Page. Often, individual creators will have downloads behind a paywall but offer a public release a few weeks later. Regardless of where you download custom content, make sure that you have anti-virus/ malware protection.
Download Properly and Remove Before Updates
Once you've determined that the page is secure, download and place into your Mods folder. A mods folder should be automatically generated under Documents- EA- Sims 4. While you can organize with folders inside that folder, the folder must be labeled as Mods in order to work. Make sure these are all package files; any zipped files will have to be unzipped. It's also important to remove cc and mods prior to an update. Slowly add them back in. Occasionally, cc may 'break' and cause problems. To detect what custom content is causing the problem, I recommend the Sims 4 Mod Detector.
Is Maxi's Match CC Better than Alpha CC for Sims 4?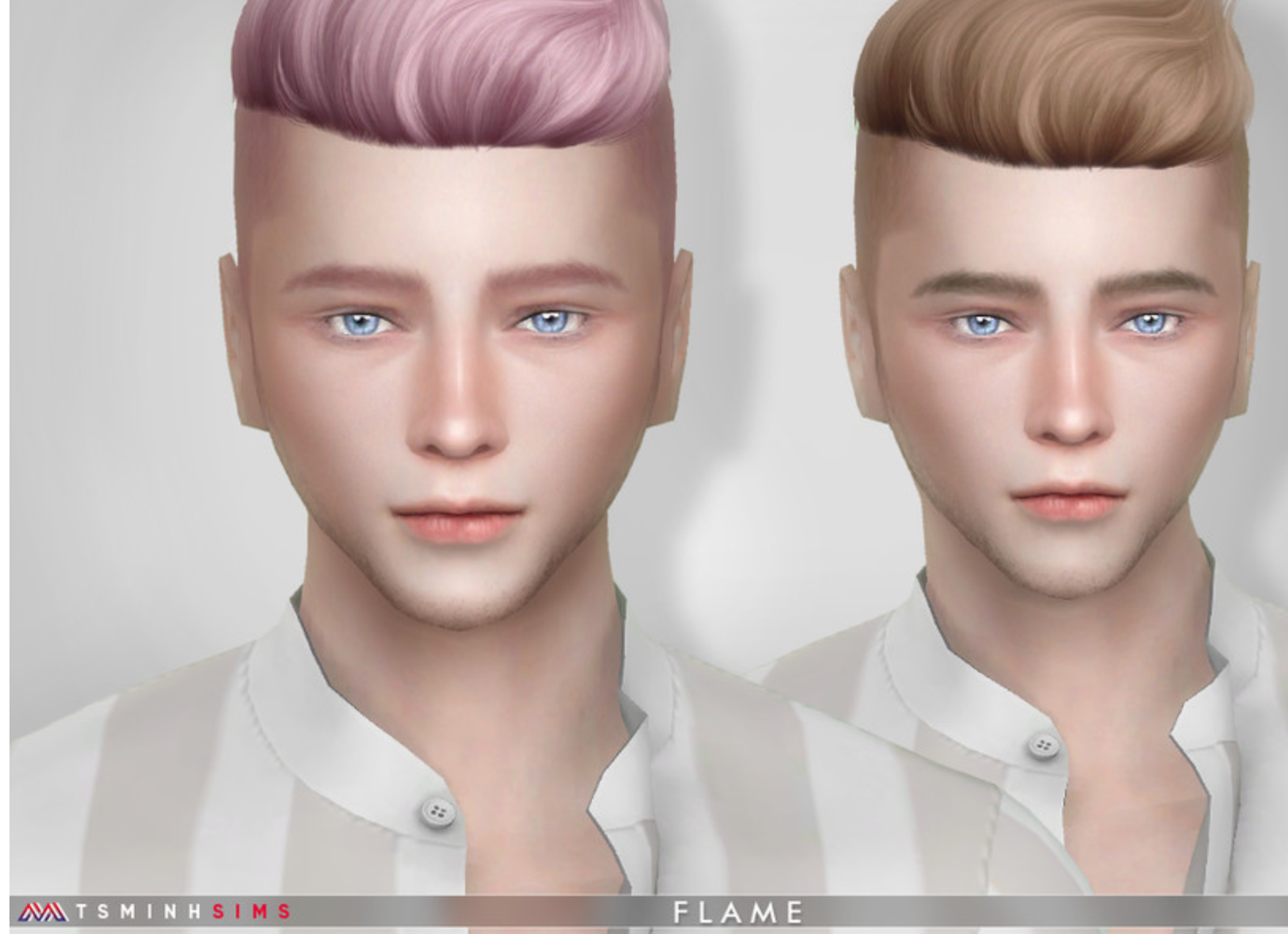 Before you start downloading male hair cc, I wanted to touch on a topic of debate within the sims community: maxis match vs alpha cc.
Maxis match is not better than alpha cc; it's a matter of personal preference, and, if you have a fairly lower-end spec computer, potentially performance. There are even some simmers, such as myself, who consider their style to be 'maxis mix'– that is, preferring to combine both maxis match and alpha cc.
What does Alpha Mean in Sims 4?
Alpha refers to more realistic custom content that has a higher polycount. Alpha custom content does not match the more cartoony aspect of Sims 4 graphics and tends to show more detailed textures and details overall. Alpha cc also can have its own color hues and may vary quite about from swatches in the game.
Alpha cc looks best when playing at a high graphics setting. Files sizes are generally larger, and this, alpha cc overall can be a bit more demanding to run. When it is included, however, the level of detail can offer details the more uniform, less textured, maxis match simply can't. Alpha cc for Sims 4 is closer to the general art style attempted in Sims 3.
What is Maxi's Match Sims 4?
Maxi's matches cc, on the other hand, matches the graphics style of Sims 4. It tends to have a smoother, less detailed, and less textured look and leans more cartoon-like or stylized than alpha cc. Maxi's match cc has a lower polycount, is easier to render, and can be reasonably presentable even with medium graphics settings. Files sizes, of course, also tend to be smaller than alpha cc.
While it lacks some details, many simmer loves the charming aesthetic and how it seamlessly fits into the Sims 4's natural look. Ultimately, there is no one right answer: you can download maxis match cc, alpha cc, or even some of both.
What is the Best Male Hair CC for Sims 4?
With that in mind, now I'll show you my picks for some of the best male hair ccs for Sims 4. I've included both maxis match and alpha cc links, mostly for ages teen and up. I have included a link or two for younger sims as well, though there are sadly far fewer options available for those ages.
Maxis Match Male Hair CC
If you are interested in maxis matches, the good news is that you'll have a variety of options– from full collections to individual pieces. All of these hairs are high quality and perfectly suit the style of your Sims 4 game.
Hella Good Sim Stuff Collection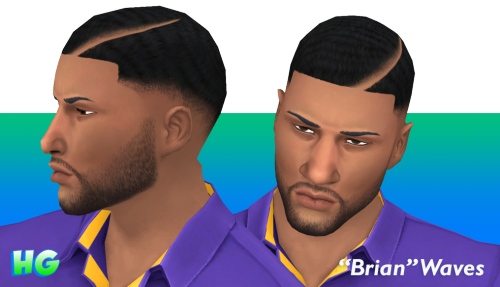 This collection features some of the best maxis match hair for everyday use, including both hairstyles and facial hair options, all offered for individual downloads. From stylish waves and a fade to goatees, beard, and even a retextured afro, this collection is useful, diverse, and all-around excellent quality. Simply click on each individual piece to be taken to their unique download page. Download Here.
Saurus Sims Male Hair Collection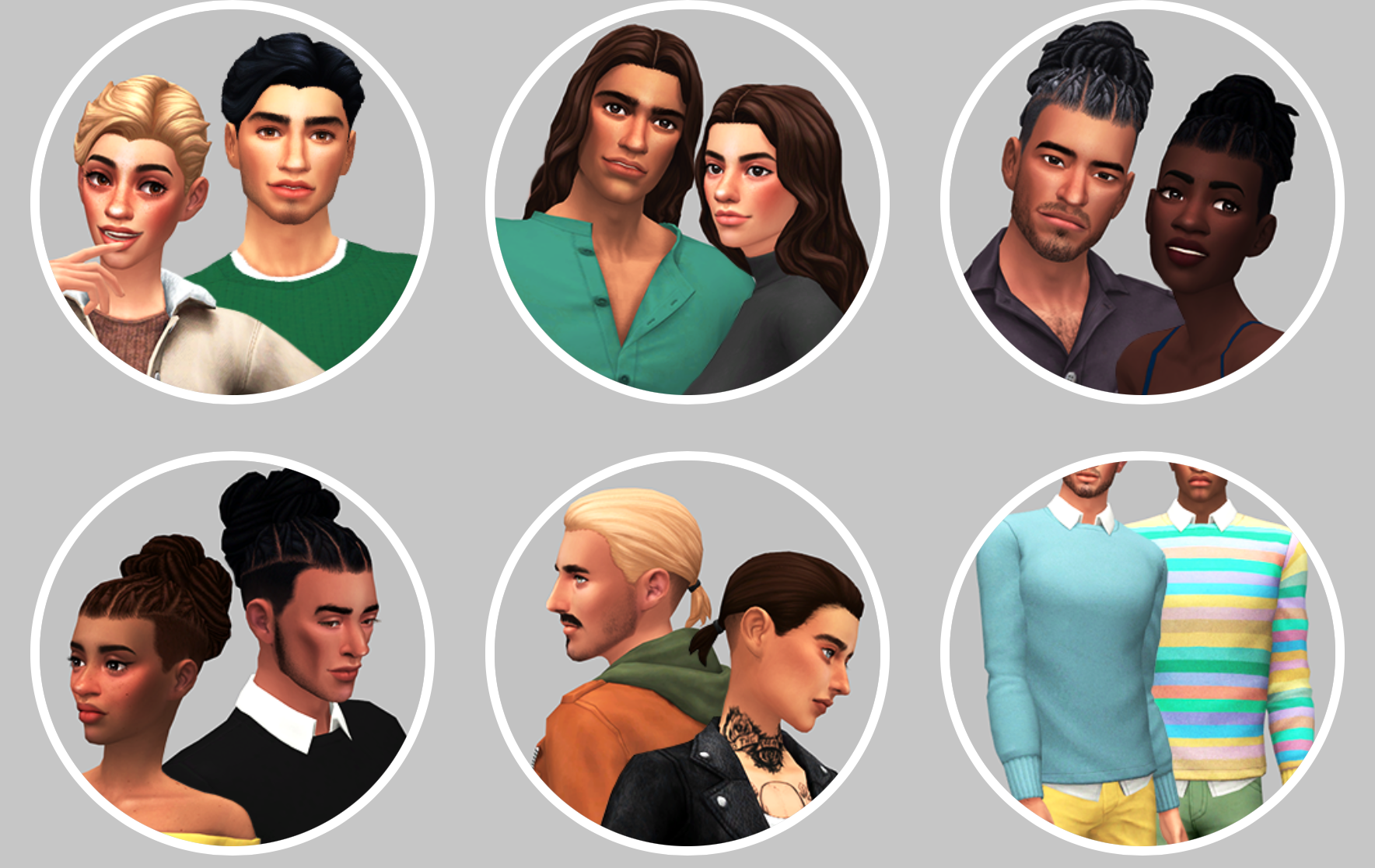 Saurus is a talented maxi match creator and doesn't disappoint with their collection of male hair cc. Saurus does an especially good job with braided hairstyles (I am especially fond of the Ezra Hair), but you're not limited to just that. There is a nice range of options, even with retro-leaning looks like the Minho Hair, Jin Hair, and blunt bangs with the Alex Hair. Suited for younger and older sims alike, this is a great go-to for maxis match male hair. Download Here.
Veve Sims Male Hair Collection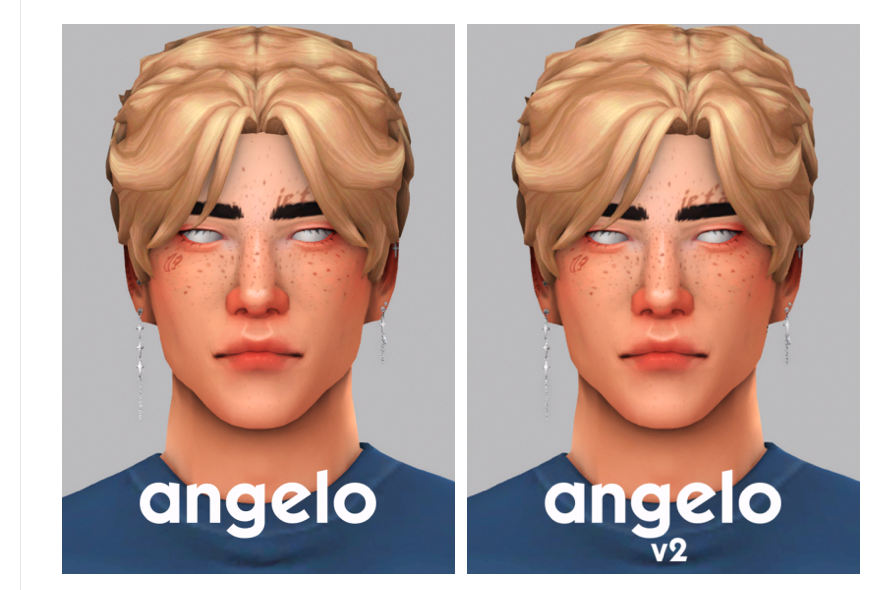 VeveSims is almost exclusively dedicated to maxis match male hair cc, and they do an excellent job providing consistent quality downloads. Bangs are their forte, from slightly curled to swoop, and even sleek and simple. Some of my favorites include the Simon Hair, framed by tendrils; the punk-inspired Payton Hair; and Diego Hair for an everyday classic. You can view the whole collection/ download it here.
Qwerty Sims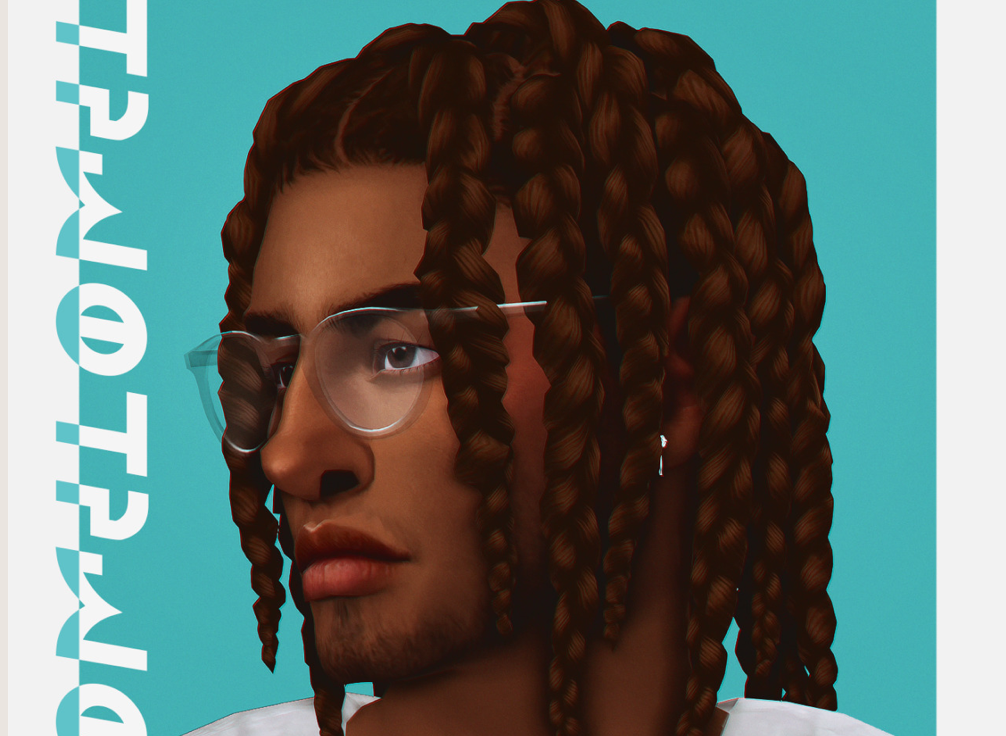 Qwerty Sims offers some unique and expressive maxis match male hair that especially stands out to me. At times, male hair cc can seem almost too much in the vein of a few hairstyles, but Qwerty Sims plays with length and textures, for some of what are my personal favorites of all male hair cc. They also excel in gender-neutral options like the Braid and Twist Overlay. From CC Hair Dumps with color swatches, to accessory side buns, there's a lot to admire. See their collection here.
XLD Sims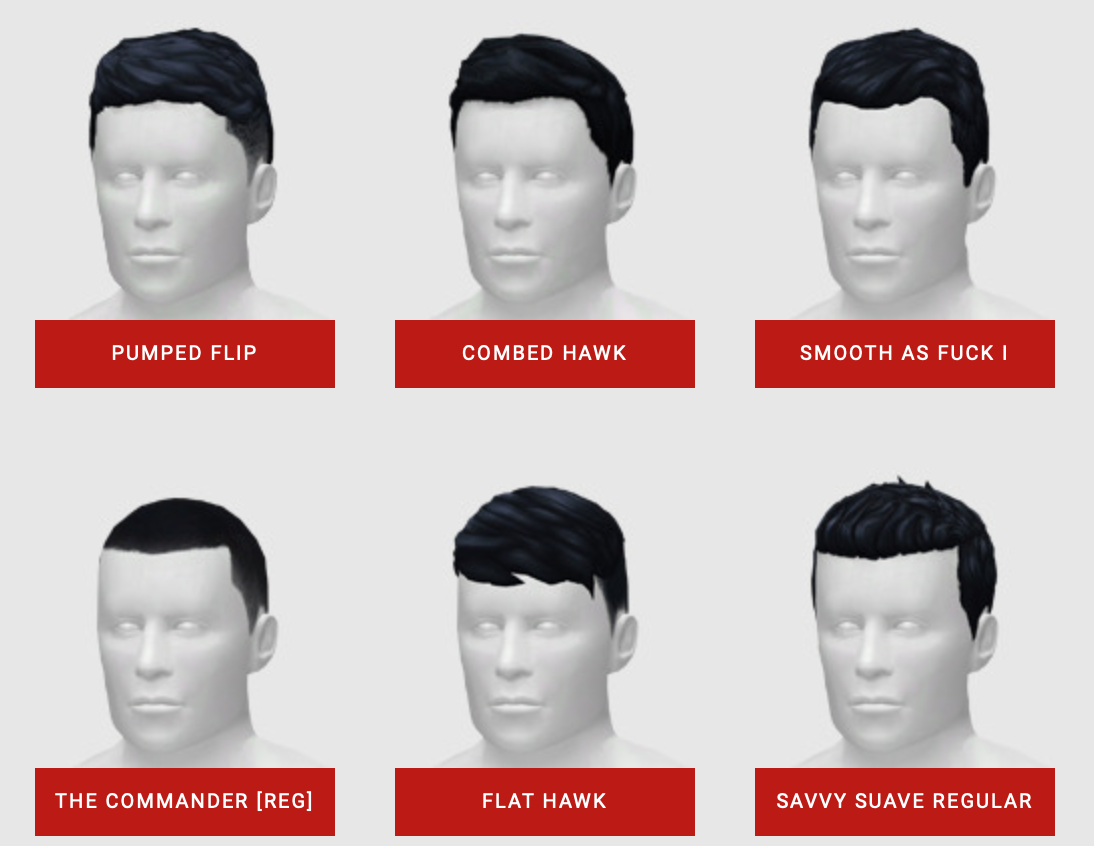 Looking for practical and simple male hair that'll effortlessly blend in your game? XLD has a small, well-made collection of both male hairstyles and facial hairs. These are all fairly short and cropped hairs, with a straight to swooped texture, perfect also for even older sims, but versatile for sims young as teens. Download Hairs Here, or Download Facial Hair Here.
Merci Male Hairstyles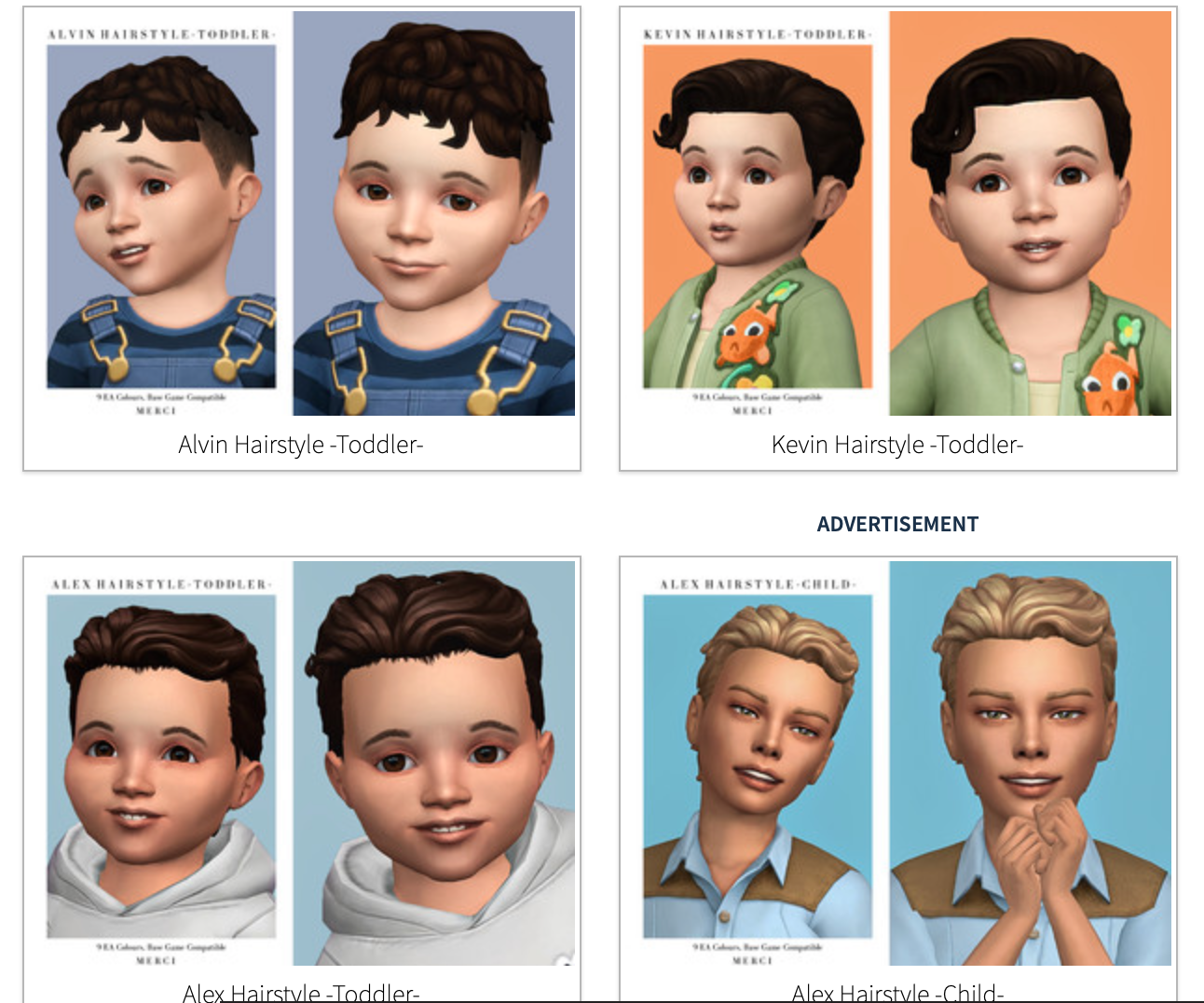 Available for download on Sims Resource, Merci has a small but notable collection-including three hairs for toddlers, as well as three hairs for child sims. Short hair, with swooped and textured curls, are prominent in this collection. Download Here.
Individual Downloads
For child or toddler male hair in the maxis match style, you may find your search challenging at times. Sometimes it takes some hunting around Sims Resource or Maxis Match World. Individual hairs I love include the Marcel and Mengi braided hairs from qicc, as well as the sleek Leon Hair; the side bang Kean Hair by ms sims.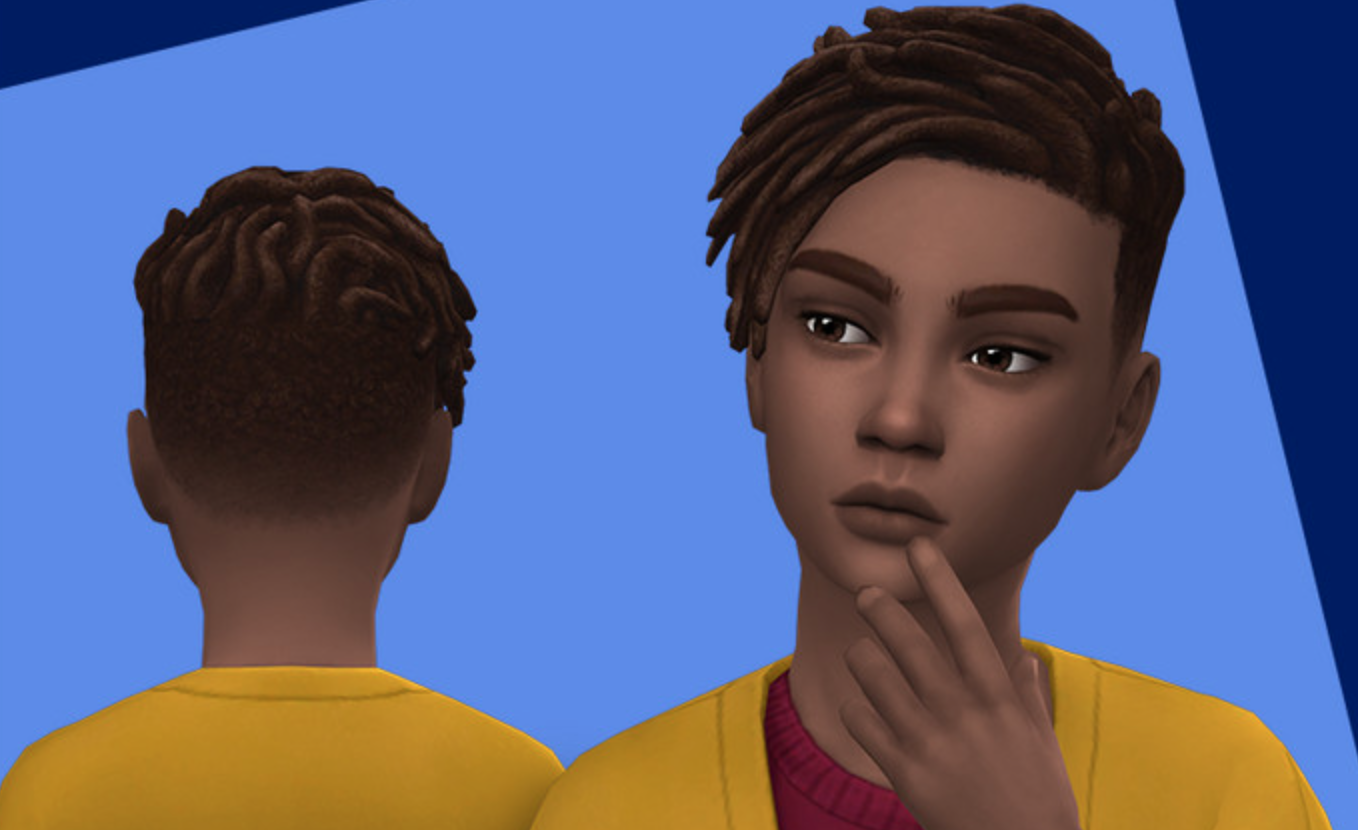 Alpha Male Hair CC
Alpha hair will provide more flexibility in terms of more detailed textures and colors. The hair in Sims 4 takes on an almost claylike appearance, whereas alpha hair includes individual strands of hair. This more realistic approach is, as I stated before, suited for games running with the highest graphics settings.
XxBlackSims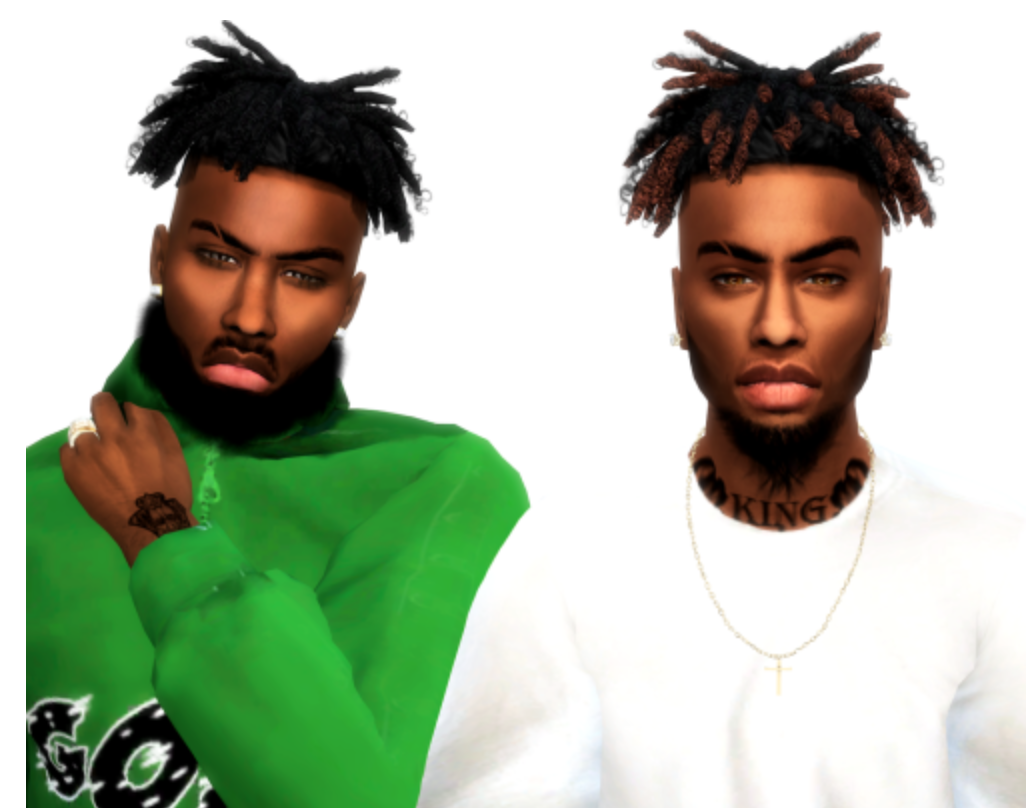 Xxblack Sims provides some of the most stunning diverse alpha hair for Sims 4, and their collection for male hair is one you don't want to miss. Due to the layout of their page, you can't, unfortunately, search or filter, but it's worth the look, with options for male hairs as well. Interestingly, they also have a few maxis match hair options too- making this is a great go-to website for 'maxis mix.' See the collection here.
Wingssims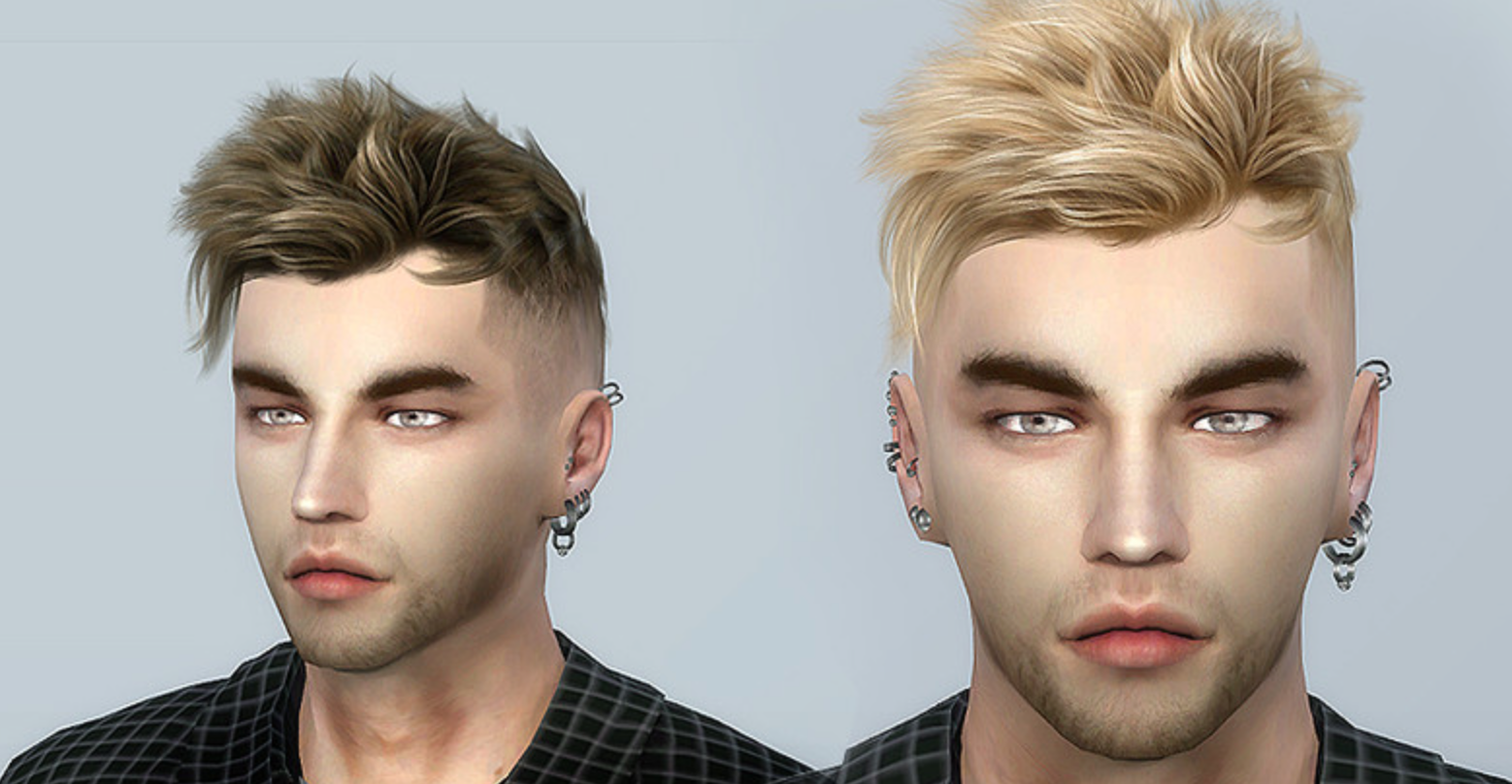 I remember this creator as a go-to Sims 3 male and female hairs, and they also deliver, in the same alpha style with excellent quality, for male alpha cc hair. Consistent in quality and aesthetic, this creator offers one of the largest collections on Sims Resource. Some standouts to me include TO0408; the gender-neutral shoulder length curls of TZ1028; the modern punk TZ0906 hairstyle; and the shaved side hairstyle of TZ0204.
Smith's Sims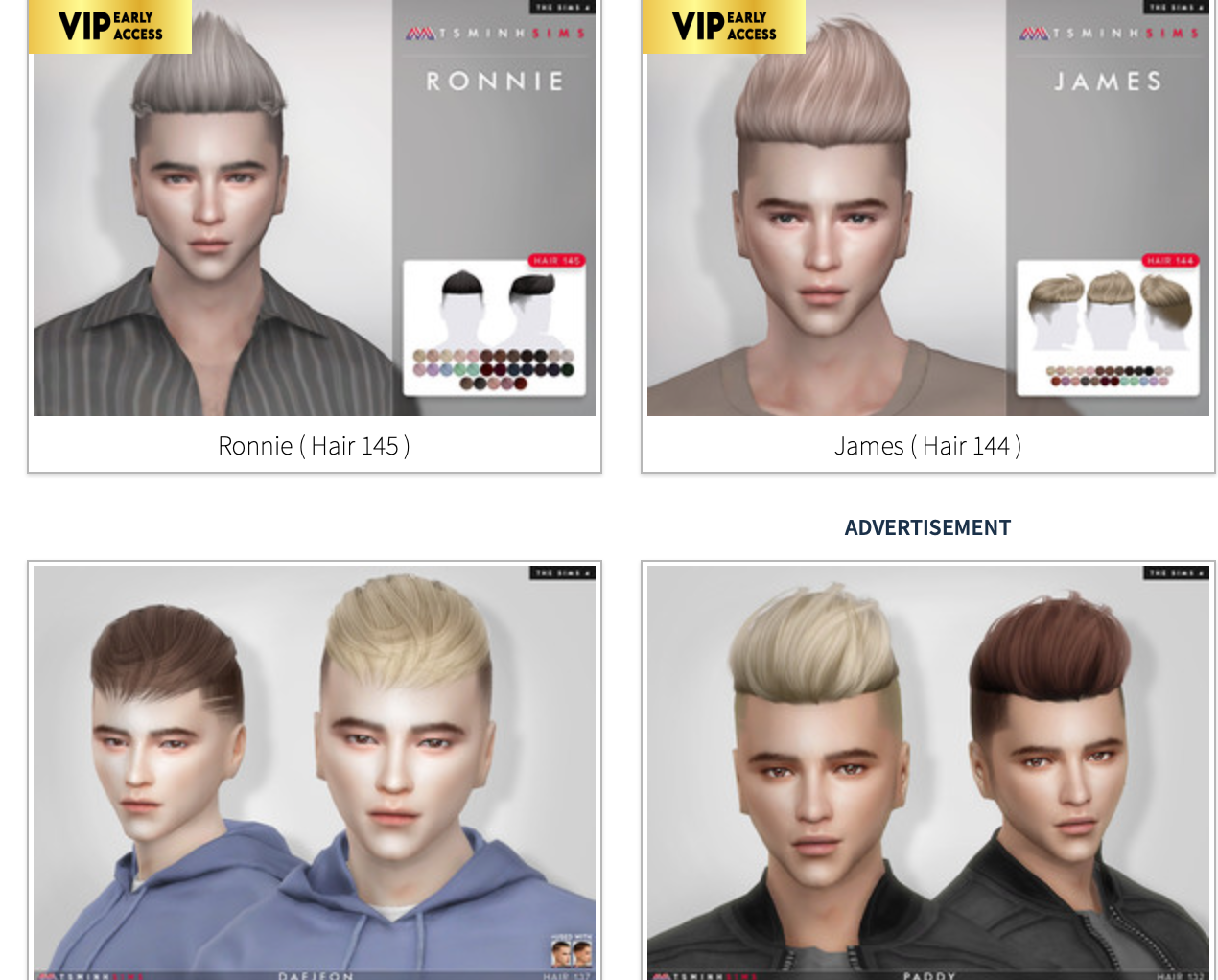 Another great alpha cc creator on the Sims Resource, you'll have three pages' worth of male alpha cc hair to peruse, including shaved options like the Crewcut; playful side swooped hair perfect for teen sims like the Flame Hair; long, bold bangs from styles like the Gordon Hair; and even a small man bun like the Storm Hair. See the entire hairstyle collection here, or peruse facial hairs here.
SonyaSimsCC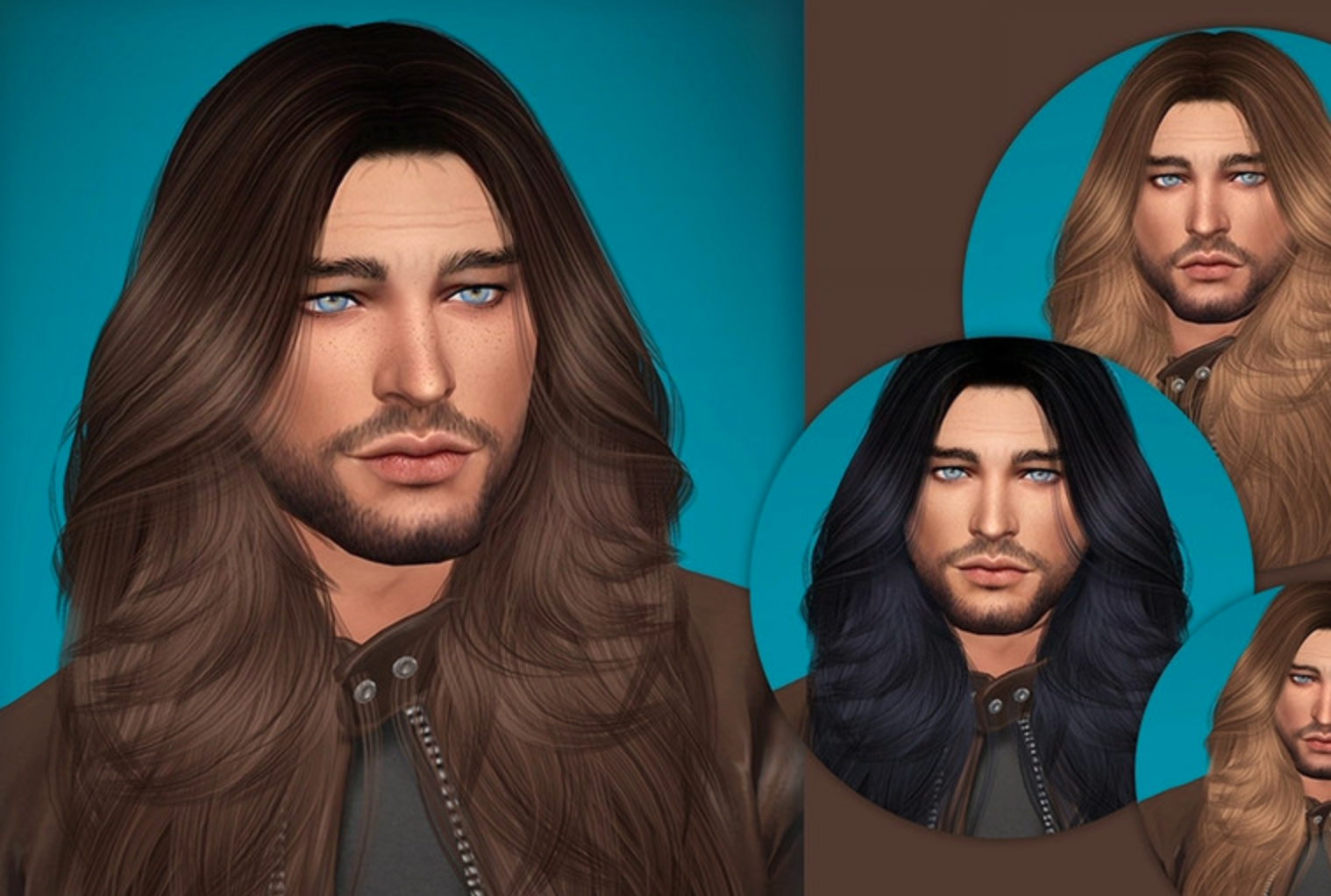 SonyaSimsCC has just a page worth of male hair cc– but I love the variety in both length and style, with wavy and straight looks– and hairstyles that are also below shoulder length or at shoulder length, something hard to find. At the same time, you also have a few shorter hairstyles. There is a certain boho and free-spirited feel to this collection, which makes it stand out from more traditional male hairs. Download Here.
JavaSims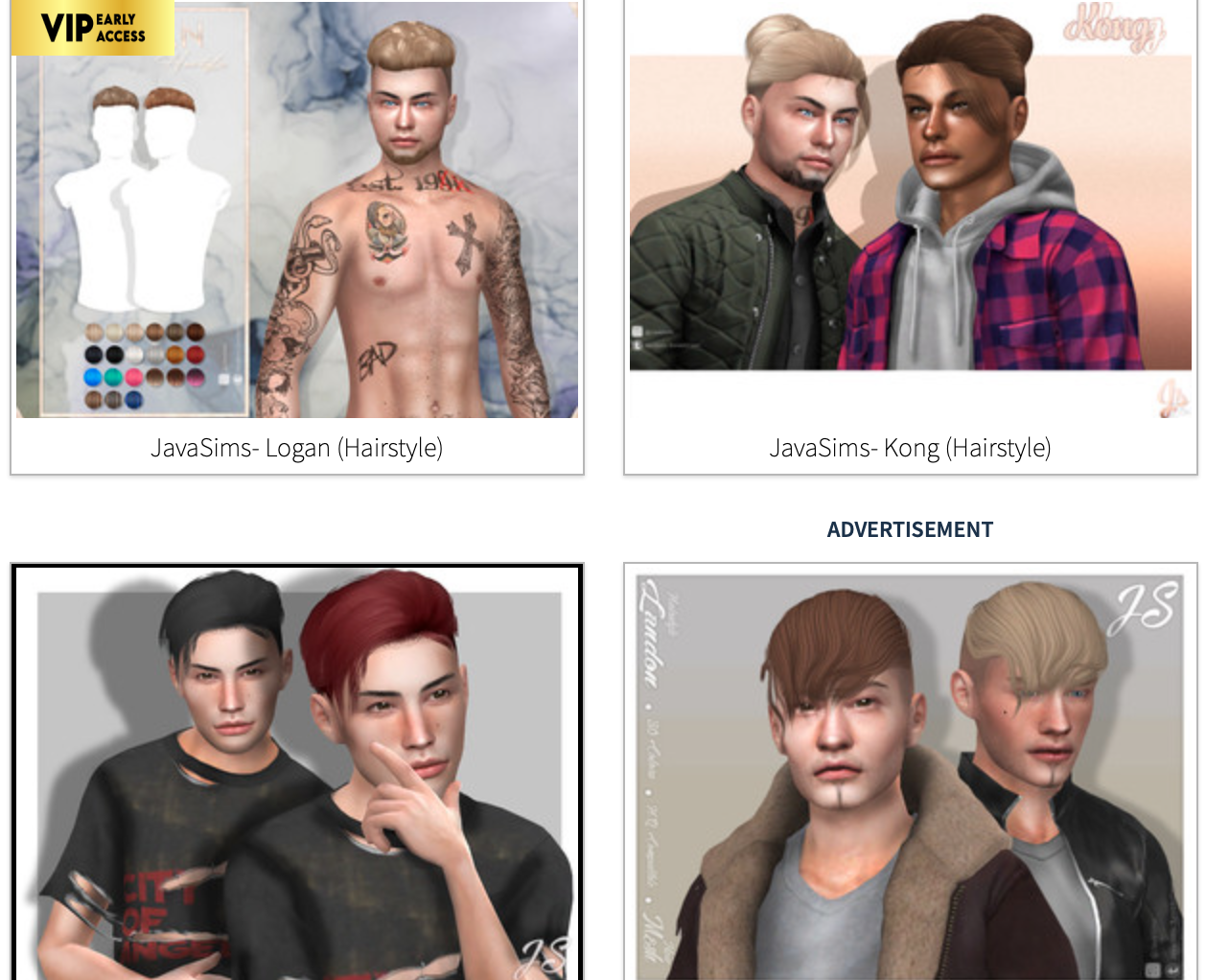 My final pick for a collection of male hair alpha cc is from JavaSims. While they have just 6 hairstyles, each one is made well, versatile, and can be used for a variety of sims. You'll find a handsome man bun, overgrown, grunge-inspired bangs, and a sleek everyday look. Download Here.
Frequently Asked Questions
Question: Is there body hair in Sims 4?
Answer: There is not currently (2021) anybody's hair in Sims 4. The good news is that you can have body hair in your game through custom content. My top recommendation for cc body hair is from Lummia, who now also recently announced that they will be joining the official Sims 4 team as a cinematic producer (while still producing their custom content on the side). You can download their body hair here.
Question: Is CC free on Sims 4?
Answer: CC is mostly free, with the exception of Patreon posts. Typically, custom content can be downloaded on a site that has some ads, or other means of supporting the creator. In the case of custom content behind a paywall on Patreon, usually there will be an initial release, followed by a free public release a week or two later. Only ever pay for CC if it's through something like Patreon. For free Sims 4 CC, I most recommend The Sims Resource and Maxis Match World. Tumblr, if you find the right pages, can also be great places to find cc, as well as Sims 4 cc hauls on YouTube.
Question: Can you get CC on Sims 4 ps4?
Answer: As of now, cc is only available for Windows and Mac, and not for Sims 4 on console. If you are a console player, my best recommendation is to make full use of the gallery, where creators upload their unique builds and sims. I also recommend taking advantage of Origin sales to buy new packs, which can help make up in part for the inability to have custom content
Final Thoughts
I won't lie: finding male hair cc for the Sims 4 is challenging– in part because content creators simply have far fewer meshes to work with, compared with making female custom content. That said, with a little bit of digging, there are some excellent options for both maxis match and alpha custom content that can challenge you to create unique, diverse sims.