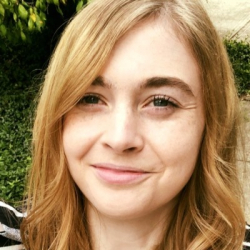 Latest posts by Erin Jamieson
(see all)
Feel like you're in a rut in your Sims 4 game, or that there's simply nothing but a school for your Sims? Today I'll guide you through the best after-school activities, through Sims 4 expansion packs and mods, that can help you flesh out your game.
Sims 4 has been criticized for its lack of activities and hobbies, even with the introduction of the new sentiments and lifestyles systems that were released in a patch before the November release of the Sims 4 Snowy Escape expansion pack.
And while it's true the game is still lagging behind its predecessors, it's also true that you can have a lot of fun with what we already have.
Consider this your guide to getting your student sims–from child to college age–out of their home lot and improving their skills.
Why is it Important to Have After School Activities in Sims 4?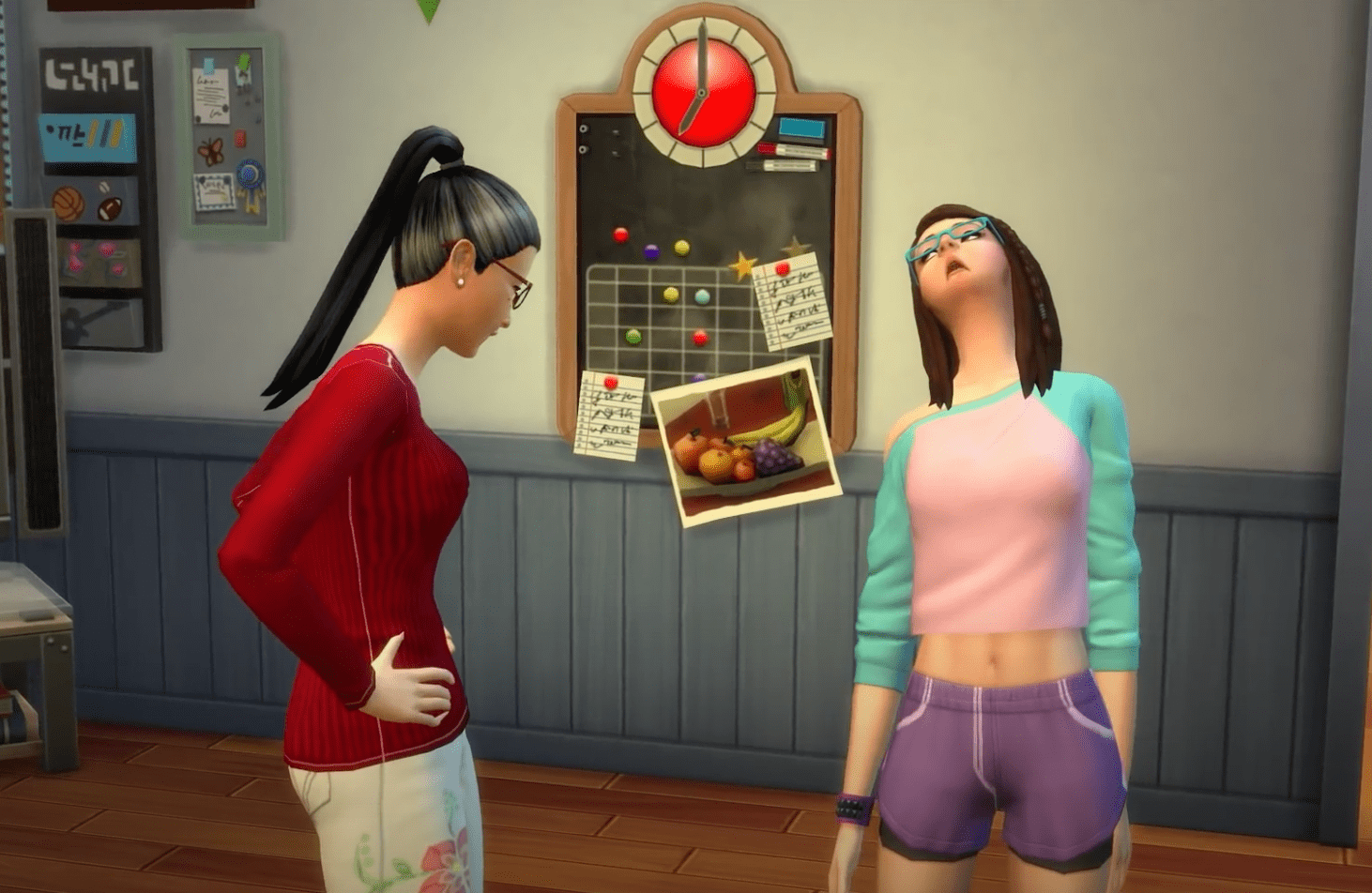 After school activities are a great way to enhance your Sims 4 gameplay without putting in too much effort. I especially love after school activities for busy families. If you've ever tried to play with a family with energetic toddlers and child or teen teens, plus hold down jobs for the parents, you know how hectic it can get.
Here are my favorite ways, and reasons, to use after school activities in Sims 4.
Realistic Gameplay
If you're part of the Sims community online, especially on Twitter, I have no doubt you've heard about players advocating for family gameplay time and time again.
From improved babies that are real Sims, not objects, to more activities for kids and teens, and even a demand for a Sims 3- style generations pack, it's clear that a large majority of Simmers are looking for more realistic gameplay for all ages. After school activities, though, are often forgotten about.
While small additions, after school activities can help flesh out Sims' lives to feel more realistic, give them more of a storyline, and make their current stage of life feel more meaningful.
Building Skills
Another perk of after school activities in Sims 4 is the skill-building. I don't know about you, but I don't always have time to keep track of skills that would be helpful for my younger Sims.
Clubs and afterschool activities incentivize you to work towards specific goals and give you tasks, just as you would for full-time jobs so that you're actively working towards that next skill level.
Keeping Gameplay Fresh
After School activities are a great way to break the routine of attending school, doing homework, and taking care of basic needs. I also love the dynamic it creates in a family of many sims.
Taking a Break
Full confession: I loved Sims 3, and part of that was for its open world. Compared with the closed worlds of Sims 2 and Sims 4, an open-world felt especially lively.
But I also admit I was less likely to play with a big family in Sims 3. With a closed world, things are simply easier to manage, for better and for worse. Still, even in Sims 4, it can be a hassle to manage multiple sims and their schedules at once. After school activities give you a break and allow you to either manage other sims or things around the house.
Refreshing an Expansion Pack
Another common complaint in the Sims 4 community is the lack of replay value. Even as it's common for simmers to rank all Sims 4 packs or DLC, many lament that Sims 4 packs don't have lasting gameplay as much as they like.
While there is merit to these concerns, I also know that one of the best ways to keep things feeling fresh is to make use of all features a pack offers, and, for a few expansion packs, that includes after school activities. After school activities are a way to directly tie into the theme of the pack and get you even to touch other features you may have forgotten about.
What are the After School Activities in Sims 4?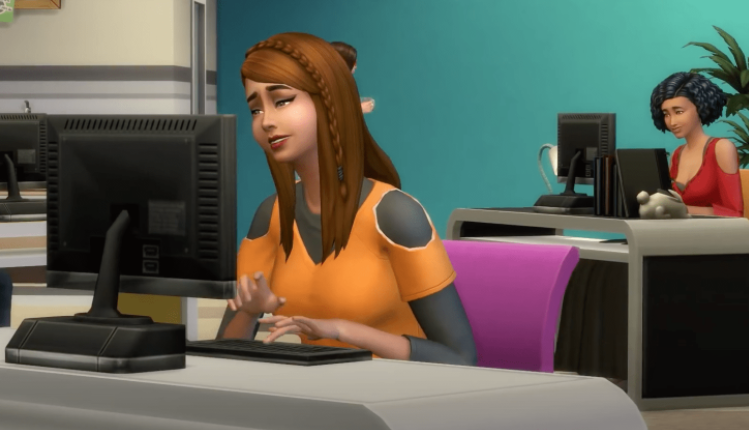 After school activities in Sims 4 follow the tradition of past Sims games, with some notable differences. After school activities are available for children and teen sims.
In this guide, I'll address every after school activity by an expansion pack, and everything you need to know to get the most out of each.
Drama Club
One of my favorite after school activities for Sim 4 is the drama club. It requires the Get Famous expansion pack and ties perfectly into the celebrity theme. I love to use drama clubs as a way to get child sims interested in acting, or even as a great option for children of celebrity sims.
How to Start
You enroll in the drama club just as you would any Sims 4 after school activity. Use a phone or computer and navigate to the "Career/Household" option.
Scroll down to select "Join After School Activity" and select "Drama Club". If you've successfully joined, there'll be a pop-up notification and new bar under school performance where you can also see their club progress. Sims automatically attend drama club meetings, so you don't have to worry about sending them off.
Drama club always runs Monday through Friday from 3:30 pm through 5:30 pm.
Progression Levels
There are 4 levels of the drama club that you need to actively work towards, each with a unique daily advancement task.
Stage Beginner
For the daily task, you'll have to practice dramatics or acting using a mirror. To advance, you'll need to reach Creativity level 2.
Line Learner
The daily task includes learning new lines using a mirror. To advance, increase the Creativity skill level to 4.
Practical Performer and Junior Artiste
'The daily task is learning new lines through a mirror; advance by increasing the Creativity skill and keeping consistent with your daily task.
Scouts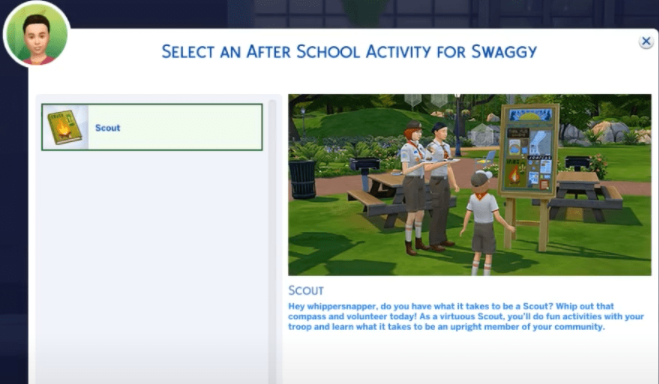 Scouts is a great activity for school-aged Sims and come with my personal favorite expansion for Sims 4- Sims 4 Seasons. I love it as an activity that fits almost any family and one that requires a bit of outside work, too.
How to Start
Enroll in Scouts by using a phone or computer and navigate to the "Career/Household" option. Scroll down to select "Join After School Activity" ( or "Find a Job" for teens) and select "Scouts".
You'll get a notification and a new bar under school performance to track your progress for a child or teen sim. Scout meetings from 2 pm to 4 pm on Saturdays and Sundays. Once your sim starts, they'll be given a scouting board to track their badges. They'll also learn a secret handshake and automatically change into a uniform when they head off.
Progression Levels and Badges
There are five levels within scouts. Each level requires you to check your badges and earn new badges, and each level comes with new rewards. Sims earn badges by completing tasks they're assigned, which span from merely doing homework to being social with other sims or reading books.
Badges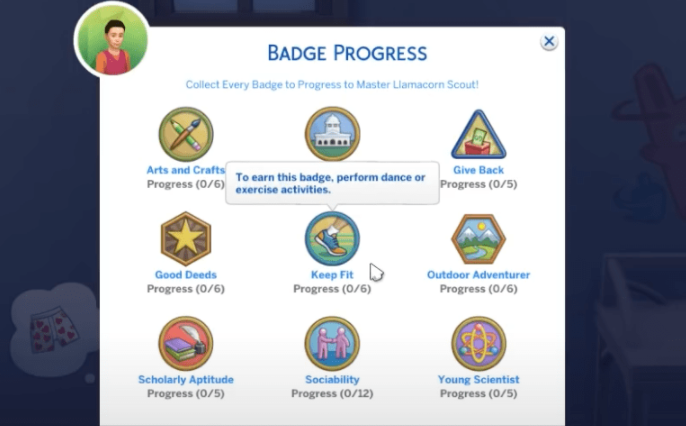 Each badge requires you to perform tasks or actions 6-12 times, depending on the badge.
Arts and Crafts: earn by drawing or painting using an easel or activity table
Civic Responsibility: earn by cleaning or repairing items
Give Back: earn by donating to charity using the mailbox or computer ("Give Gifts")
Good Deeds: earn by making others laugh; playing with a toddler; taking out the trash, or helping another sim with homework
Keep Fit: earn by exercising
Outdoor Adventurer: earn by catching fish; grilling outdoors; or collecting frogs
Scholarly Aptitude: earn by doing homework or school projects (Parenthood)
Sociability: earn by performing friendly interactions
Young Scientist: earn by using the telescope, microscope, or computer programming
Levels
Llama Scouts: earn one badge; secret handshake reward
Griffon Scout: earn 3 total badges; scouting manual reward
Unicorn Scout: earn 6 total badges; bronze trophy reward
Pegasus Scout: earn 9 total badges; gold trophy, new uniform, and aptitude trait reward
How can I Create After School Activities in Sims 4?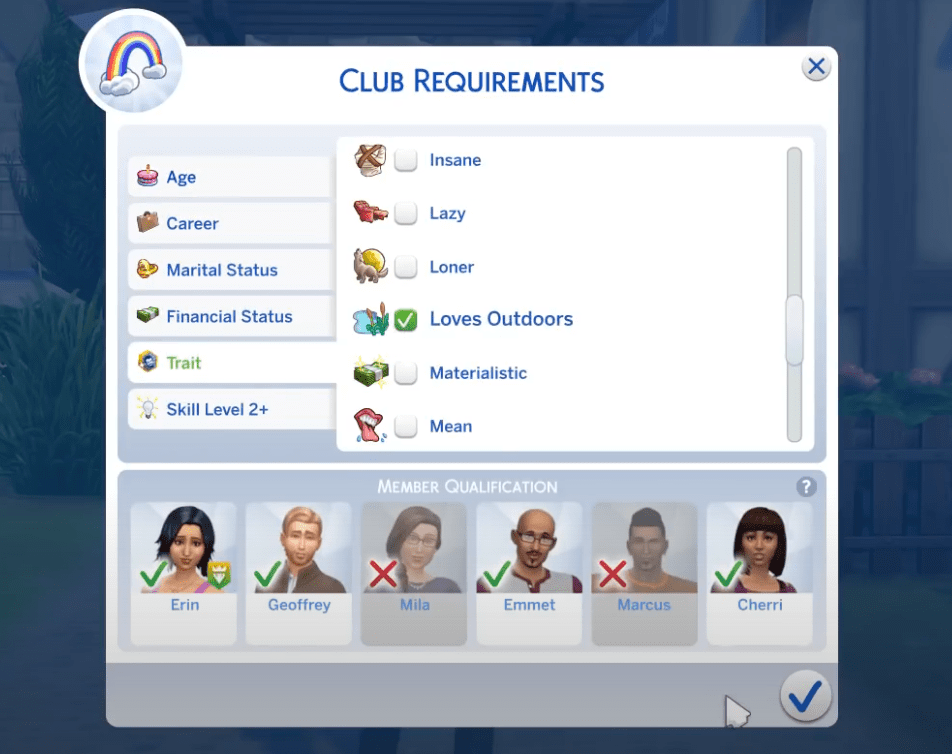 I'd love for there to be more after school activities for the child and teen sims, but until then, you can technically make after school activities of your own, if you own Sims 4: Get Together. The Get-Together expansion pack allows you to create and customize clubs, which can be a great way to get sims out of the house, socializing, and pursuing interests.
Up to 8 sims can be in a club at a time, and you can set restrictions on who can join. Every club can be focused on from 1 to 5 activities that these sims do together when they meet. Name your club anything and select a logo.
You'll also be able to select where club members meet up and select from a list of both group activities and forbidden activities.
Here are some of my favorite ideas for using the Get-Together club's system, but, of course, feel free to come up with your own.
Homework Club
Hate nagging your sims to complete their homework? Create a homework or study club where they work with other students to get their work done. Sure, it isn't exciting after school activity, but it's a practical one.
Arts and Sciences
Create an academically minded club, whether that's peering into telescopes or hanging out at the library. It's not quite the same as extracurricular activities from Discover University, but it's a great way for sims to become focused and motivated together. If you go to the art route, consider activities like playing instruments or painting.
Recreational Activities
Depending on what expansions you own, you can create clubs for teens and kids to go bowling, skating, sledding, play basketball, or even indoor activities like card games, chess, and video gaming.
The possibilities are endless. I love the idea of a hiking and swimming club, too. And of course, if you have the Movie Hangout stuff pack, why not create a movie club so they can relax after a long school week?
What are the Best Mods for After School Activities?
If you play on PC or Mac, you also have the option to add after school activities with mods. I love the option of mods to enhance what's already in the Sims 4, but also to address what I see as gaps in gameplay features.
Of course, mods are not for everyone. Mods can slow down game performance, can break, especially with updates or patches, and cause other issues. The good news is that most mods are maintained and, by installing Sims 4 Studio, you can detect mods that are causing any issues in your game.
Always install mods properly. Make sure the site is secure, then download and add into your mods folder under Sims 4- Documents. Any compressed files will be to be unzipped. I also recommend adding one mod at a time and testing it first.
Kawaii Stacie After School Activities Mod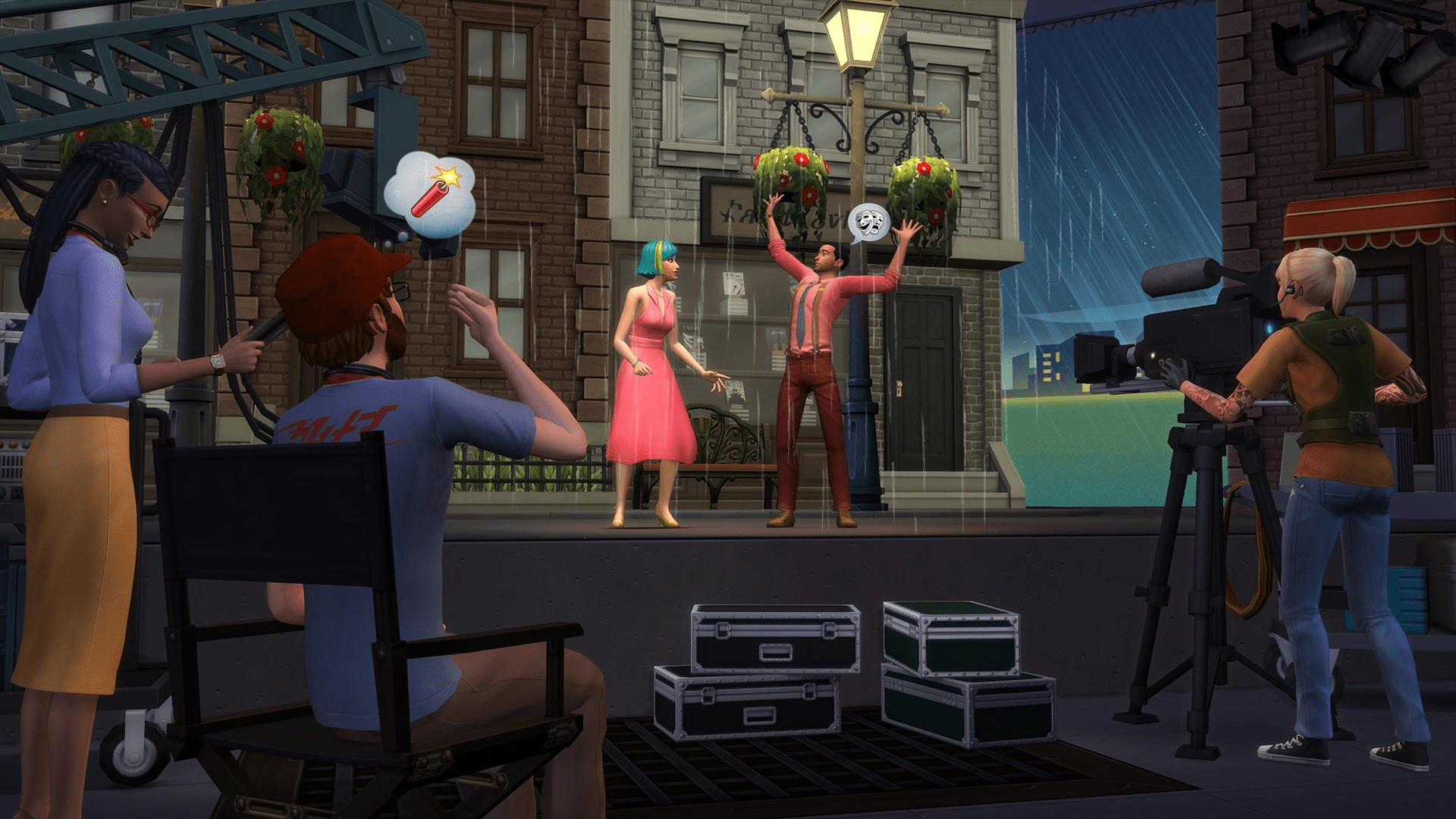 Kawaii Stacie makes some of the best mods for Sims 4, especially if you love both realistic and family gameplay as much as I do. Even better, the After School Activities mod is actively updated and runs well for most. Do note that you won't gain skill or character values.
The after school activities mod offers a total of 36 new activities, including: anime club; art club; babysitter club; yoga club; ballet; band; baseball; basketball; book club; cheerleading; science club; chess; daycare; debate club; karaoke club; film/yearbook club; flower garden club; football; gym club; comedy club; history club; Kpop club;
fashion club; nature club; party planning club; pet sitters club; public enemy club; gaming club; step team; study hall; cooking club; swim team; tech/robotics club; track team; volunteer club; and wrestling team.
Note that these are all rabbit holes, meaning you'll get notifications and send your sims off but not actually see them in the club. It's a simple but nice way to add more variety and better dynamics for storytelling. And it does come with the bonus of emotional buffs, which vary depending on their experience. Download Here.
ilkaSimming Afterschool Activities Bundle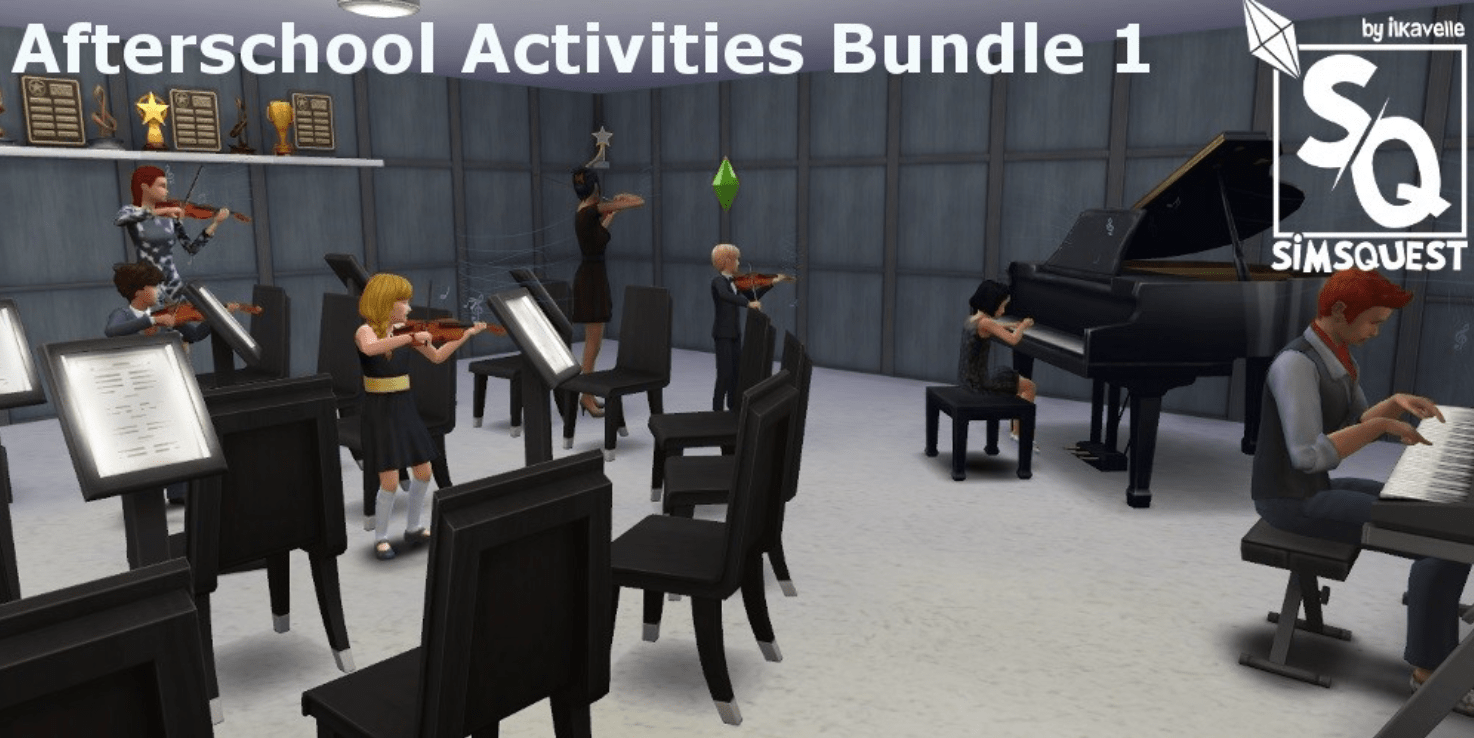 Another great, but smaller mod to add after school activities to your Sims 4 game is from ilkaSimming. This mod is like Kawaii Stacie's, in that it adds rabbit hole activities just for a little more variety in your game.
However, I love that this mod offers a more hands-on experience: each of these six new activities includes 5 skill levels and even increases social and fun needs, builds skills, and, if you have the Parenthood game pack, enhances emotional control.
Activities include school choir; school orchestra (you can pick the instrument of your choice); literature and poetry circle; dance class; art class; and acting class (you'll only use this if you don't own Get Famous). Download Here.
FAQs
Question: Can you be a cheerleader in Sims 4?
Answer: If you own the Sims 4, you can't be a cheerleader without mods. However, there is an activities mod by Kawaii Stacie that offers over 30 new activities for kids and teens, which includes cheer. It is a rabbit hole, meaning you'll send your sims off and not actively play.
Question: Can you attend a drama club performance in Sims 4?
Answer: The drama club in Sims 4 is an afterschool program but you can send your other sims to attend a performance in Del Sol Valley (the world that comes with Get Famous). If you own the Get Famous expansion pack and have a sim enrolled in the drama club, you can send a sim to a performance by selecting choices under the drama club menu.
Question: How do you leave a club in Sims 4?
If you own the Get Together expansion pack, you can use the club system to create after school activities of your own. But if you decide that club is no longer for you, your sim can leave a club by selecting the blue "i" in the type right corner of the member's section of the club menu.
Final Thoughts
After-school activities are a great way to liven up your Sims 4 game, whether you're downloading one of the best Sims 4 mods; using the scouts or drama club from Sims 4 dlc; or making your own activities with the club's system from Get Together.
And if you want to make the very most of after school activities in Sims 4, I highly recommend buying the Sims 4 Parenthood game pack. This pack adds after school activities, as well as an enhanced responsibility system that ties into parenting and overall family gameplay.