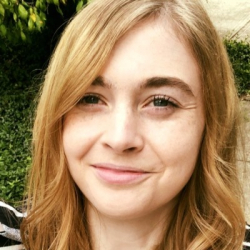 Latest posts by Erin Jamieson
(see all)
Sims 4 is a life simulator– and just like in life, for better or for worse, jobs are a necessity. But part-time jobs may just be the perfect way to guide your gameplay for semi-retired, teenage, and more free-spirited sims looking to earn some simoleons without the burden of a 5 day a week schedule.
In fact, part-time jobs got a new spotlight–and more extended use–in March 2021 with the incredible Unlimited Jobs mod by TurboDriver.
TurboDriver is a talented mod creator for the Sims 4, known for countless mods, from the sweeping Wonderful Whims (which brings an attraction system) to tweaks like less intrusive conversations and improvements for Get Together Clubs. And the latest mod brings more use for part-time jobs.
As the name implies, unlimited jobs allow just that: the ability to sims to hold down multiple jobs at a time. Now sims can replicate the all too familiar real-life hustle and struggle or juggling multiple part-time jobs to make ends meet. Talk about a great update for realism in the Sims 4.
But what are those part-time jobs, and how do you make the most of them?
Consider this your guide to part-time jobs in Sims 4. I'll tell you about all the options for part-time jobs, what you need to know, and even some job mods you can add to enhance the part-time job experience in Sims 4.
How do you Get New a Part-time Job in Sims 4?
Snagging a part-time job in Sims 4 is as easy of a process as snagging a full-time job (if only real life were so easy!). To find a part-time job, the easiest way is to use your Sim's forever attached smartphone.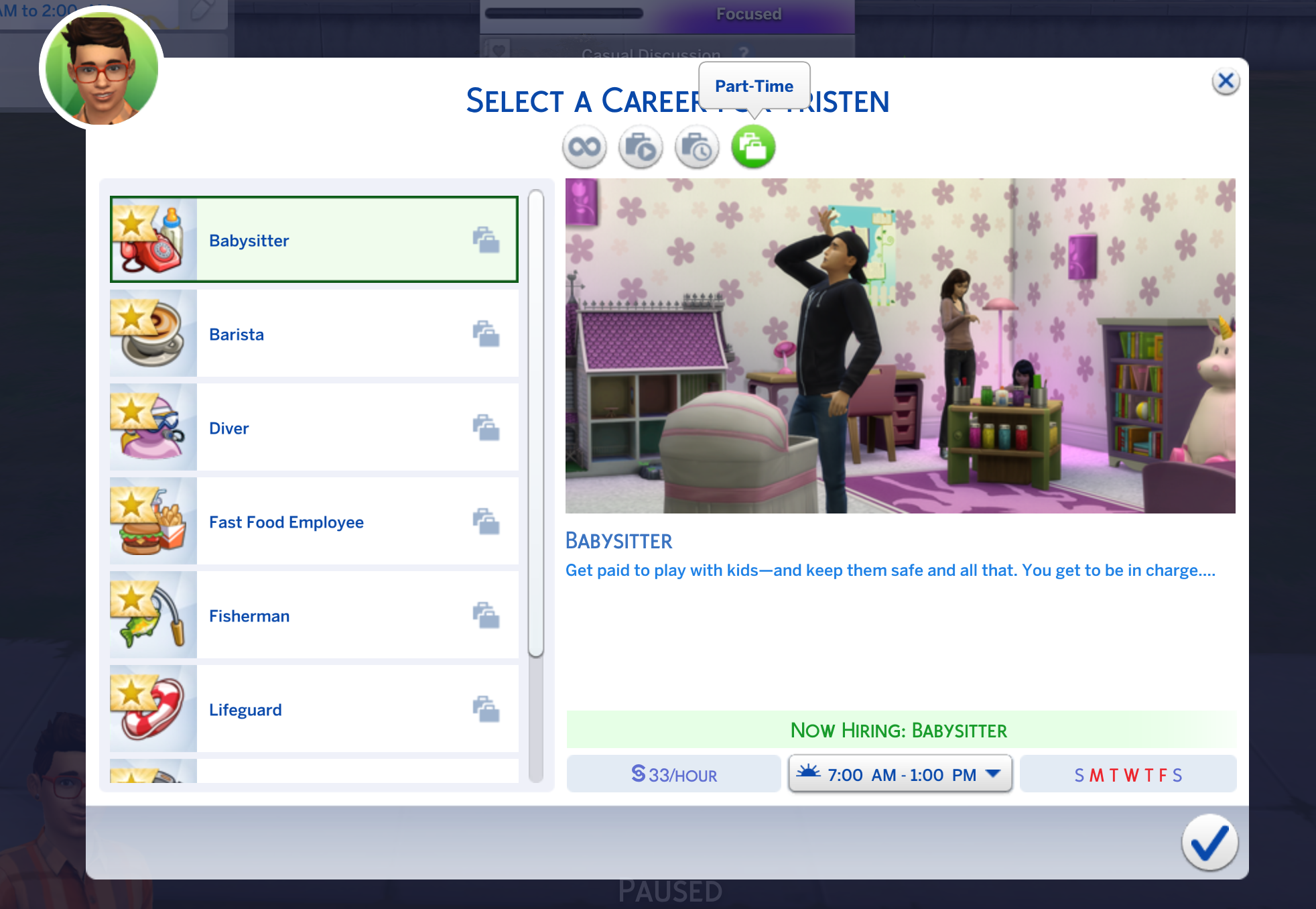 Simply click on the phone icon. You'll see an option that says "Find a Job." A pop-up box will appear that asks you to select a career. Careers are divided into different tracks, based upon discipline. Within each track, there are different options for starting careers. However, you'll want to filter by part-time jobs. To do so, hover over to the right tab, as the image above shows.
Once you click on a part-time job option, you'll be given the description, hours, and pay per hour for the entry-level.
Alternatively, you can also search for a job using a computer or Sim's career panel.
What are the Part-time Careers in The Sims 4?
The Sims 4 doesn't have a ton of options when it comes to part-time jobs, but there are enough to suit most player's basic needs. In total, the base game comes with five part-time jobs, while The Sims 4: Island Living expansion pack adds three additional part-time jobs.
Base Game Part-Time Jobs
Base game part-time jobs, like many jobs in Sims 4, are rabbit holes–meaning that you send your sim off, and they will disappear off-screen while at work and earning money, and then return at the end of their shift, While less immersive than active careers or semi-active careers, rabbit holes for part-time jobs are effective if you're playing a family and trying to manage multiple sims, or just want a break from controlling your sims.
Note that some of these part-time jobs have two possible shifts, and some run weekends only. In addition, each base game part-time job has three career levels, and each requires a level of one specific skill to level 2 for the final promotion.
Babysitter
| | | | |
| --- | --- | --- | --- |
| Career Level | Pay/ Hour (Sim.) | Hours & Days | How to get promoted |
| Babysitter (1) | $33 | 7am-1pm or 6pm-12am; Sat/Sun | Show up |
| Nanny (2) | $40 | 7am-1pm or 6pm-12am; Sat/Sun | Level 2 Charisma |
| Daycare Assistant (3) | $48 | 7am-1pm or 6pm-12am; Sat/Sun | N/A |
Barista
| | | | |
| --- | --- | --- | --- |
| Career Level | Pay | Hours & Days | How to get promoted |
| Coffee Stain Remover(1) | $28 | 5 am-7 am M-F | Show Up |
| Bean Blender(2) | $41 | 5 am-7 am M-F | Level 2 Mixology |
| Daycare Assistant (3) | $62 | 5 am-7 am M-F | N/A |
Fast Food Employee
| | | | |
| --- | --- | --- | --- |
| Career Level | Pay | Hours & Days | How to get promoted |
| Table Cleaner (1) | $16 | 6am-10 am or 5pm-9pm ; Wed-Sun | Show Up |
| Fry Cook (2) | $18 | 6am-10 am or 5pm-9pm ; Wed-Sun | Cooking Skill 2 |
| Food Service Cashier (3) | $20 | 6am-10 am or 5pm-9pm ; Wed-Sun | N/A |
Manual Laborer
| | | | |
| --- | --- | --- | --- |
| Career Level | Pay | Hours | How to get promoted |
| Lawn Mower (1) | $45 | 7am-12pm ; Sat & Sun | Show Up |
| Landscaper (2) | $59 | 7am-12pm ; Sat & Sun | Gardening Skill 2 |
| Backhoe Operator (3) | $70 | 7am-12pm ; Sat & Sun | N/A |
Retail Employee
| | | | |
| --- | --- | --- | --- |
| Career Level | Pay | Hours | How to get promoted |
| Shelf Stocker(1) | $33 | 9am-1pm or 8pm-10pm; Tues-Sat | Show Up |
| Sales Floor Clerk (2) | $40 | 9am-1pm or 8pm-10pm; Tues-Sat | Charisma Skill 2 |
| Customer Service (3) | $48 | 9am-1pm or 8pm-10pm; Tues-Sat | N/A |
Island Living Part-Time Jobs
I'd never advocate for buying an expansion pack solely for more part-time jobs, but if you're already interested in this tropical-themed expansion pack– or maybe even have it and haven't made full use of it, Island Living provides the new world of Sulani, mermaids in Sims 4, new careers, like the conservationist career track, but also some part-time jobs that fit seamlessly with Island Living's theme, but actually are quite versatile for storytelling as well.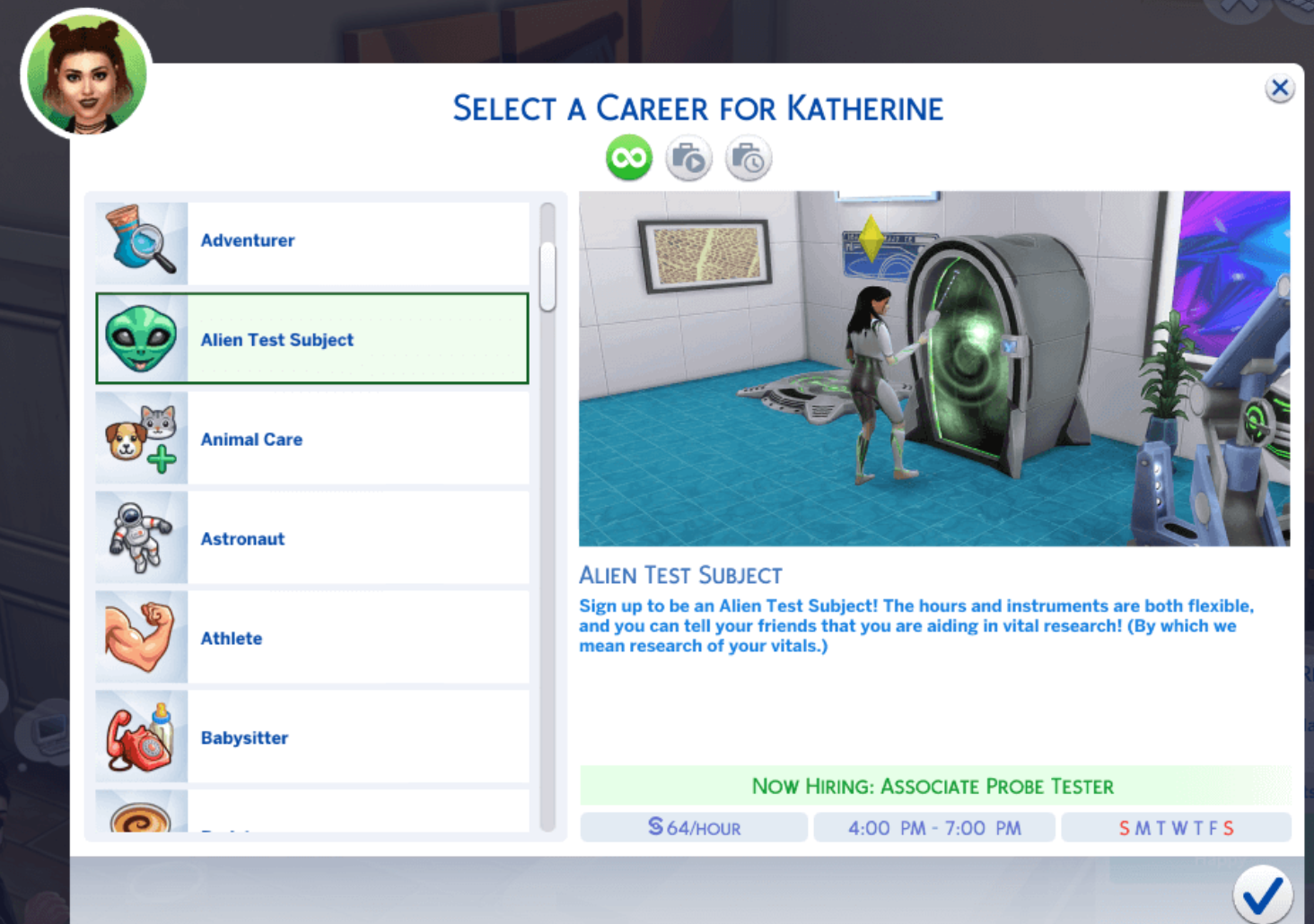 These, too, are rabbit holes, meaning you won't see your sims actively at work, and, like the part-time jobs in the base game, have three career levels. However, note that there is a difference that the Diver tracks have promotion tasks. Promotion tasks are things your sims must actively do outside of work, instead of reaching a certain skill level. These are specific actions you must take to make it to the next career level,
Diver
| | | | |
| --- | --- | --- | --- |
| Career Level | Pay | Hours & Day | How to get promoted |
| Snorkel Guide (1) | $45 | 5pm-8pm; M-F | Buy Diving Knife from a Diving Buoy |
| Scuba Instructor (2) | $59 | 5pm-8pm; M-F | Buy Treasure Tool dive gear from a Diving Buoy |
| Sunken Treasure Hunter (3) | $70 | 5pm-8pm; M-F | N/A |
Fisherman
| | | | |
| --- | --- | --- | --- |
| Career Level | Pay | Hours & Days | How to get promoted |
| Goldfish Hunter (1) | $33 | 5am-9am or 9pm-1am; M-F | Fishing Level 2 |
| River Wrangler (2) | $40 | 5am-9am or 9pm-1am; M-F | Fishing Level 4 |
| Deep-Sea Fisher (3) | $48 | 5am-9am or 9pm-1am; M-F | N/A |
Lifeguard
| | | | |
| --- | --- | --- | --- |
| Career Level | Pay | Hours & Days | How to get promoted |
| CPR Dummy (1) | $33 | 8am-12pm or 5pm-9pm; Thurs-Sun | Fitness Level 2 |
| Wave Watcher (2) | $40 | 8am-12pm or 5pm-9pm; Thurs-Sun | Fitness Level 4 |
| Prolific Whistler (3) | $48 | 8am-12pm or 5pm-9pm; Thurs-Sun | N/A |
How do I Make the Most of Part-time Jobs in Sims 4?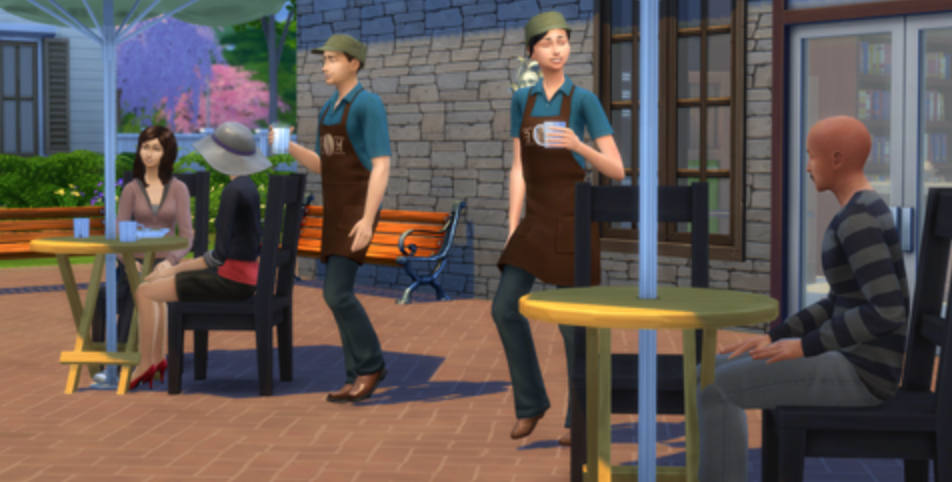 Whether you have access to both Island Living and base game part jobs in Sims 4, or just the base game options, there are a few ways I recommend making the most out of part-time jobs. These ideas will help you see how surprisingly useful these mini careers can be for your gameplay– whether you're just playing, or even if you're attempting a Sims 4 challenge.
Pick the Right Sim, for the Right Part-Time Job
Let's face it: a part-time job isn't going to bring in a great income. That said, part-time jobs are perfect for accommodating busy schedules and bringing in some supplemental income, while even adding a storytelling element. For instance, I love jobs like babysitting, fast food work, and a lifeguard for teen sims who don't have an after-school activity or maybe saving up to attend university. The diving and fisherman part-time jobs fit the laid-back vibes of Sulani. Part-time jobs are excellent options for semi-retired sims and busy parents. I try to select the part-time job by the hours and also what I think most fits my sim's general interests.
Don't Stress About Promotions
This tip seems counterintuitive, but hear me out: while I always encourage working your way up, if you have a teen holding down the part-time job, you may want to do a cost-benefit analysis. Depending on the job, the pay increase is pretty modest– though part-time jobs do include some bonuses. One thing I like, though, is that often the requirements for promotion aren't high. In fact, holding down a part-time job can be an incentive to also work on skill-building. Simply select a part-time job that may require skills that align with what your sim eventually intends to do.
Use Mods
My final tip for making the most of part-time jobs is only for PC and Mac players: download some mods. Mods can add part-time jobs– and even allow you to juggle multiple jobs at once. While I do like the options already in Sims 4, I have also felt that we could use more, and a greater variety of part-time jobs. When downloading mods, just exercise caution, downloading from secure websites and/ or well-known Sims 4 content creators. Also, make sure those mods are on their original page– sometimes mods and cc will be reuploaded elsewhere without redirecting to the creator's page.
What are Some of the Best Part-time Job Mods for Sims 4?
There are surprisingly few part-time job mods for Sims 4, but I've collected my top four mods that can add additional part-time jobs– from unique jobs to even ones that appeared in previous sims games. All of these may not dynamically change your game, but they can be helpful should you feel limited by the game's options.
Unlimited Jobs Mod by TurboDriver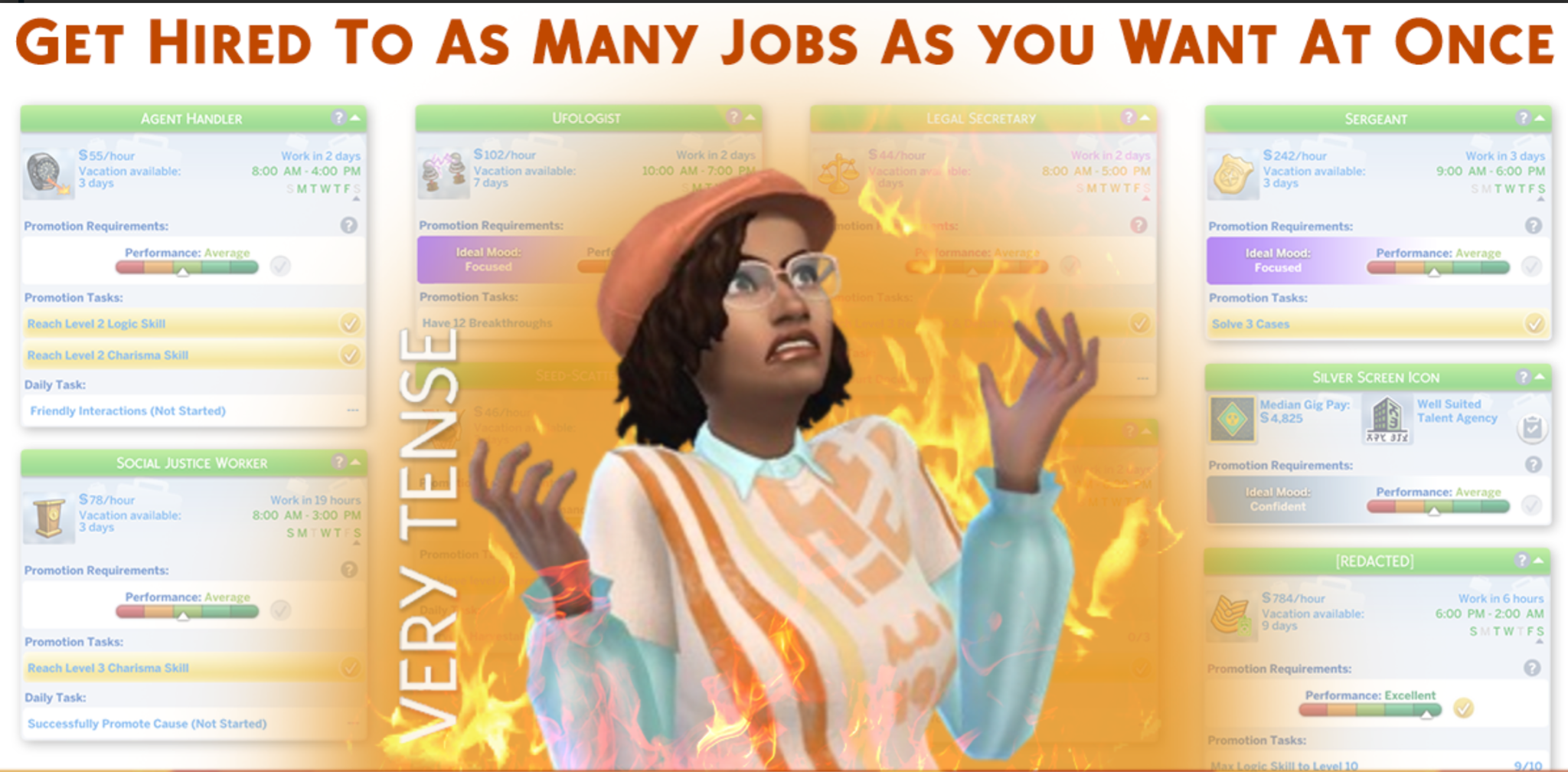 I've already mentioned this mod, of course, but I wanted to include it here for anyone who skimmed the introduction. The Unlimited Jobs Mod is a new mod for 2021 and allows your sims to not only carry multiple jobs at once but also even juggle after-school activities with a job (though, due to the hours required, coupled with school, this would be challenging). This is incredibly useful, whether you want to cobble together different part-time jobs or just needed extra income for a little while. Download Here.
6 Part-Time Jobs for Teens by Midnitetech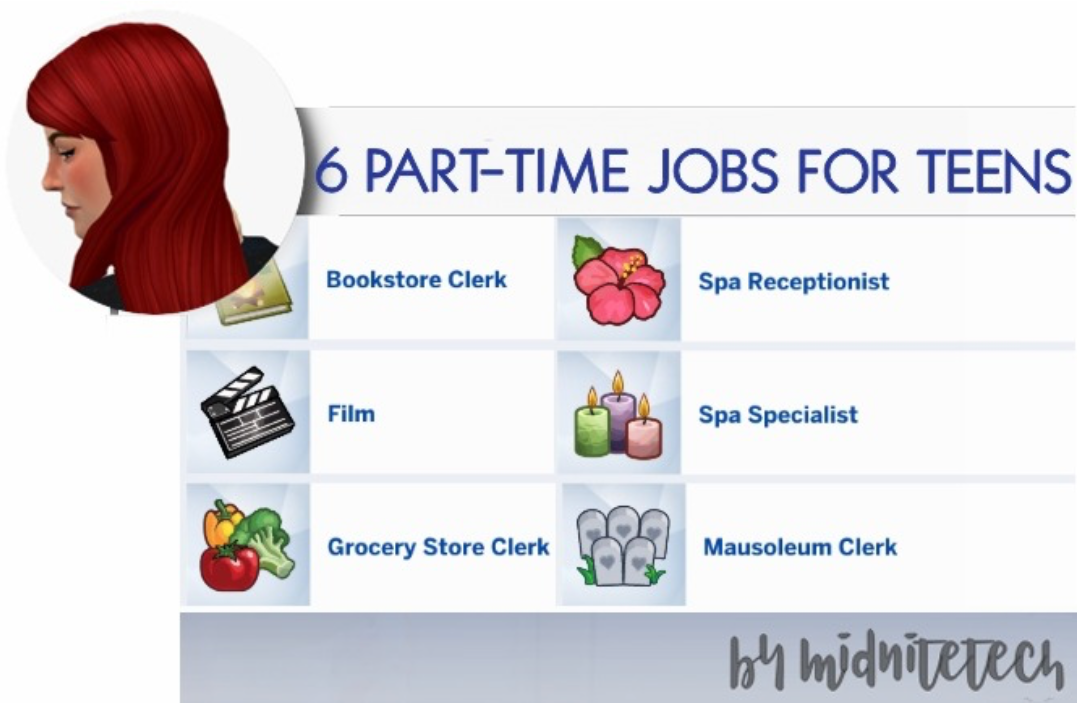 These part-time jobs are rabbit holes offering three career levels and some realistic options that appeared in Sims 3. Your options with this bundle include bookstore clerk, grocery store clerk, spa receptionist, spa specialist, mausoleum clerk, and a film tract. I like these options, though, if you do own the Get Famous expansion pack, you may find it just as useful to attend the after-school drama club. Still, it's a nice bundle. Download Here.
Part-Time Jobs Sims 3 to Sims 4 Conversions by TwilightSims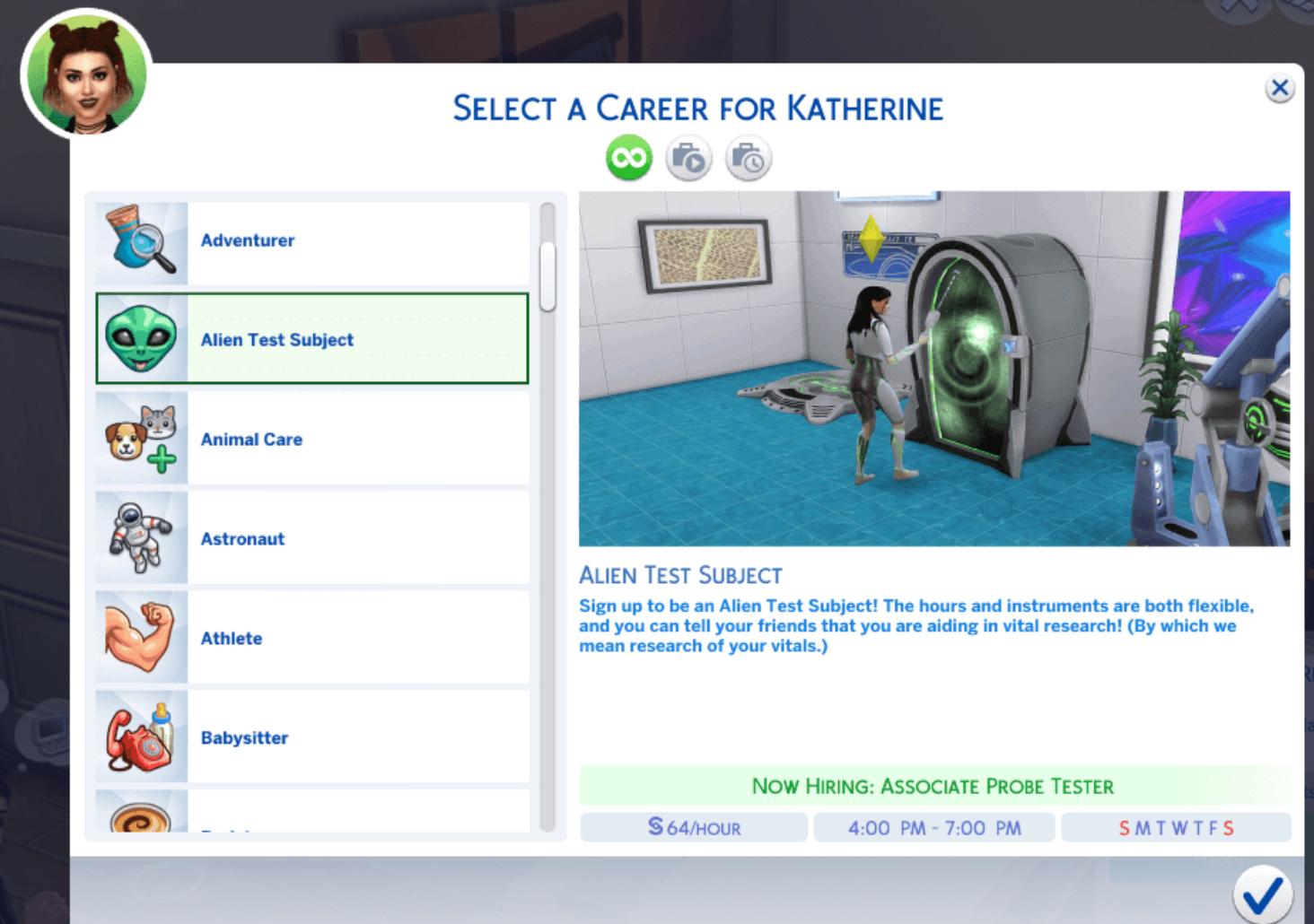 This mod has overlapped with the previous one, in that it adds many of the same jobs. That said, keep in mind that you can download package files separately; that is, one career at a time. This bundle also adds an alien career probe track for your occult fans, instead of the spa options. Download Here.
Plopsy Seller Part Time Job by Similarity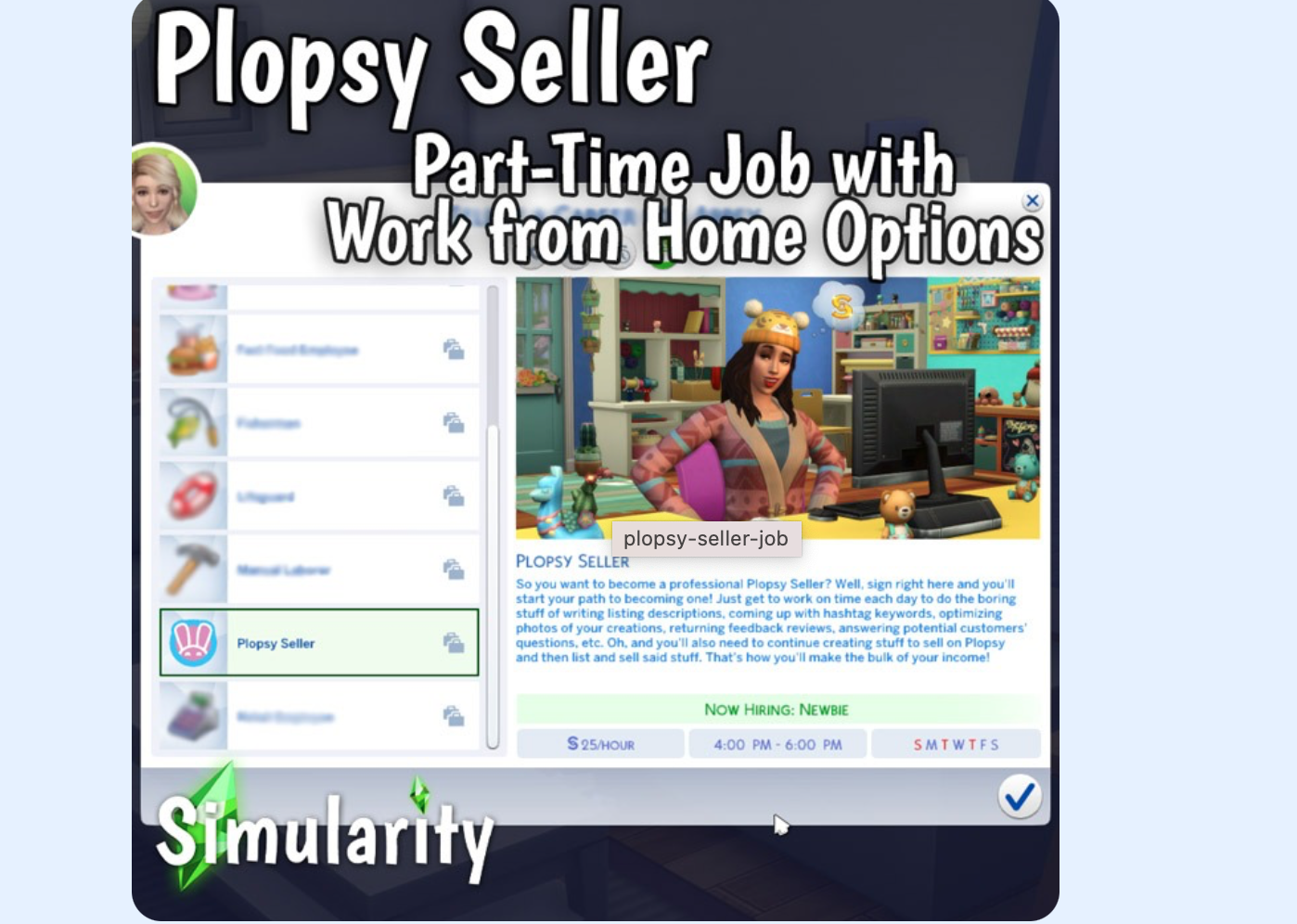 This mod will only be helpful if you own Sims 4: Nifty Knitting Stuff, as it ties directly into the main feature of that stuff pack–Plopsy. Plopsy, not unlike the Sims 4's equivalent of Etsy, allows you to sell items you create on an online marketplace, and this mod allows you to officially declare it as a part-time job, with options to work from home. Download Here.
Frequently Asked Questions
Question: Can I go to work with my SIM Sims 4?
Answer: You can go to work with fully active careers, which come with the Get to Work expansion pack. You can play as a doctor, trying to solve medical maladies; as a detective, trying to investigate and track down criminals; and as a scientist, studying and even potentially traveling to a new alien world.
The veterinarian career that comes with Cats and Dogs, meanwhile, allows you to perform exams and diagnose pets. With Get Famous, you can opt to attend acting gigs in person, where you'll be required to perform prep actions and make decisions for their acting and auditions.
Other hands-on and semi-active careers (a hybrid of actively performing for work or sending your sims off) includes a track of the conservationist career in Island Living; freelance careers included in the base game and in packs like Moschino (photographer) and Paranormal (ghost hunter) stuff packs; the
City Living politician, social media, and food critic career, and the military career from Sims 4 Strangerville.
A full hands-on option is opening up your own store–at home or elsewhere– using the Get to Work retail system, as well as owning and managing a restaurant through Dine Out.
Question: What is the highest paying job in the Sims 4?
Answer: While you can make more money through less conventional means (if less consistently) some of the highest paying jobs in Sims 4 include the Interstellar Smuggler from the astronaut career path, at almost $15K a week; the Triple Agent from the agent path, at almost $13K a week, and the Boss from the criminal career track, at just under $12.5K a week.
Question: Can you have multiple careers in Sims 4?
Answer: You cannot have multiple jobs at the same time in Sims 4 unless you download the new Unlimited Careers mod. One loophole to this, however, is holding down a traditional job and earning money on the side by opening up your own store, or non-carer forms of income just as painting, gardening, and collecting, among others.
Final Thoughts
A part-time job in Sims 4 is helpful for everyone from teens to young adults trying to earn supplemental income but not sure yet what to fully commit to, and, of course, semi-retired sims or sims juggling Parenthood. Part-time jobs may not be an interactive of some career options, but they can be quite useful for everyday gameplay– give one a try.
I encourage you to be creative– for instance, why not combine a part-time job with gardening in Sims 4?