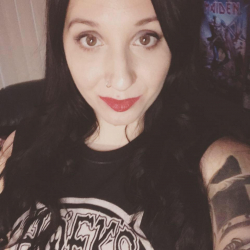 Latest posts by Stephanie Jensen
(see all)
Ever since the year 2000, players have been addicted to The Sims. Now with the 4th installment of the popular game, The Sims has grown to be more realistic. Ever since the first game, Sims could have careers. But now, your Sims have more career options and in our Sims 4 Self Employment Guide, check out the best ones.
So, you want your Sim to become their own boss? Here's your guide to the Sim freelance and self-employment career options.
What Freelance Careers Are There?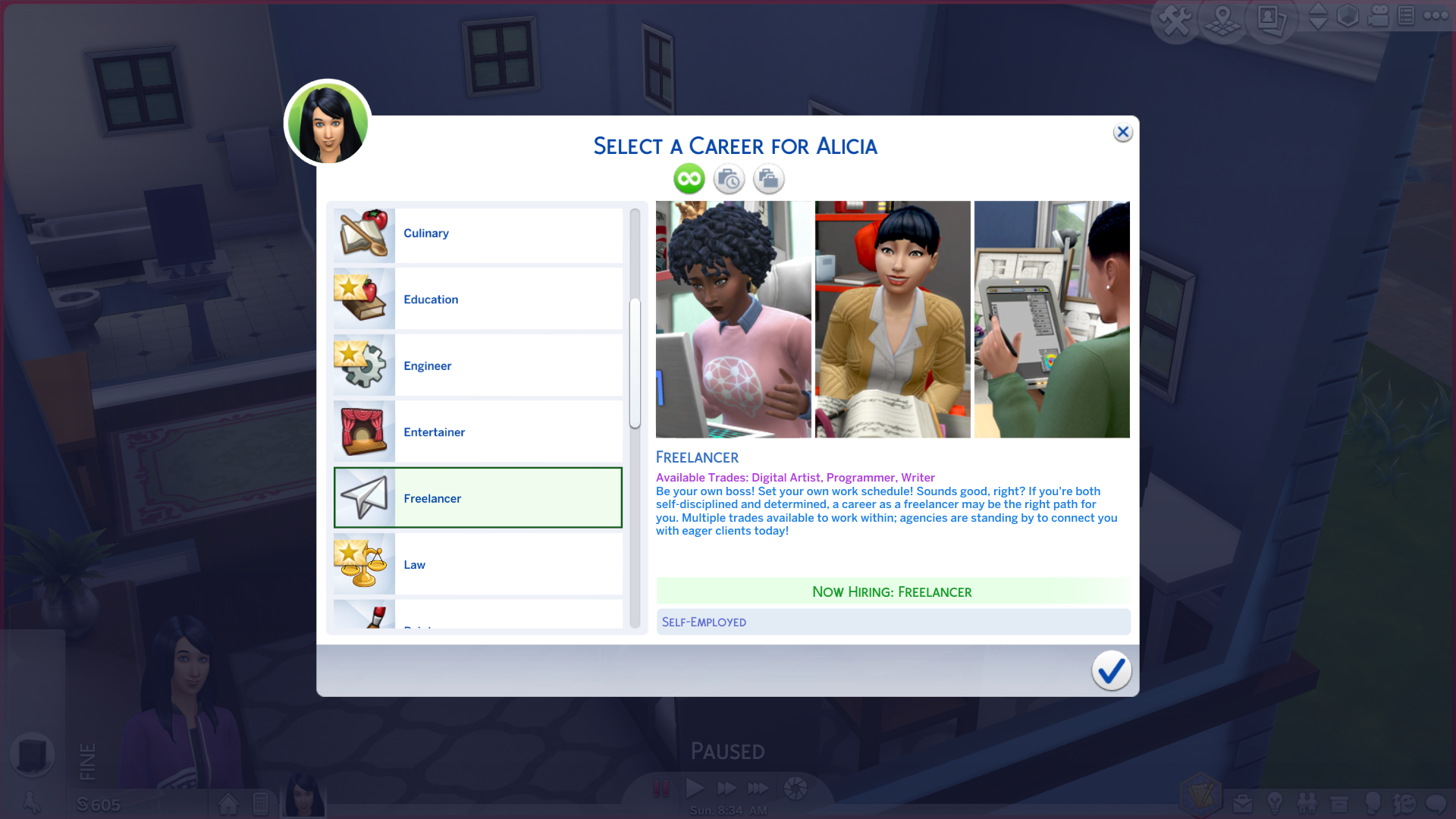 Sims have the option to become freelancers. Instead of working a traditional career, where they gain promotions and salary raises, freelance Sims contract with an agency where they choose as many or as few gigs as they want.
These gigs have various pay scales and usually have due dates. As long as your Sim makes these due dates, they will advance in their career and will satisfy their clients.
But what freelance careers are available?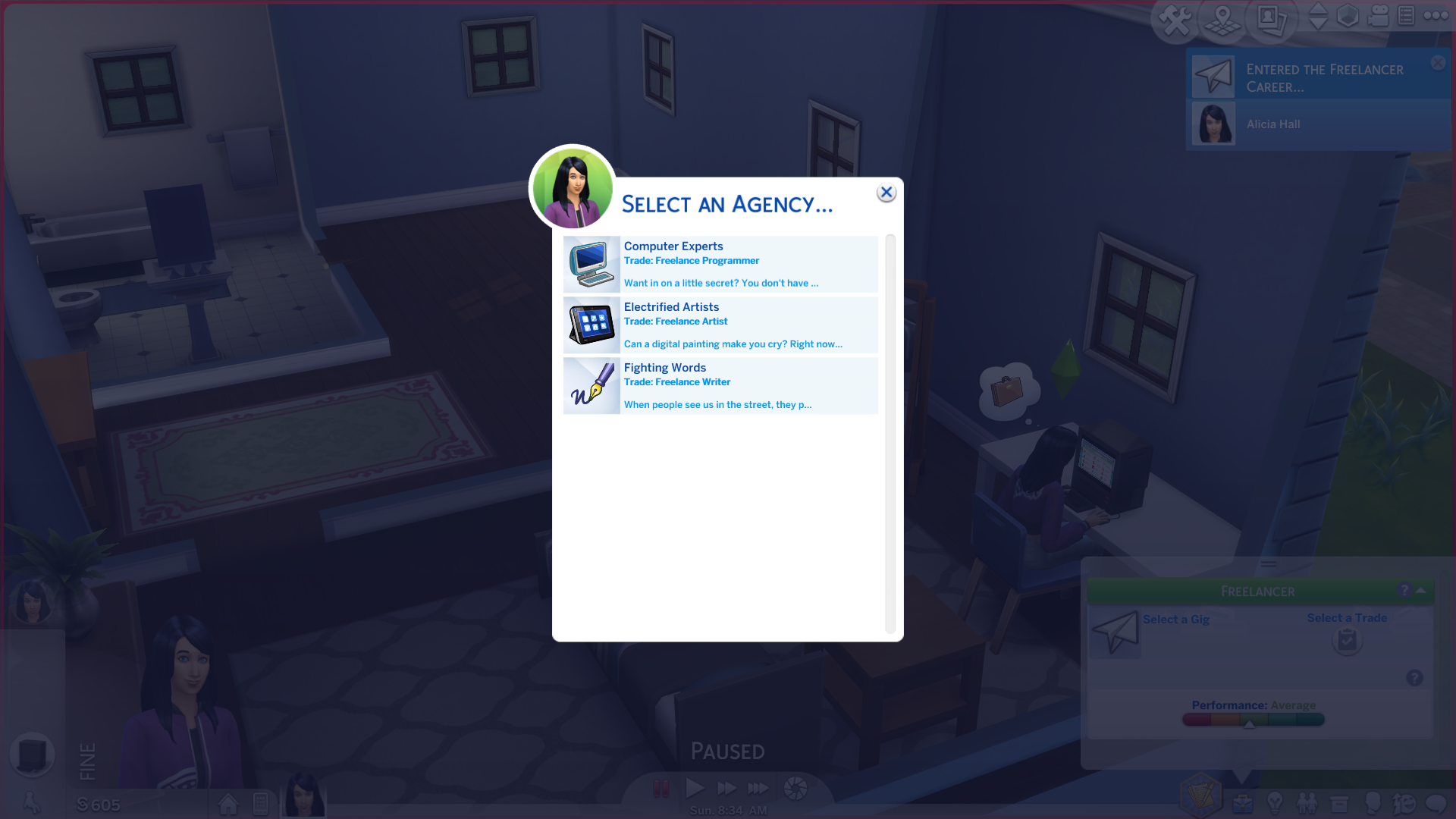 Electrified Artist
"Electrified artist" is just the game's fancy title for a freelance digital artist. You'll need a computer and digital sketchpad in order to complete your assignments. Some of your tasks may include creating a game icon, painting a portrait, or doing demonstrations for young artists.
If you know you want your Sim to become a freelance artist, make sure you give them traits such as perfectionist, creative, and art lover.
Computer Experts
This is the game's fancy title for a freelance computer programmer. Your Sim will have to complete tasks such as working on Simstagram servers, encryption, and more.
Deadlines and pay correspond with your Sim's skill level. The only thing required for the role is the programming skill and a computer. Make sure you give your Sim traits such as genius, geek, and ambition.
Fighting Words
This is the game's fancy title for a freelance writer and the career I chose for my Sim. Freelance writers have to write a myriad of different works, anywhere from marketing copy to books. Freelance writer Sims will need a computer and will need to build their writing skills.
Great traits for writers include perfectionist, creativity, and bookworm.
How to Sign up for a Freelance Career
Signing up for a career as a freelance writer couldn't be any easier. You'll need to find a career on either the computer or the phone (all Sims have a cell phone). However, all freelance careers require a computer, so it's worth it to buy one immediately.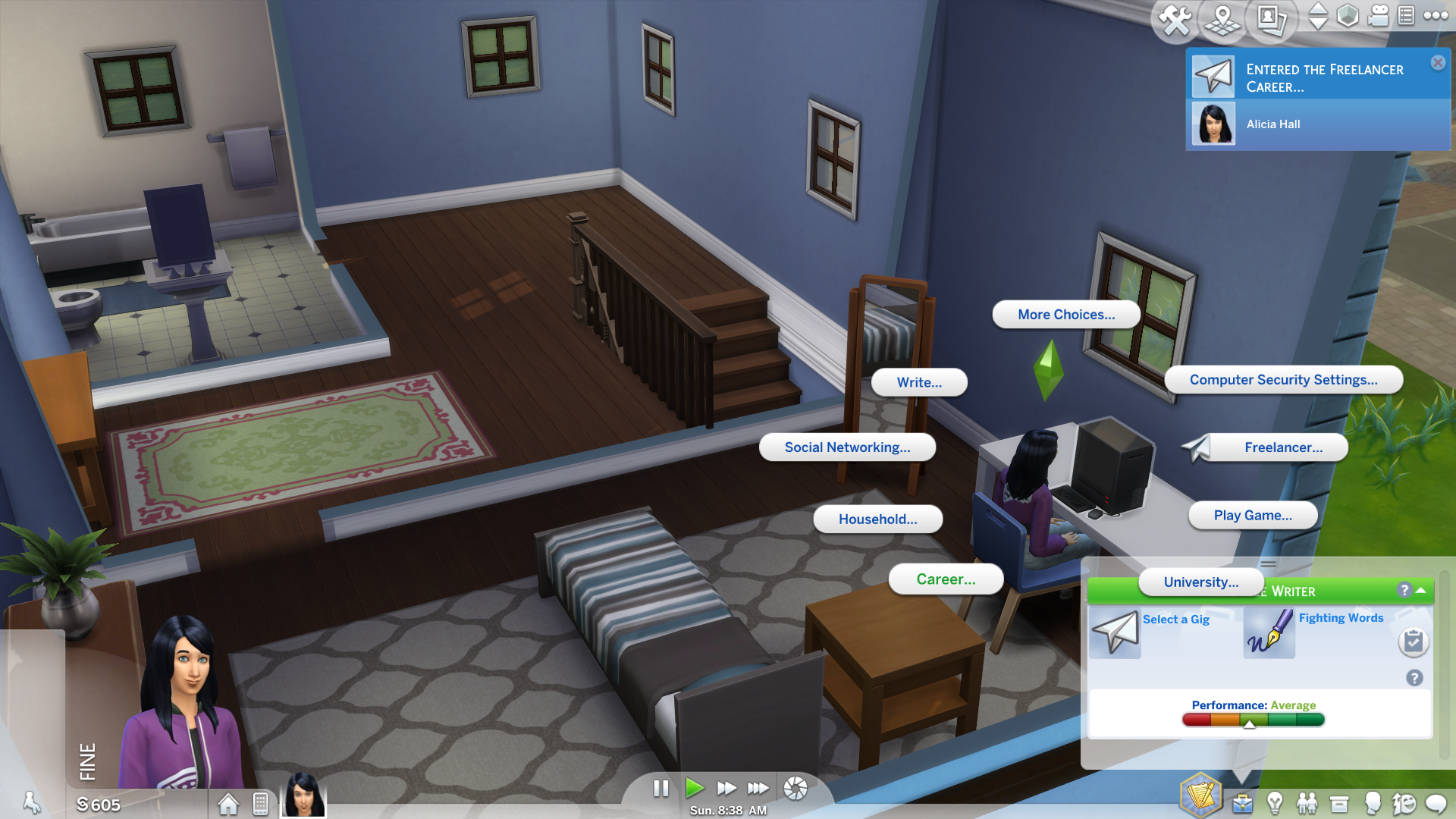 From here, go to the Freelancer option. Click your desired career path. From here, you can start looking for gigs. A window will pop up with the available gigs. You'll only be able to select ones that correspond with your skill level.
The gigs include a description of the work, pay, and the due date. Choose the gigs you know you can complete — submitting your work on time is integral to your freelancer performance.
From here, start working on your gig. You can do this by clicking your computer and selecting the Freelancer option. You'll be given options that correspond with the goals you need to fulfill. You can access your goals by clicking the career icon (it looks like a briefcase) in the bottom right corner.
Earning Money From Your Skills
Still want to be your own boss but the line of work you want to do isn't under the Freelancer option? There are a variety of skills and hobbies that can generate income.
Gardening
If you have a garden, you can make money by gardening plants and food and selling them. You can sell anything you grow, but not all of them will draw a profit. Here are the plants and food that make the most money:
Blackberry
Grapes
Orchids
To sell your plants, click what you want to sell. You will see the Sell option. Simply click that. Keep in mind, you should sell your plants right after they reach full bloom.
Fishing
If your Sim loves nothing more than fishing, they can sell the fish they catch. After you catch a fish, the fish appears in their inventory. Simply click the fish and drag the fish to the "Sell" square. Be sure to sell your fish after you catch it to ensure it doesn't become foul.
Inventing
Does your Sim love nothing more than making widgets and gadgets? If so, they can invent different objects and sell them. After you create a gadget, you can access the gadget in your inventory. From here, you can sell it directly from the inventory.
Photography
If your Sim loves photography, they can make some money from their passion. However, selling photos doesn't make a lot of money. You also have to level up in order to open up your own photography shop, which will drive in the most money. You'll also have to purchase a high-quality camera, which will cost you a lot of money.
Painting
Want to do something in art but are discouraged by the lack of pay in photography? Start selling your paintings. All you have to do is paint (you only need an easel), find the painting in your inventory, and then sell it.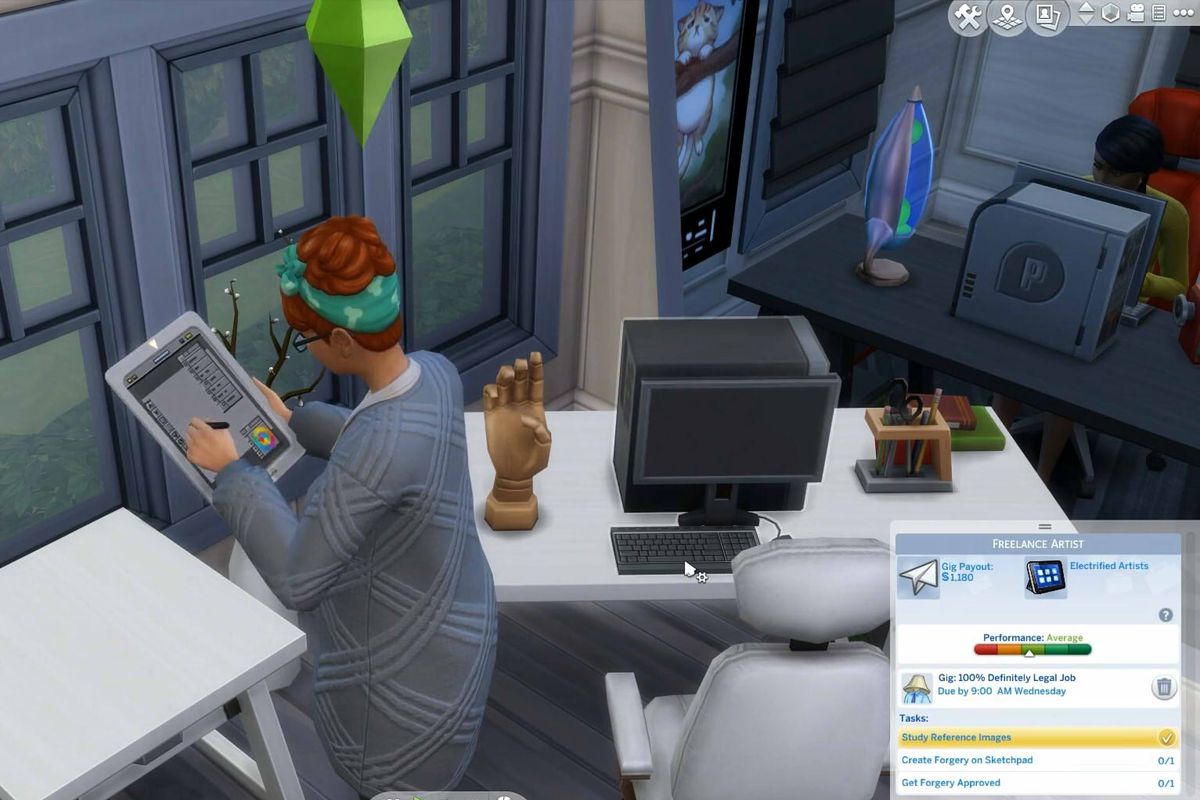 Sculpting
Sculpting is also a profitable art form. The only downside is it takes a long time (several hours) to sculpt one piece. You'll also need to increase your sculpting skills to sell high-quality pieces that generate lots of money.
Writing
A best-selling author needs to sell their books in order to make money. You have two options: you can self-publish your book or sign up with a publisher. The nice aspect about writing books is you make regular royalties.
Music
There are a couple of ways to make money as a musician. You can license your songs and make a decent amount in royalties. Or, you can play for tips. It's recommended you choose both options.
To play music for tips, simply grab your instrument and play at the park, museum, or any other public place. You can also find a nightclub or lounge that has an instrument.
The main thing to keep in mind about earning money as a musician is you can't start licensing your songs until you reach level 9. You'll also earn more money if you can play several instruments.
How to Be Self-Employed?
Making it big as your own boss depends on what you want to do. For the most part, you simply sell the items you create or you get. These items will be available in your inventory. All you need to do is click on the item and drag it to "sell."
For some gigs, such as publishing your books or licensing your music, you will have to go to the mailbox. Click the mailbox and the option should appear when you have a book or piece of music in your inventory.
Should Your Sim Register With the Ministry of Labor?
The main downside of being self-employed is your Sim will be unemployed, even though they are making money. However, you can register with the Ministry of Labor to create your own employment status.
To register, access your phone and call up the Ministry of Labor. From here, you'll choose a title for your career.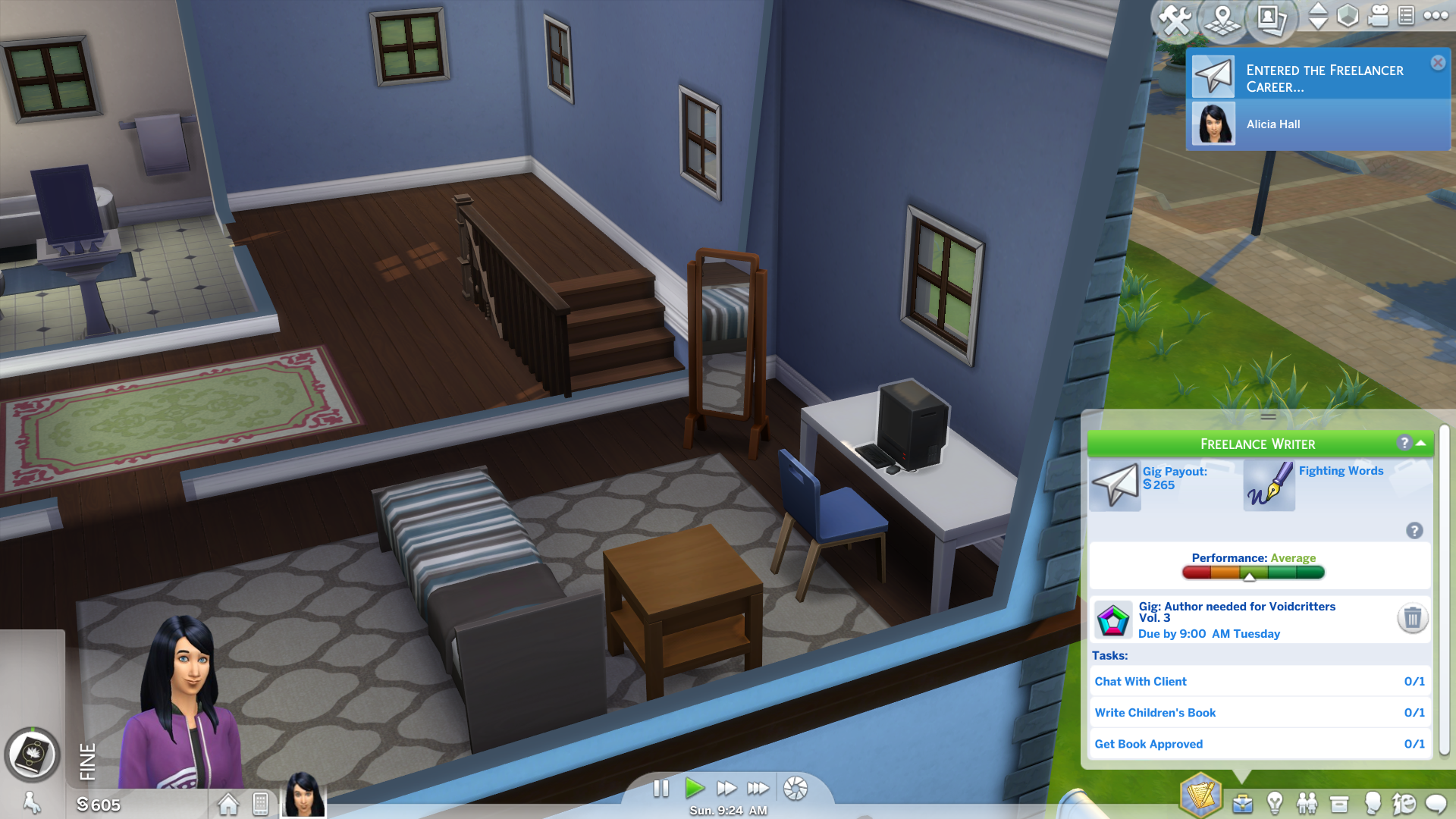 Keep in mind, if you're a freelancer, you don't have to register with the Ministry of Labor. Your employment status is a freelancer with the chosen profession.
Starting a Business in The Sims 4
Want to take your hobby and earnings a step further? You can start a business in The Sims 4. However, you'll need special expansion packs to start your own business. Here are some examples:
Open a restaurant (The Sims 4: Dine Out)
Open a retail store (The Sims 4: Get to Work)
Become a veterinarian and run a vet clinic (The Sims 4: Cats and Dogs)
To open up any business, you'll first have to purchase a vacant lot and create your business. Keep in mind, you'll also need to register your business with the Ministry of Labor, or else you'll show up as unemployed. You can also buy out an existing business.
From here, you can manage aspects of your business (such as your hours, products/services, etc.) from the Business Owner Panel on the bottom right screen. As an alternative, you can also manage these factors through your cash register.
Managing your daily duties depends on the business you own. Here's a breakdown of each.
Restaurant
Restaurant owners have a lot on their plate. You'll have to hire a variety of staff, such as waiters/waitresses and cooks. You'll also have to ensure customers are satisfied and your employees are happy. Restaurant owners also have to worry about food critics.
Retail Store
Retail stores have many requirements. This includes pricing products, monitoring sales, profits, and outgoing costs. You'll also have to invest in advertising and you may need to hire employees.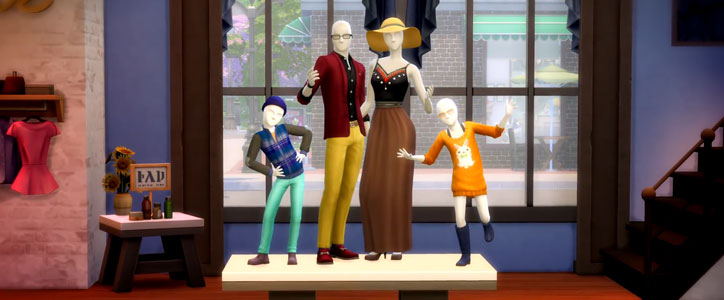 Like with the restaurant, you'll have to manage customers. The nice aspect about managing customers at a retail store is you can see a bar over their heads which shows their level of interest. The higher their level of interest, the more likely they will buy a product.
You'll also have to greet your customers and talk to them. There will be special interactions when talking to customers.
Vet Clinics
As a veterinarian, you'll have to greet customers. But after, you'll examine their pets to see what's wrong. This is more difficult than it sounds; you have to keep pets calm and will have to address health issues and treatment plans with their owners.
Managing Employees
If desired, you can hire employees for all of these businesses. You can control their work uniform and set tasks for them to complete. You can also promote, demote, and fire staff members. Business owners will be able to view your employees' satisfaction at their job, as well.
FAQsQuestion: How Do You Do Odd Jobs in The Sims 4?
Answer: Maybe your Sim doesn't have a craft or hobby you want to live off of. Maybe your Sim is totally content with mowing lawns and moving furniture for extra cash. Fortunately, you can do odd jobs in the Island Living expansion pack. Simply look for available odd jobs on your phone and under the Work category. You can choose a job that's either paid by the hour or is paid upfront.
Question: Can You Make Money and Not Work?
Answer: Working is for squares, right? Well, if you don't want to work, you'll have to find a way to earn money. There are a few options. In the Island Living expansion pack, your Sim can dive for treasure. You can ask family and friends for loans and you can also collect random objects and sell them. However, these options won't make you a lot of money.
Question: Can You Work From Home?
Answer: If you're a freelancer or are self-employed, you can work from home. But what if you have a "real job" and want to work from home? The remote working concept was first introduced in The Sims 4: City Living. Before your Sim leaves for work, they can click on their phone and choose to work from home for the day.
Question: Can Your Sim Work Multiple Jobs?
Answer: As long as your Sim is a young adult and older, they can work two part-time jobs. However, you have to be sure the schedules don't overlap. The game has five specific part-time jobs, though Island Living added three additional part-time jobs (fisherman, diver, and lifeguard).
As an alternative, you can freelance or make money off of one of the hobbies listed above to make some extra money. Just know if you freelance, you'll have to submit your work by the due date.
Be Your Own Boss in The Sims 4
If your Sim has always dreamed of working for themselves, this is definitely possible in The Sims 4. There are a variety of freelance careers to choose from and they can also work full-time pursuing hobbies they love. If you have specific expansion packs, your Sim can even start their own business.
Want some other career options? The astronaut is one of the highest-paying positions in The Sims 4. Read more about it on our website as well as other careers that the game has to offer.
Continue reading:
Guide to Sims 4 Careers: Careers List
Sims 4 Medical Career Guide: Tips To Succeed For Beginners